Dictionary

The German Werkbund

The German Work Federation, founded in Munich in 1907, was not an artists' group, but more a federation of scientists, artists, industrialists and craftsmen, that were united by their common reformatory ambitions, which was the melioration of arts and crafts and the esthetic modernization of everyday life, by means of a concerted cooperation. This universal approach made for a frame in which Modernism could flourish and gain in form.
The founding fathers were twelve artists (among them Peter Behrens, Theodor Fischer, Josef Olbrich, Bruno Paul and Richard Riemerschmid) and twelve companies, which already shows the innovative direction of the Work Federation, as it also integrated the industry.
The German Work Federation had been organizing exhibitions since 1914, which gave impulses for "Neues Bauen" (New Architecture) and for the newly arising discipline called industrial design. Walter Gropius created his "Musterfabrik" (Model Factory) for the Cologne exhibition in 1914; followed by "Form ohne Ornament" (Forms without Ornaments) in Berlin in 1924 and in 1927 the exhibition "Die Wohnung" (The Appartment) in Stuttgart, where the famous Weißenhof housing estate was realized on this occasion. In 1929 "Wohnung und Werkraum" (Appartment and Workshop) was shown in Wroclaw, followed by "Das vorbildliche Serienerzeugnis" (The Exemplary Serial Product) in Hanover in 1930 and the same year in Paris "Gemeinschaftsräume im Wohnhaus" (Common Rooms in Apartment Houses). The exhibition "Der billige Gebrauchsgegenstand" (The Inexpensive Object of Utility) was realized in Berlin in 1931 and, a year later, "Wohnbedarf" (Living Necessities) in Stuttgart.
The titles of these exhibitions alone demonstrate the focus of the German Work Federation after World War I, which was on the industrial mass product and standardized housing and urban development. The groundbreaking ideas of a functional "Neues Wohnen" (New Living) and "Neues Bauen" (New Architecture) were systematically supported and propagated by the Work Federation. For this objective, numerous publications were quite helpful. Along with the "Mitteilungen des DWB" (News of the DWB) (1915-19) and yearbooks (1912-16/17) the monthly magazine "Die Form" (1925-34) is especially worthwhile mentioning, as it did not only present "Neues Bauen" (New Architecture), but also "neue typografie" (New Typography) as well as experimental design and photography.
Following the model of the German Work Federation, other similar associations also arose in Austria (1910) and Switzerland (1913) as well as in France, England and the USA.
The modernist approach of the association lead to a quick end during the days of the dictatorship of the National Socialists. The organization was aligned with the National Socialists' cultural politics in 1933/34 and finally abrogated. The group was founded again in 1947, however, its most important period was the time between the wars, when the German Work Federation was a creative forum for the precursors of Modernism, offering opportunities to realize trend-setting ideas.

+
Sold lots Top 100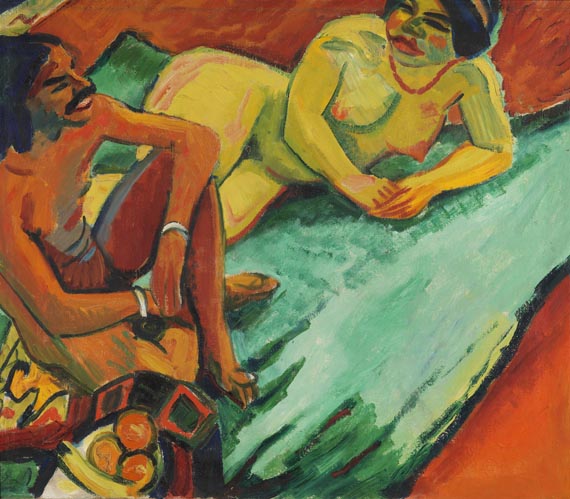 Hermann Max Pechstein