Dictionary

Cubism

Cubism originated in France at the beginning of the 20th century and was simultaneously implemented by Pablo Picasso and Georges Braque, who both attained this style independently from one another. Cubism dissolved the image into simple geometric surfaces, mostly cubes. By means of this method, the form was split up, so that Cubism made for the first form of abstraction.
The art of Paul Cézanne gave Cubism important impulses and its theoretic basis, as Cézanne's programmatic expression "Everything in art consists of spheres, cones and cylinders" shows.
Pablo Picasso's "Démoiselles d´Avignon" from 1907 is regarded as Cubism's most fundamental work. It is not only the painting's topic that is shocking, but also the harsh depiction of the female nude. Pablo Picasso received an important impulse for this painting from the edgy wood carvings in African art.
Cubist works are characterized by the reduction of color and a concentration on form. These features apply to both Analytic Cubism from the years between 1910 and 1912 as well as Synthetic Cubism as of 1912 up into the early 1920s.
The most important representatives of Cubismn are Georges Braque, Roger de La Fresnaye, Robert Delaunay, Lyonel Feininger, Juan Gris, André Lhote, Jean Metzinger, Pablo Picasso and Jeanne Rij-Rousseau.
In terms of sculpting, Aristide Maillol is regarded as the precursor of Cubism, as he became disengaged from Rodin's artistic concept and took the plastic to an abstract state. The actual Cubist plastic came in form of Picasso's reliefs and the three-dimensional works by the Russian Alexander Archipenko, the French Henri Laurens as well as the Lithuanian Jacques Lipchitz. The German Rudolf Belling is also regarded as an important Cubist sculptor.
+
Sold lots for Cubism Top 100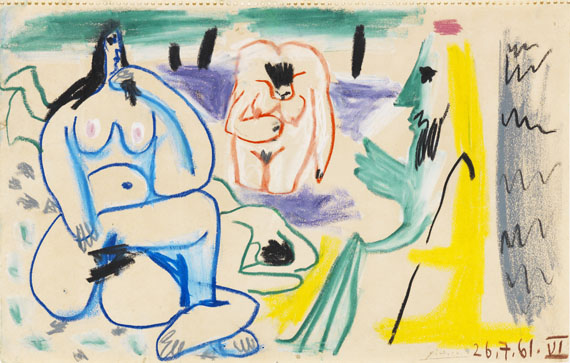 Pablo Picasso