Dictionary

Color Field Painting

Colour Field painting emerged in America in circa 1948. The term refers to the style's key formal characteristic: monochrome colour fields. The main representatives of Colour Field painting were Barnett Newman (1905-70), Mark Rothko (1903-70), Ad Reinhardt (1913-67) and Clyfford Still (1904-80). The paintings were intended to evoke meditative and transcendent feelings of sublimity. For this reason, the paintings were to be viewed close up, thus allowing the observer to sink into the painting in contemplation.
Barnett Newman expressed the principle of sublimity in his work in an exemplary way, and addressed the subject theoretically in his essay "The Sublime is now" (1948).
Colour Field painting is associated with Abstract Expressionism. Thus the style, as well as Action Painting, is seen as a product of the New York School.
Although Colour Field paintings appear far removed from Action Painting, both styles adhered to the non-hierarchical principle of "All over", the negation of a defined background, and used large formats.
Colour Field painting artists took various approaches to their work: Mark Rothko depicted colour fields with blurred edges on monochrome grounds, so that a dynamic was evoked within the image. In contrast, Barnett Newman's paintings contained clearly defined colour fields.
Newman created iconographic Colour Field paintings, with his series of works "Who's Afraid of Red, Yellow and Blue I-IV" (1966-70). Another high point of the movement were Ad Reinhardt's "Black Paintings", which the artist executed between 1954 and 1967, and in which he took the perceptibility of colour and form values to their limits.
Two exhibition projects also played a key role in the establishing of Colour Field painting. The first was the "Post Painterly Abstraction", exhibition curated by Clement Greenberg in 1964. The second was an exhibition, held in 1965, subsequently referred to as the "Washington Colour Painters". It included work by Gene Davis, Thomas (Tom) Downing, Morris Louis, Howard Mehring, Kenneth Noland and Paul Reed.
Colour Field painting reached its peak in the 1950s and 1960s, and had a significant influence on movements such as Hard Edge, Signal Art and Minimal Art.
+
Sold lots top 100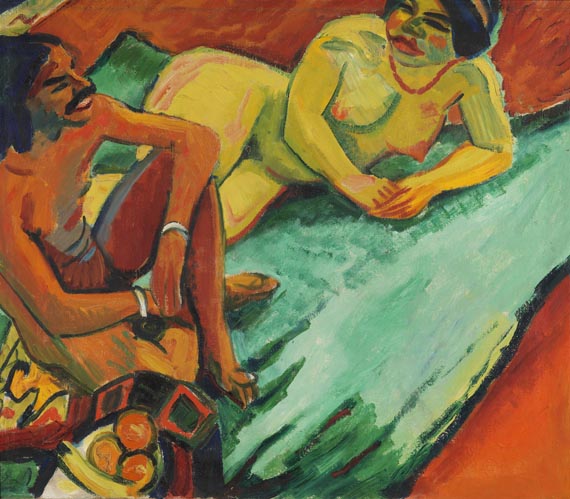 Hermann Max Pechstein