Dictionary

Carracci School

Alongside Caravaggio, the pioneers of baroque painting, were the members of the Bolognese family of painters and engraver, the Carraccis, above all Annibale (1560-1609), his cousin Ludovico (1555-1619), his brother Agostino (1557-1602) and his son Antonio (c. 1589-1618). The Bolognese Carracci school was the precursor of the modern art academy: in 1582 Carracci founded the Accademia dei Desiderosi (The Academy of those desirous of fame and learning) in Bologna, which later became the Accademia degli Incamminati (Academy of the Progressives). The teaching at the school – the so-called Carracci-reform – transcended mannerism by referencing renaissance art (Michaelangelo, Raphael and Correggio, in particular) as well as making conscious references to studies of nature. The resulting style was characterised by a powerful pathos, and the unifying of classical idealisation and appropriate naturalism.
The Carraccis' reforms triggered numerous high baroque movements, from academicism to baroque classicism, to decorative baroque. They also influenced the development of the baroque portrait, genre paintings, and the grotesque, as well as the heroic landscapes of Poussin and Lorrain. The Carraccis created a new, monumentally simplified type in altar painting
In addition to the Caraccis, the main exponents of Italian Baroque painting at the Bologna School were Guido Reni (1575-1642), il Guercino (eigentlich Giovanni Francesco Barbieri, 1591-1666), Francesco Albani (1578-1660), Domenichino (Domenico Zampieri, 1581-1641) and Giovanni Lanfranco (1582-1647).
+
Sold lots Top 100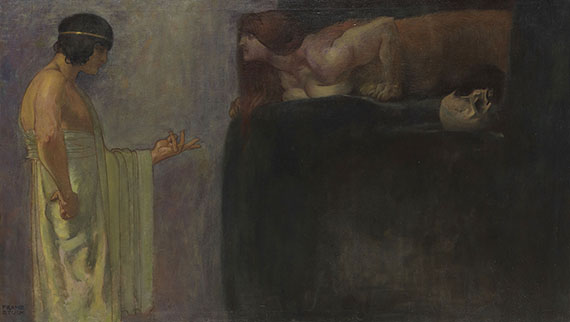 Franz von Stuck