Dictionary

Italian Caravaggism

In contrast to the Carraccis, Caravaggio had neither a trained school of students nor an artistic successor. His work nonetheless influenced many people, whether in the form of his unique chiaroscuro effect, in the continuation of his verism, or in the imitation of his figural types. Unsurprisingly, his work had the greatest impact in Italy, where Caravaggesque elements were combined with traditional regional forms of representation, resulting in various kinds of Caravaggism, such as Neapolitan, Venetian and Florentine.
Before 1610, during Caravaggio's lifetime, the reception of his art remained relatively insignificant. The earliest followers of Caravaggio include Giovanni Baglione (1571-1643), and Orazio Gentileschi (1563-1638) who passed on the style to his daughter Artemisia. The Venetian Carlo Saraceni (1579-1620), who continued Caravaggio's innovations in altar art, had a decided influence on the Northern European artists.
Bartolomeo Manfredi (um 1582-1622) was one of the few artists to be influenced by Caravaggio's early work. Manfredi is thought to have been a colleague or student of the master in Rome. Other Italian Caravaggists include Antiveduto della Grammatica (1570/71-1626) and Cecco del Caravaggio (active c. 1610-20).
Italian Caravaggism reached its high point, between 1610 and 1620, and phasing out in 1630. Caravaggism was subsequently subsumed to influences of the Carraccis and Pietro da Cortona's dramatic decorative high Baroque.
+
Sold lots Top 100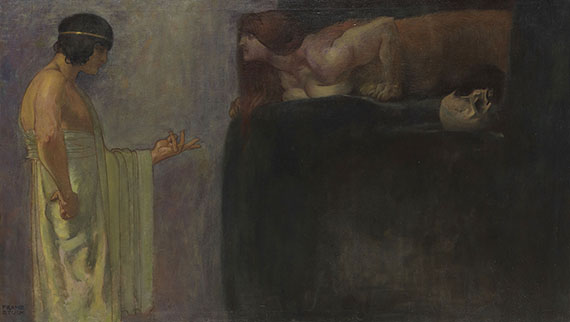 Franz von Stuck