Dictionary

Caravaggio and Caravaggism

Like his contemporary Carracci, Michelangelo Merisi Caravaggio (1571-1610), (named after his hometown near Bergamo) was an entirely unique founder of baroque painting. Between 1590 and 1592, Caravaggio lived in Rome, where he revolutionised painting. In 1606, the artist was forced to flee the city, after killing Ranuccio Tomassoni during a brawl about debt. Caravaggio was sentenced to death in his absence, and travelled to Naples, Malta and Sicily. He died in 1610, on his return to Rome.
Like Carracci, Caravaggio made reference to Renaissance artists such as Giorgione and Lorenzo Lotto in his early work. Rather than simply being stylistically retrogressive, he used these influences as a way (if not entirely without its precedents) of looking forward. Caravaggio's contemporaries were fascinated by his unique style, particularly by the dramatic chiaroscuro he used in his work. The spotlight effect that he used to light his figures, simultaneously made rooms appear narrower and created an undefined, darkened background. This resulted in a dramatic culmination of his scenes, which was also accentuated by a deliberate emphasis of the emotions in his half-length figures.
Caravaggio was much imitated and copied, a phenomenon, which is referred to as Caravaggism. His influence was, however, short-lived, only lasting until circa 1630 in Italy. This is blamed on a frequently criticised aspect of his art; the absolute realism of his representations. Caravaggio portrayed saints and biblical figures dressed as prostitutes and homeless boys, without any idealisation, with dirty feet and cheeky expressions. Caravaggio's art had a strong impact on Italian and European art – on Jusepe de Riberia, Francisco de Zurbaran and Diego Velazquez in Spain, Georges de la Tour in France, Rembrandt in Holland, and Peter Paul Rubens and Jacob Jordaens in Flanders.
+
Sold lots Top 100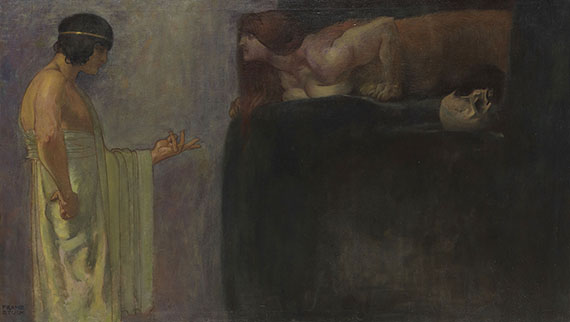 Franz von Stuck