Dictionary

Beuronese Art School

The Beuron Art School comprises representatives from a Christian school of art. The design of the St. Maurus chapel near Beuron in 1868 marks the school's beginning, the death of its founder and main artist Peter Lenz (Father Desiderius) in 1928 its end. Other members besides Lenz were Jacob Wüger (Father Gabriel) and Fridolin Steiner (Father Lucas). The group consisted of some 70 artists over the years, who all belonged to the convent of the Benedictine monastery Beuron.
The repertoire of the Beuron Art School includes almost exclusively Christian subjects. An emphasis on contour and colors were their most prominent stylistic features, which is often completed by an abundant usage of gold. Christian symbols and texts are also often found in their works. Ornaments that originate from geometric shapes and spread on the surface also play an important role. Geometric notions can also be observed in the concept of figures and the composition itself.
The cycles in the Torretta of the monastery Monte Cassino (1875-80), in the St. Conrad Chapel in the Minster of Constance (1888-90) and decorations in the Chapel of Mercy in Beuron (1898-1904) are among the artists mostimportant works.
The versatile Beuron artists also created frescos and mosaics (crypt of the monastery Monte Cassino, 1900-13), sculptures and liturgical utensils such as tunicles, candleholders, carpets and goldwork.
+
Sold lots Top 100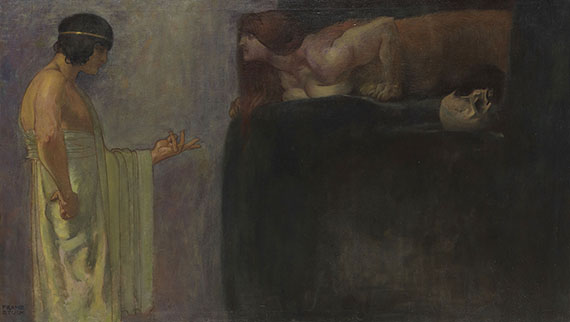 Franz von Stuck