Dictionary

Arts and Crafts Movement

The ideal of the artisan reform and its initiator William Morris, were carried forth by the British Arts and Crafts Movement. The origins of the movement lie in the Arts and Crafts Exhibition Society, founded in 1883, which united several workshops that had the same artistic intentions. They shared a critical attitude towards industrial mass production and were asking for artisan methods that give consideration to both material and function. However, not all members were strictly against the usage of machines. For instance, Charles Robert Ashbee (1863-1942) expressed the wish to "master the machine" in 1894. The further development of the Arts and Crafts Movement was determined by the increasing awareness of the fact that machines were indispensable in the modern age, which eventually led to the group's breakup.
The Arts and Crafts Movement decisively contributed to the valorization of arts and crafts and the attempt to abandon the hierarchy of artistic genres in other European countries around 1900. Many workshops, such as the "Deutsche Werkbund" (German Work federation) or the "Wiener Werkstätte" (Vienna Workshop) followed the model. The organs that spread the ideas were writings by Walter Cranes (1845-1915) and, as of 1893, the magazine "The Studio", which also attracted a large readership on the continent.
In terms of style, the works of the Arts and Crafts Movement are characterized by a strong simplification of forms, which also had a trend-setting effect. The artists were taking on features of Art Nouveau, even though a certain ornamental reservation can be observed in France and Belgium. Also Japanese art made for an important source of inspiration.
Besides "Morris & Co.", other companies within the Arts and Crafts Movement were the "Century Guild", founded by Arthur Heygate Mackmurdo and Selwyn Image in 1882 and Charles Robert Ashbee's "Guild and School of Handicraft" (1888). Mackmurdo and his guild saw the renewal of art in their return from merchants to artists. Ashbee and his workshop followed anti-capitalist principles and propagated arts and crafts not to be developed by individuals, but by workgroups. Silverware was the specialty of the "Guild and School of Handicraft". Other important representatives of the Arts and Crafts Movement were Christopher Dresser, Ernest William Gimson, Charles F. Annesley Voysey and Sir Arthur Lasenby Liberty.
+
Sold lots Top 100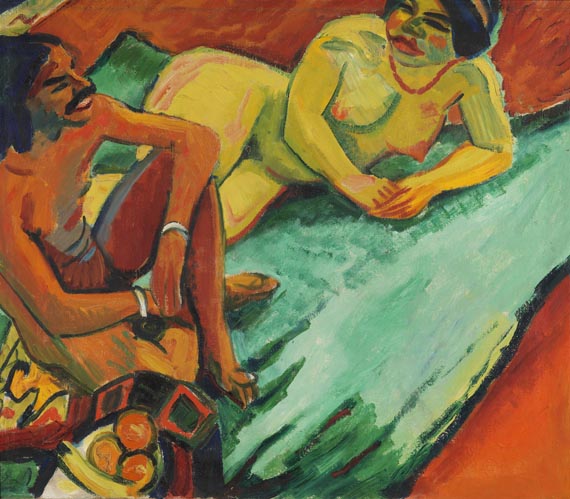 Hermann Max Pechstein