Dictionary

Art Nouveau in Nancy

The city of Nancy in the Lorraine region was the second Art Nouveau center in France. The city's eventful history, it was occupied by German troops for many years, abetted a strong sense of patriotism, which also found expression in the resistance symbols, such as the figure of Jeanne d'Arc, the Lorraine Cross and the Lorraine Thistle. The city's location close to the border also contributed to its economic upswing. Arts and crafts benefited from the booming industry, the importance of this field was greater in Nancy than it was in Paris.
The School of Nancy ("École de Nancy") around the famous glass maker Emile Gallé (1846-1904) arose in this context. Like so many of his contemporaries, East Asian art was also one of his main sources of inspiration. His idea of Japonism was not only restricted to the imitation of Asian forms, but also showed a certain internalization of Japanese style. Among East Asian techniques, the production of flashed glass, layers in various colors applied to a monochrome surface, played an important role for him. Being a zoologist, Emile Gallé preferred blossoms and leaves for his decorations, which he saw in connection with his complex flower symbolism. This connection to Symbolism was also expressed by adding symbolist verses to his works.
Emile Gallé did not only run a glass kiln in Nnacy, but also a furniture workshop. The basic concept for his furniture also sought orientation with French Late Baroque, as it was usual for the workshops in Paris as well. The decorations of his glass works originate from nature and the world of insects, according to his belief, they were to be determined by the material used.
Together with Louis Majorelle, Jean-Antonin Daum and Eugčne Vallin, Emile Gallé founded the "École de Nancy" in 1901, which he led. For financial reasons, it was an association of artists, publishers and critics. The organization was modeled after the British Arts and Crafts Movement, however, the "École de Nancy" did not reject industrial production. According to Gallé's principle, logic and function should go hand in hand with elegance, beauty and spiritualization.
Louis Majorelle (1859-1929) made fruitful use of the means of serial production. Influenced by Gallé, his furniture was characterized by a certain softness, harmony and elegance. However, differing from Gallé's works, his works were also characterized by the primacy of the observable structure, the form was to endure even without any decoration.
Other important representatives of "Art Nouveau" in Nancy were members of the Daum family- Jean, Jean-Louis-Auguste and Jean Antonin - who ran the glass kiln
"Daum Frčres & Cie".

+
Sold lots Top 100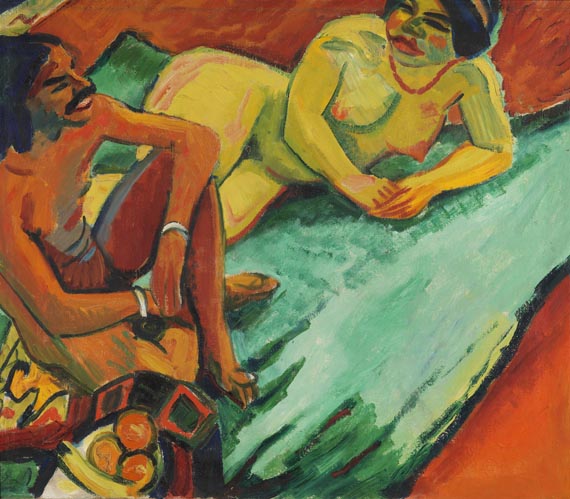 Hermann Max Pechstein