Dictionary

American Realism

American Realism, also known as "American Scene Painting", describes a movement of American painting that lasted from around 1920 up into the 1940s. The painters were in search of new subjects after World War I and discovered their direct surroundings as a rich source for inspiration. Their naturalist pictures often depict scenes from the everyday lifes of average people, for instance farmers and office workers doing their job, family celebrations and street scenes, from time to time socially critical issues were also addressed. American Realism seems to have deliberately distinguished itself from modern European art, that was honored in the Armory Show in 1913 and generally shaped American art in the early 1920s.
Main representatives of American Realism are Thomas Hart Benton, Charles Burchfield, Charles Demuth, Palmer Hayden, Edward Hopper, Georgia O'Keeffe, Charles Sheeler and Grant Wood.
The epoch of American Realism can be viewed in terms of different movements, as Precisionism, Regionalism, the Ashcan School and the Harlem Renaissance were developing at the same time. The aftereffect of American Realism in the first half of the century can be observed again as of the 1960s, among others, in works of Photorealism, for instance by artists such as Chuck Close or Ralph Goings and also becomes obvious in "Polemical Realism", to which paintings by Eric Fischl, Leon Golub and Mark Tansey count.

+
Sold lots Top 100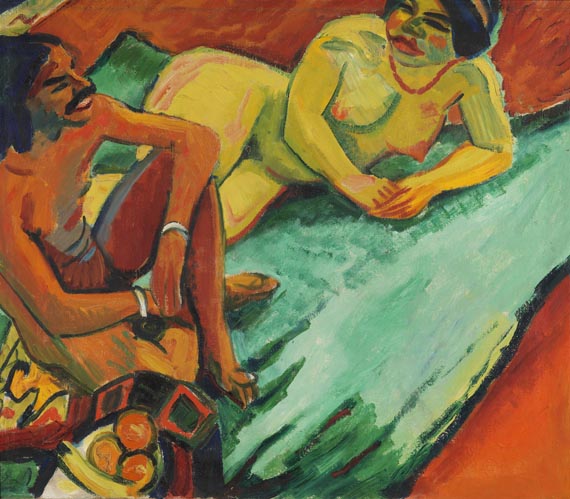 Hermann Max Pechstein