Sale: 391 / Rare Books, May 21. 2012 in Hamburg

Lot 514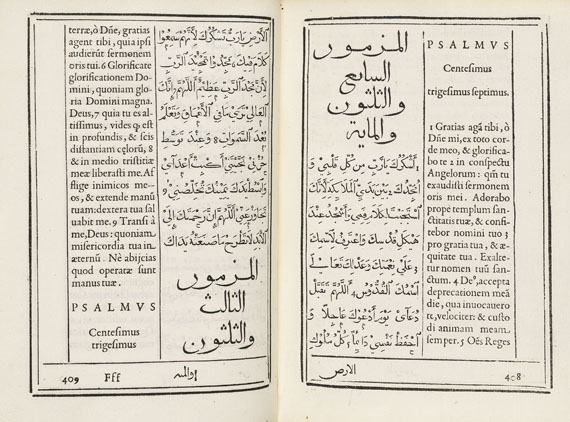 514
Davidis Regis, 1619.
Sold:

€ 1,920 / $ 2,112
(incl. 20% surcharge)
Biblia latina. - Sionita, G. und V. Scialac (Hrsg.), Davidis regis et prophetae psalmi. Ex Arabico in Latinum idioma .. Novis typis donati, illustrissimi, & excellentisis. Mit Titel-Holzschnitt . Rom, St. Paulino 1619. Neuer HLwd. Gr.-8vo. 4 Bll., 474 S.

Darlow/Moule 1644. - Ebert 18088. - Titelausgabe der Erstausgabe von 1614, selten. - "Produced under the patronage of Francis Savary de Brèves, French ambassador at Constantinople and afterwards at Rome, who established the press. His famous founts of Arabic type, cut in Constantinople, and completed by Le Bé of Paris, were subsequently purchased by Vitré, and used for the Paris Polyglot." - Es fehlen die letzten 3 Bll. Register, S. 321-324 verbunden. - Ränder etw. gebräunt, Titel etw. fleckig, gestempelt und mit hs. Vermerken, 1 Bl. mit restaur. Randabriß. - Sonst gut erhaltenes Exemplar.

Title edition of the first edition from 1614, rare. With woodcut title. New orig. cloth with gilt lettering. - Lacking last 3 ll. of index, pp. 321-324 misbound. - Margins somewhat browned, title somewhat stained, stamped and with ms. notes, 1 l. with restored marginal split. Else well preserved.


514
Davidis Regis, 1619.
Sold:

€ 1,920 / $ 2,112
(incl. 20% surcharge)
Biblia latina - lots sold by Ketterer Kunst