Sale: 366 / Rare Books including Marine Art, May 17./18. 2010 in Hamburg

Lot 398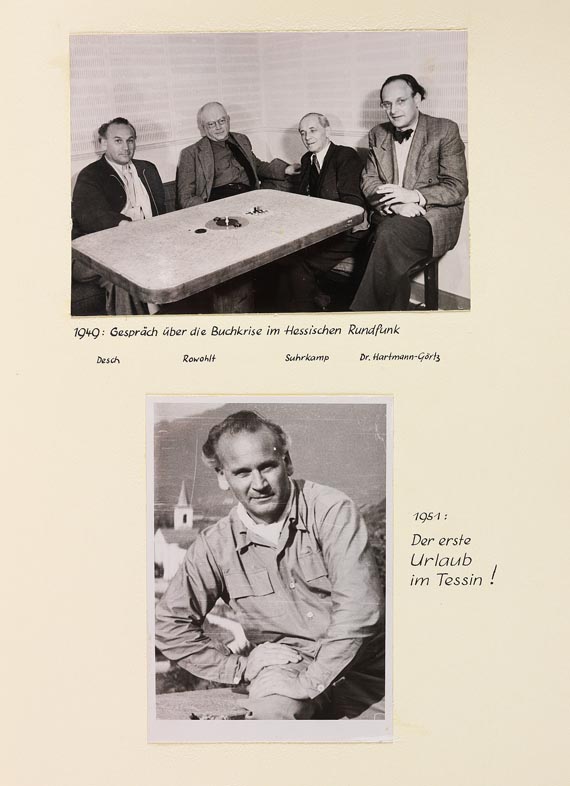 398
Verlag Kurt Desch, Fotomappe. 1954.
Estimate:
€ 1,800 / $ 2,142
Sold:

€ 1,680 / $ 1.999
(incl. 20% surcharge)
Lot description
Desch. - "Verlag Kurt Desch". Handschriftliche Verlagschronik. Mit 1 Orig.-Fotografie als Frontispiz (Portr. K. Desch) und 227 Orig.-Fotografien. München 1954. Roter Halbmaroquin mit goldgepräg. Namenszug a. d. Rücken. Folio. Hs. Text auf 68 einseitig beschriebenen Bll.

Aufwendig gestaltete Dokumentation aus den Anfängen des Kurt Desch Verlages. Die handschriftliche Chronik mit vielen Details zum wirtschaftlichen Aufstieg des Unternehmens und zahlr. Anekdoten über den Verleger, die Mitarbeiter und die Autoren des Verlages. 3 Blatt mit den Originalunterschriften der Mitarbeiter der Jahre 1947-1948-1951. Die über 220 Orig.-Fotografien auf 79 Kartonbll. montiert und sorgfältig bezeichnet. Sie zeigen die versch. Produktionsgebäude und Arbeitsräume, Porträts des Verlegers und seinen Mitarbeitern, Aufnahmen von Werbemaßnahmen (u. a. Ausstellungskojen des Verlags auf der Frankfurter Buchmesse), ferner Empfänge und Zusammenkünfte mit bedeutenden Autoren des Verlags (Cocteau, Plievier, Remarque, Wiechert, Penzoldt u.a.). - Kurt Desch erhielt bereits am 17. November 1945 von den Amerikanern die erste Verlagslizenz für Bayern und gehört zu den Verlagspionieren der Bundesrepublik, der über 4000 Titel mit einer Auflage von über 40 Millionen Exemplaren herausgab. - Sorgfältig angelegtes und reich illustriertes Dokument zur Verlagsgeschichte nach dem Zweiten Weltkrieg.

Hand-written chronicle. Lavishly made documentation of the beginnings of the Kurt Desch publishing house. With 1 orig. photograph as frontispiece (portrait of K. Desch) and 227 orig. photographs. Red half morocco with gilt-lettered name on spine. Folio. Ms. text on 68 ll. with letters on one side. - Thoroughly researched and richly illustrated document of the publishing house's history after World War II.


398
Verlag Kurt Desch, Fotomappe. 1954.
Estimate:
€ 1,800 / $ 2,142
Sold:

€ 1,680 / $ 1.999
(incl. 20% surcharge)
More Images