Sale: 366 / Rare Books including Marine Art, May 17./18. 2010 in Hamburg

Lot 78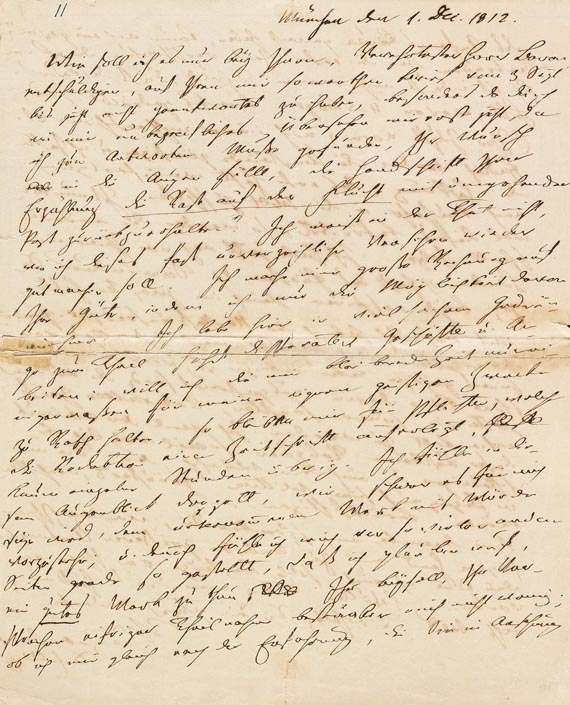 78
Friedrich Wilhelm Schelling
Eigh. Brief. München 1812
Estimate:
€ 900 / $ 1,053
Sold:

€ 1,920 / $ 2.246
(incl. 20% surcharge)
Lot description
Schelling, Friedrich Wilhelm Joseph von. Autographed letter with signature. Munich, 1. XII. 1812. 2 pp. (closely written). 4to.

Extensive letter to Friedrich de la Motte Fouqué , asking him to co-operate with him on his Allgemeinen Zeitschrift von Deutschen für Deutsche .
Wie soll ich es nur bey Ihnen, Verehrtester Herr Baron, entschuldigen, auf Ihren mir so werthen Brief vom 3 Sept. bis jezt nicht geantwortet zu haben, besonders da durch ein mir unbegreifliches Übersehen mir erst jezt, da ich zum Antworten Muße gefunden, Ihr Wunsch in die Augen fällt, die Handschrift Ihrer Erzählung Die Rast auf der Flucht mit umgehender Post zurückzuerhalten? Ich weiß in der That nicht, wie ich dieses fast unverzeihliche Versehen wieder gutmachen soll .. Ich leb hier in vielfachem Gedränge zum Theil höchst disparater Geschäfte u. Arbeiten; will ich die mir bleibende Zeit nun einigermaßen für meine eigene geistigen Zwecke zu Rath halten, so bleiben mir für Pflichten, welche die Redaktion einer Zeitschrift auferlegt, kaum einzelne Stunden übrig. Ich fühle in diesem Augenblick doppelt, wie schwer es für mich seyn wird, dem unternom(m)enen Werk mit Würde vorzustehn; u. doch fühle ich mich von so vielen andern Seiten grade so gestellt, daß ich glauben muß, ein gutes Werk zu thun. Ihr Beyfall, Ihr Versprechen eifriger Theilnahme bestärken mich nicht wenig, ob ich mir gleich nach der Erfahrung, die Sie in Ansehung des Anfangs gemacht haben, kaum noch ein großes Vertrauen für die erste Zeit versprechen darf. Es ist indeß nicht meine Schuld, daß das erste Heft, wovon 4-5 Bogen bereits gedruckt sind (Ihre Idylle voran) noch immer nicht erschienen ist. Endlich werden die Umstände günstiger u. ich fasse die Hoffnung, das erste Heft wenigstens gleich nach Neujahr in die Welt zu schicken. Ist nun einmal dieses befördert, so werden die anderen schnell folgen. Ich habe jezt noch von Ihnen in Händen 1) Fall des Fürsten 2) Sämundurs Sage; beyde erscheinen gleich im zweyten Hefte. Mit Wehmuth habe ich den Nachlaß unsres sel. Freundes [August Ludwig Hülsen] erhalten. Mit Wehmuth, weil diß alles von einem geistigen Leben übrig ist, weil so manche schöne Reime darin ausgestreut sind .. Ich werde den Abdruck dieser kostbaren Reliquien soviel wie mögliche beschleunigen u. auch dem Wunsch, den Sie mir in Bezug auf seine Wittwe geäußert, nach Vermögen berücksichtigen. - Vom December an, schreiben Sie, werde Ihnen freyere Hand auch zu Arbeiten größeren Umfangs; Dan(n) kan(n) ich solche Beyträge von Ihnen erwarten. Erfüllen Sie mir diese Hoffnung recht bald .."
The magazine was released as planned in 1813, however, a merely four issues compising first volume was published. Besides poetic contributions by Fouqué and the estate of the philosopher August Ludwig Hülsen (1765-1809; Fouqué's former tutor and Schelling's companion from an early point on), the physicians and philosophers Karl Eschenmayer, J. C. Pfister and B. J. Docen also contributed articles. - With mended tear in folding and small marginal blemishes (2 padded).


78
Friedrich Wilhelm Schelling
Eigh. Brief. München 1812
Estimate:
€ 900 / $ 1,053
Sold:

€ 1,920 / $ 2.246
(incl. 20% surcharge)
You might also be interested in
Friedrich Wilhelm Schelling - lots sold by Ketterer Kunst