Sale: 373 / Rare Books including Marine Art, Nov. 22. 2010 in Hamburg

Lot 153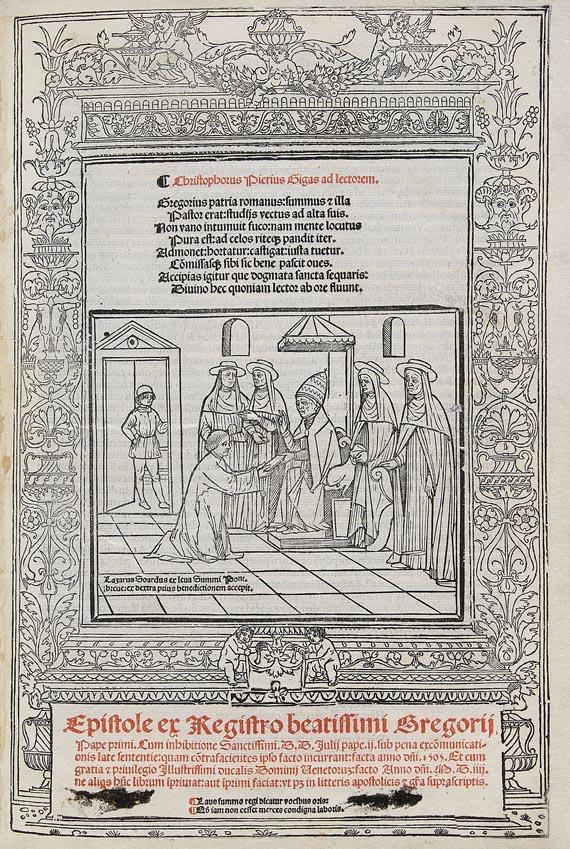 153
Epistolae ex registratro, Venedig, 1504.
Estimate:
€ 2,000 / $ 2,100
Sold:

€ 2,880 / $ 3,024
(incl. 20% surcharge)
Gregorius I., Epistolae ex registro beatissimi Gregorii Pape primi. Mit Holzschnitt-Titelbordüre , großem Titelholzschnitt und schwarzgrundiger Holzschnitt-Druckermarke am Schluß. Venedig, L. Soardus, 18. Dez. 1504 (Titel: 1505). Neuer Holzdeckelband mit Pgt.-Spiegeln und 2 Messing-Schließen, Rücken mit Lederbezug unter Verwendung des alten blindgepr. Materials. Folio. 20 nn. Bll., 197 num. Bll.

Sander 3274. - Essling 1492 (mit Abb. des Titelholzschnitts). - BM STC, French Books S. 314. - Edit 16 (Online-Kat.) CNCE 21705. - Nicht bei Adams. - Seltene zweite Ausgabe der berühmten \b\i Epistolae, die erste im 16. Jahrhundert . - Der schöne Titelholzschnitt zeigt die Übergabe des Druckprivilegs durch den Papst Julius II an Lazarus Soardus. Die bedeutende Briefsammlung ist nicht nur eine der wichtigsten Quellen für die Geschichte seiner Zeit, sondern hat darüberhinaus für die Form des kurialen Briefes über Jahrhunderte stilbildend gewirkt. "Manche der Schreiben Gregors sind von rein amtlichem Charakter; die meisten jedoch sind persönlicher Art, in einem klaren Stil von schlichter Schönheit abgefaßt. Ihre Bedeutung liegt zum einen in ihrem Rang als authentische historische Dokumente, die den Papst als umsichtigen Oberhirten der Kirche und erfolgreichen Politiker in den Auseinandersetzungen um die Gestaltung des frühmittelalterlichen Europa zeigen. Zum andern haben sie eine eminent literarhistorische Bedeutung erlangt, weil das Gregorianische Registrum zum Vorbild für alle späteren päpstlichen Register wurde und so als eine Art 'Formularbuch' zum unbestrittenen Stilmuster künftiger Zeiten avancieren konnte." (KLL VII, 78f.) - Ohne das l. w. Bl. Vorsichtig gereinigt, wenige Bll. mit unauffällig restaur. Randläsuren, Titel mit 2 kl. Tintenspuren, erstes Textbl. mit durchgestr. zeitgenöss. Namenszug, Spiegel mit gelöschtem Stempel. Insgesamt schönes, breitrandiges und wohl erhaltenes Exemplar mit dem ursprünglichen Buchschnitt. Der Titel und 1 weit. Blatt in Rot und Schwarz gedruckt.

Rare second edition of the famous letters by pope Gregory I., the last of the four great fathers of the Western Church. With woodcut title-border, woodcut on title and black-on-white woodcut device at end. New wooden boards with calf spine (using the old blind-tooled material) and 2 brass clasps. - Lacking the last blank. Carefully washed. Few leaves with unobtrusively restored marginal defects, 2 small traces of ink to title, first text leaf with crossed out early inscription, pastedown with cancelled stamp. Fine copy with broad margins and the initial book edge.


153
Epistolae ex registratro, Venedig, 1504.
Estimate:
€ 2,000 / $ 2,100
Sold:

€ 2,880 / $ 3,024
(incl. 20% surcharge)
You might also be interested in
Gregorius I. - lots sold by Ketterer Kunst