Sale: 342 / Modern Art / Sideways, Dec. 03. 2008 in Munich

Lot 212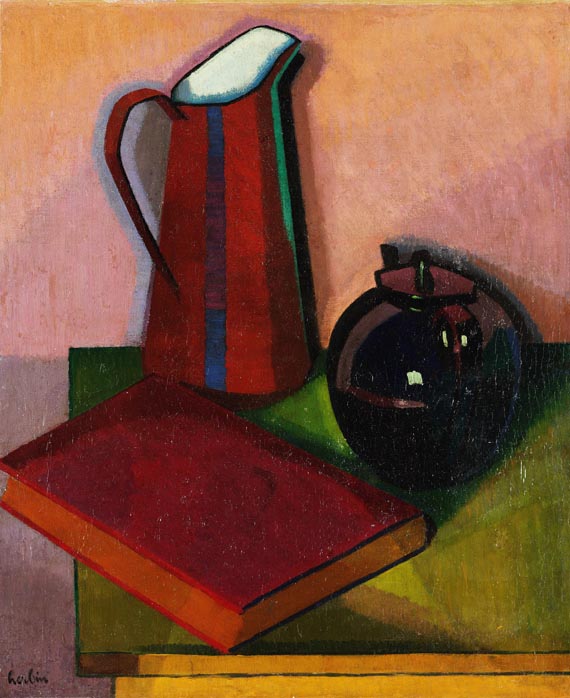 212
Livre, pot et théière, 1910.
Oil on canvas
Estimate:
€ 20,000 / $ 23,200
Sold:

€ 24,400 / $ 28.303
(incl. 22% surcharge)
Livre, pot et théière. 1910.
Oil on canvas.
Claisse 229. Signed lower left. 54 : 45 cm (21,2 : 17,7 in). Auguste Herbin, the son of a workman, was born in the small village of Quiévy near the Belgian border on 29 April 1882. This background is reflected in the Northern French artist's painting with its rational approach and explicit working class character. Before settling in Paris, where he first joined the Impressionists and later the Fauves, Herbin attended the Ecole des Beaux Arts in Lille from 1900 onwards. In 1905 Herbin showed his works for the first time and in 1907 he met Wilhelm Uhde, who spoke for him. One year later his works were rejected by the Salon d'Automne. His works now showed influences of the Nabis, the Fauves and the Cézanne retrospective exhibition. In 1909 he moved to a studio next to Pablo Picasso's and Juan Gris'.
This painting, done shortly before Herbin's Analytic-Cubist period, reveals him as a master colourist. The unusual shades of mauve and brown contrast with a jade green applied in sparing touches. The limitation to just three objects, the firm contours of which already anticipate the Cubist period to come, and their position in space reveal the assured sense of balance and proportion that would recur in later works. This painting is on the borderline between tradition and Modernism, thus marking a turning-point in the artist's approach to painting.
In 1929 Herbin was a co-founder of the 'Salon des Surindépendants'. Two years later he founded the artist association 'Abstraction-Création'. After the war the artist was the co-founder and vice president - from 1955 also the president - of the 'Salon des Réalites Nouvelles'. A lateral paralysis in 1953 forced the artist to learn painting with his left hand. Herbin's typical architectural approach and his colour effects made his pre-war work widely known in the international art world - a success which continued after the war. Herbin died in Paris on 31 January 1960. [KD]
PROVENIENZ: Collection Henri Bénézit, Paris (with two labels on the reverse).
Private collection France.
AUSSTELLUNG: Auguste Herbin, Galerie Clovis Sagot, Paris, 1914, no. 5.
Auguste Herbin, Kunsthalle Bern, 1963. cat.no. 3.
Auguste Herbin, Stedelijk Museum, Amsterdam, 1963, no. 5.
Herbin. Acteur des révolutions picturales du siècle, Galerie Denise René, Paris, 16 November - 17 February 1996 (with the label on the reverse).
In good condition. Mackled. Barely noticeable colour losses at points. Minor retouchings mainly on the margins. Isolated minor craquelé.
212
Livre, pot et théière, 1910.
Oil on canvas
Estimate:
€ 20,000 / $ 23,200
Sold:

€ 24,400 / $ 28.303
(incl. 22% surcharge)
You might also be interested in
Auguste Herbin - lots sold by Ketterer Kunst