Sale: 309 / Rare Books, May 21./22. 2007 in Hamburg

Lot 610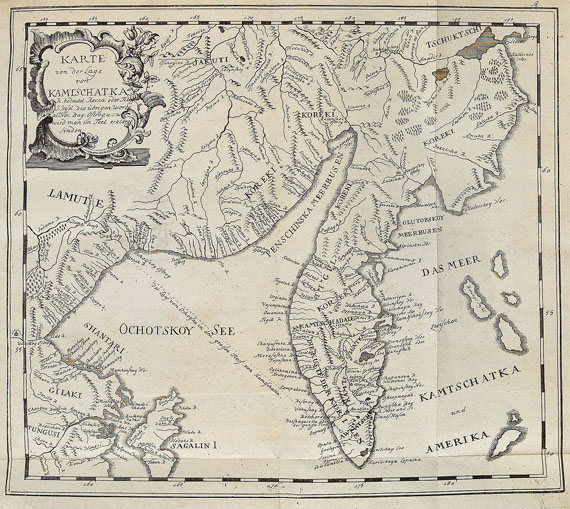 610
Kamschatka. 1766
Estimate:
€ 1,500 / $ 1,755
Sold:

€ 1,680 / $ 1.965
(incl. 20% surcharge)
Lot description
Krascheninnikov, St. (P.),
Opisanie Zemli Kamtschatki d. i. Beschreibung des Landes Kamtschatka ... 1755 in einem Auszuge in Englischer Sprache bekant gemacht von Jac. Grieve und mit Landkarten und Kupferbildern 1764 hrsg. von T. Jefferys nun in das Deutsche übersetzet und mit Anmerkungen erläutert von Joh. T. Köhler. Mit
5 (4 gefalt.) Kupfertafeln und 3 gest. Faltkarten
. Lemgo, Meyer 1766. Ldr. d. Zt. Kl.-4to. XVI, 344 S.
Sabin 38302. - Griep/Luber 731. - Dinse S. 520. - Howes K 265. - Vgl. Henze III, 74. - Erste deutsche Ausgabe, die nach der englischen Ausgabe übersetzt und gegenüber der russischen Original-Ausgabe von 1755 um einiges gekürzt wurde. "Kraseninnikov begleitete Johann Georg Gmelin auf seiner Sibirien-Reise im Rahmen der russischen 'Großen Nordischen Expedition' ... Er ... erforschte, teilweise gemeinsam mit Georg Wilhelm Steller, von 1737 bis 1743 die Halbinsel Kamtschatka. In seiner natur- und anthropogeographischen Beschreibung von Kamtschatka verwertete er auch die Materialien des 1746 verstorbenen Steller, dessen Werk erst 1774 separat herausgegeben wurde ... Kaseninnikovs Reisebericht ist die erste detaillierte wissenschaftliche Beschreibung von Kamtschatka" (Griep/Luber). "Contains one of the earliest descriptions of Russian America and the Kurile Islands" (Howes). - Das vorlieg. Exemplar enthält außer den Karten von Kamtschatka und den Kurilen auch eine zusätzl. Karte, die
Die Durchfahrt und neuen Entdeckungen zwischen Asien und Nordamerica
zeigt (Format ca. 23,5 : 39,5 cm). - Stellenw. schwach gebräunt, Titel und 1 Karte vo. mit restaurierter Ausdünnung. Einbd. beschabt, Kanten und Rücken erneuert (Rücken unter Verwendung des alten Materials).
First German edition. With 4 engr. (4 folding) plates and 3 folding maps. Contemp. calf. - Partly slight browning, title and 1 map with thinned out spot (backed). Binding scraped, edges and spine renewed (spine using the orig. material).
610
Kamschatka. 1766
Estimate:
€ 1,500 / $ 1,755
Sold:

€ 1,680 / $ 1.965
(incl. 20% surcharge)
You might also be interested in

Stephan Krascheninnikow - lots sold by Ketterer Kunst