Sale: 380 / Modern Art, June 04. 2011 in Munich

Lot 16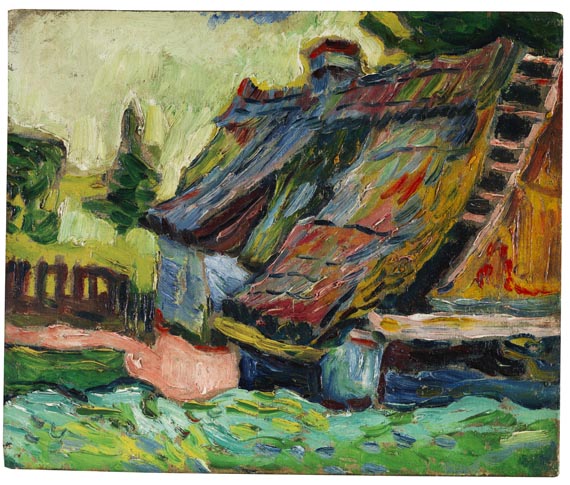 16
Zerfallenes Haus, 1906.
Oil on canvas
Estimate:
€ 300,000 / $ 348,000
Sold:

€ 323,300 / $ 375.028
(incl. 22% surcharge)
Oil on canvas
Inscribed "691 Pechstein" on verso by a hand other than that of the artist. 37 x 45 cm (14,5 x 17,7 in)

Accompanied by a certificate of authenticity issued by Prof. Dr. Leopold Reidemeister, Brücke-Museum Berlin, dated 17 December 1985.
Accompanied by photo expertise issued by Max K. Pechstein, Hamburg, April 1986.
The painting will be included into the forthcoming catalog raisonné of painting under the number 1906//3. The catalog is prepared by Dr. Aya Soika.

PROVENANCE: Private collection, Zwickau (up until the early 1980s).
Galerie Ambiente, Munich (1982 to 1985).
Ketterer Kunst, Munich, 108th auction, 3 June 1986, Nno 863 (ill. on title of catalog).
Leonard Hutton Galleries, New York (as of 1986) (with several labels on stretcher).
Private collection USA.
Private collection (as of 1990).
Galerie Neher, Essen (commission, 1990s).

EXHIBITION: Max Pechstein. Eine Ausstellung des Kreises Unna, Museum für Kunst und Kulturgeschichte Cappenberg, Unna 1989, illu. p. 29.
Museo Brücke Berlín. Arte Expresionista Alemán. Con texto de Magdalena M. Moeller, Fundación Juan March Madrid, Madrid 1993, illu. 3, p. 18.
Karl Schmidt-Rottluff. Ein Maler des 20. Jahrhunderts. Gemälde, Aquarelle und Zeichnungen von 1905 bis 1972, Museum am Ostwall Dortmund/Kunsthalle Kiel/Museum der Bildenden Künste Leipzig 2001, no. 160 (illu. mirror-invertedt).
Max Pechstein. Ein Expressionist aus Leidenschaft. Retrospektive, Kunsthalle Kiel/Kunstforum Ostdeutsche Galerie Regensburg/Kunst-Museum Ahlen, Beckum 2010, no. 27, with illu. p. 31 (only Kiel).

LITERATURE: Felicitas Tobien, Die Künstlergruppe "Brücke", Kirchdorf-Inn 1987, illu. p. 85.
Meisterwerke des Expressionismus. Gemälde, Aquarelle, Zeichnungen und Druckgraphik aus dem Brücke-Museum Berlin, inventory catalog of the Brücke-Museums Berlin, published by Magdalena M. Moeller, Stuttgart 1990, p. 18, illu. 3.
Max Pechstein. Sein malerisches Werk, ex. cat. Brücke-Museum Berlin/Kunsthalle Tübingen/Kunsthalle Kiel, published by Magdalena M. Moeller, Munich 1996, no. 5.
Brücke. La nascita dell'espressionismo, ex. cat. Fondazione Antonio Mazzotta Milan, published by Magdalena M. Moeller, Milan 1999, Abb. 3, S. 20.

Max Pechstein's artistic talent was discovered and encouraged at a very early age. His conventional career, first as an apprentice with a Zwickau painting master, then at the Dresden School of Applied Arts and finally at the Dresden Academy under the decorative painter Otto Gußmann, provided Pechstein with a sound craftsmanship. His ceiling painting at the Dresden Arts and Crafts Exhibition in 1906, with such an unconventional color scheme that the organizers had it sprayed with gray paint to soften the colors, attracted Erich Heckel's attention. He then invited Pechstein to join the artist group 'Die Brücke' which had been founded the year before in opposition to Impressionism. The group's aim was to "attract all revolutionary and restless forces" (Schmidt-Rottluff) and an emphasis of the power of color in painting. In this environment Pechstein's Expressionist style developed further, concentrating on elaborating the focal point of the painting with a sparse painting technique. Pechstein moved to Berlin.

The painting "Zerfallenes Haus" (House in Ruins), which Pechstein made in either 1906 or 1907, just shortly after he joined the 'Brücke', is chief witness of a fundamental change of the painter's concept of art. Similar to the work "Eliasfriedhof in Dresden" (1906, Brücke-Museum, Berlin) this early expressionist work by Pechstein is also a document of his renunciation of the then officially acknowledged Symbolism. With "Zerfallenes Haus" the artist, who had received an excellent academic education, makes a clear decision in favor of avant-garde art. This is clearly spelled out by the picture's theme, instead of fashionable ornate figures Pechstein painted a simple cottage - and this he did in a nothing but revolutionary style: Inspired by works by van Gogh, Pechstein abandons all rules of academic art – perspective, technique, composition. With sketchy and intense strokes of the brush he adds almost haptic structures to the thickly applied, strong and expressive colors. It was for his quick way of painting that Pechstein attains outmost concentration in "Zerfallenes Haus", thus reaching the kernel of artistic creation.

In 1908 and became a co-founder of the 'Neue Sezession'. He painted figures, still lifes and landscapes in a moderately Expressionist style. Perhaps it was this, which lead to the artist's early and continuing success. From 1945 Pechstein taught at the Berlin Art Academy. Before that time, during the Third Reich, he was slandered as a "degenerate" artist. Apart from paintings his oeuvre includes more than 850 woodcuts, lithographs and engravings. [ATh].


16
Zerfallenes Haus, 1906.
Oil on canvas
Estimate:
€ 300,000 / $ 348,000
Sold:

€ 323,300 / $ 375.028
(incl. 22% surcharge)
More offers for Hermann Max Pechstein
You might also be interested in
Hermann Max Pechstein - lots sold by Ketterer Kunst