Sale: 374 / Modern Art, Dec. 04. 2010 in Munich

Lot 37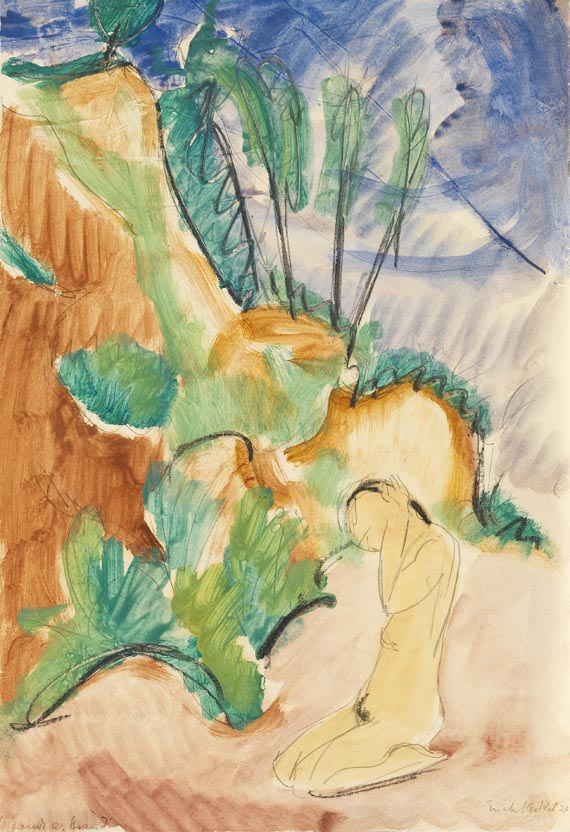 37
Sitzende am Strand, 1920.
Watercolour
Estimate:
€ 15,000 / $ 18,000
Sold:

€ 27,500 / $ 33.000
(incl. 25% surcharge)
Lot description
Watercolor over pencil
Signed and dated lower right, titled lower left. On delicate glassine-like paper. 44,8 x 31,3 cm (17,6 x 12,3 in), size of sheet

We are grateful to Mr. Hans Geißler, estate Erich Heckel, Hemmenhofen on Lake Constantia, for his kind support in cataloging this lot.

PROVENANCE: Private collection Notrh Rhine-Westphalia.

In 1904 Heckel began to study architecture at the Technische Hochschule in Dresden but dropped out after only a year. When Heckel joined his fellow artists Karl Schmidt-Rottluff, Fritz Bleyl and Ernst Ludwig Kirchner to form the group known as 'Die Brücke' in 1905, the path was cleared for Expressionism. Heckel now devoted himself to various print-making media, such as the woodcut, lithography and etching. Luminous landscapes in glowing colors were the result. In autumn 1911 Heckel moved to Berlin. By then he knew Pechstein, Nolde and Mueller, who had joined 'Die Brücke'. Other contemporaries with whom he was in contact were Marc, Macke and Feininger. In 1912 Heckel and Kirchner decorated the chapel for the Sonderbund exhibition in Cologne. A year later 'die Brücke' was disbanded. Heckel's first one-man show was mounted by Gurlitt in Berlin. From 1915 until 1918 Heckel served as a medical orderly in Flanders and then returned to Berlin, where he remained domiciled until early in 1944. Heckel spent most summers on the Flensburg Firth, while his travels took him to the Alps, Southern France, Northern Spain and Northern Italy.

Before World War I Dangast near Oldenburg was the destination for Heckel's summer sojourns, after the war Osterholz on the coast of the Baltic Sea became the artist's new summer residence. The steep coast and its multifaceted landscape, completely untouched by tourism in those days, offers the perfect source of inspiration for Heckel's summer impressions of pristine nature. Nudes on th beach are his preferred theme and Erich Heckel was intensively occupied therewith in the early 1920s. The furor of his days with the "Brücke" can still be seen in his swift strokes of the brush on our watercolor, however, the colors already hint at a kind of expressive Realism, which would dominate his further creation. But he is not there yet. The spontaneous color application ties in with Erich Heckell's most mature achievements from shortly before World War I.

729 of his works were confiscated in German museums in 1937 and his studio in Berlin was destroyed in an air raid in Berlin shortly before the end of the war, destroying all his printing blocks and many of his works. Heckel subsequently moved to Hemmenhofen on Lake Constance. In 1949 he was appointed professor at the Akademie der Bildenden Künste in Karlsruhe, a post that he held until 1955. During this decade the still life became an increasingly important subject in Heckel's work. His style was now calmer, more balanced with an almost lyrical atmosphere. Erich Heckel was honoured with exhibitions in numerous German cities in 1953 to celebrate his 70th birthday - and again ten years later on his 80th birthday. Heckel was also awarded numerous prizes: the 'Kunstpreis' of the city of Berlin (1957), of the state of North Rhine-Westphalia (1961) and the 'Großes Bundesverdienstkreuz' (1956). [KD].


37
Sitzende am Strand, 1920.
Watercolour
Estimate:
€ 15,000 / $ 18,000
Sold:

€ 27,500 / $ 33.000
(incl. 25% surcharge)
More offers for Erich Heckel
You might also be interested in
Erich Heckel - lots sold by Ketterer Kunst