Defending Leading Position with Results in the Millions and World Records
Ketterer Kunst Makes Record History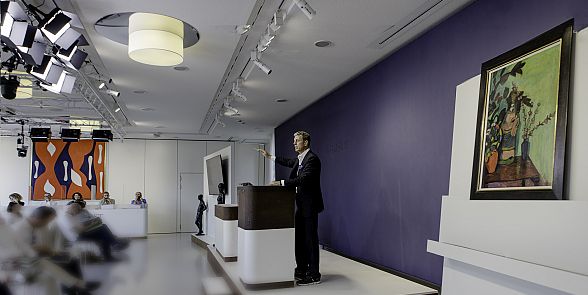 Robert Ketterer realizes a world record price for Gabriele Münter's ""Stillleben mit Madonna" and the highest hammer price of the German auction season with Ernst Wilhelm Nay's "Doppelspindel-Rot" from the Deutsche Bank Collection
Top 15 for the first term of 2021


| Result | Calling price | Lot no. | Artist - Title |
| --- | --- | --- | --- |
| € 2,250,000* | 200,000 | 337 | Ernst Wilhelm Nay - Doppelspindel-Rot |
| € 1,500,000* | 400,000 | 320 | Ernst Ludwig Kirchner - Sertigweg |
| € 1,500,000* | 600,000 | 339 | Gerhard Richter - Abstraktes Bild |
| € 1,312,500* | 500,000 | 328 | Günther Uecker - Energiefeld |
| € 1,125,000* | 270,000 | 313 | A. von Jawlensky - Mystischer Kopf |
| € 1,125,000* | 200,000 | 322 | Gabriele Münter - Stillleben mit Madonna =>World Record** |
| € 1,125,000* | 230,000 | 376 | Wassily Kandinsky - Gebogene Spitzen |
| € 1,062,500* | 400,000 | 323 | Erich Heckel - Blaue Iris |
| € 1,037,500* | 300,000 | 520 | Keith Haring - Andy Mouse (4 Blatt) =>World Record** |
| € 937,500* | 470,000 | 354 | Sean Scully - Fire =>German Record** |
| € 875,000* | 180,000 | 367 | Franz Marc - Zwei gelbe Tiere =>German Record** |
| € 750,000* | 600,000 | 332 | Emil Nolde - Landsachft mit Mutterpferd |
| € 750,000* | 600,000 | 357 | Joseph Beuys - Wo ist Element 3 |
| € 712,500* | 250,000 | 380 | Pablo Picasso - Jeune garçon et femme assise |
| € 687,500* | 360,000 | 347 | Jan Schoonhoven - R 71-18 |
Munich, June 21 2019 (KK) - Robert Ketterer remains Germany's number one by far. With total proceeds of more than € 44 million*, his auction house did not only realize its best season result in this year's spring auctions but also saw the best result in Germany's auction history. Thus Ketterer Kunst beats its own 2020 record and repeatedly confirmes its role as market leader.
A fact manifested by nine results beyond the magic million euro mark - more than ever before in just a single auction - and a total of 85 results on or above the € 100,000* line. That's 30 more than last spring. The success story also contains numerous records as well as world records for works by, among others, Detlev Conrad Blunck, Rupprecht Geiger, Keith Haring, Ida Kerkovius, Gabriele Münter, Richard Oelze and Lesser Ury.

After the kick off a few days ago in the Rare Books Department with total proceeds of more than € 1.5 million*, the sale of Art from the 19th to the 21st century closed the auction season with an astonishing grand total of more than € 41 million*. With a sales volume of more than € 28 million* the Evening Sale alone fetched around € 12 million* more than last spring.

"These figures set new standards", says Robert Ketterer, auctioneer and owner of Ketterer Kunst. "Our extended executive team makes for an even more international orientation, of which the scores of bids from Asia, Europe, the U.S.A. and Russia deliver proof." The company's boss continues: "After such a long lockdown the backlog demand is certainly still strong, but one thing is sure: Many German and international clients seek quality. They know that good art is not just an aesthetic pleasure, but also a good form of investment. Currently we experience an extremely strong demand that is boosted by an ever increasing routine in digital means. I expect a similar course for the second half of 2021."

Indeed, the interest became not only obvious in the saleroom, as phone bids, proxy bids and online bidding also reached new record heights:

With an online bid over € 2,187,500* for Ernst Wilhelm Nay's "Doppelspindel-Rot" (lot 337) from the Deutsche Bank Collection, the to date highest sum was submitted through the internet in Germany. However, this led to a thrust of motivation with a saleroom bidder. With a final result of € 2,250,000* he not only beat the internet, but also a good amount of proxy bids and eight telephones from all over Germany, Switzerland and Russia. This was the night's sharpest price increase as well as the highest single result of the German spring auction season. The monumental composition will now become part of a Swiss collection.

The other works from the renowned Deutsche Bank Collection were not only almost entirely sold, but also fetched excellent prices and often even enormous increases. With a result of € 675,000*, Max Liebermann's "Der Nutzgarten in Wannsee nach Südosten" (lot 324) was sold to Brandenburg for more than twice the calling price, while Günther Uecker's first nail tree "Kunstpranger" (lot 319) went to a collection in Lower Saxony for € 375,000*. Called up at € 100,000, nine telephones and a number of commissions competed for Lesser Ury's "Brandenburger Tor vom Pariser Platz aus gesehen" (lot 520). Eventually a collector from Berlin won the trophy for a result of € 337,500* and set a new worldrecord** for a pastel by the artist.

The audience applauded on several occasions during the Evening Sale, among them for the second place in the spring auctions, which two top representatives of Modern and Contemporary art share. Both Ernst Ludwig Kirchner's "Sertigweg" (lot 320) and Gerhard Richter's "Abstraktes Bild" (lot 339) soared to € 1,500,000* and realized a threefold and twice their starting prices, respectively. Despite fierce international competition from, among others, Great Britain, Hong Kong, the U.S.A. and Switzerland, both works will stay in Germany.

Third place went to Günther Uecker's very rare "Energiefeld" (lot 328). With a result of € 1,312,500* an American art consultant stopped the fervor of seven phones from all over Germany, Great Britain, Belgium, Ireland and Switzerland.

A new world record** was also set by Gabriele Münter's "Stillleben mit Madonna" (lot 322), which was lifted from a calling price of € 200,000 to a final price of € 1,125,000*. Despite strong opposition from German collectors and traders, the work made during the founding year of the Blaue Reiter will now travel to Norway.

While an online bidder made Alexej von Jawlensky's painting "Mystischer Kopf: Galka Fatum - Fate" (lot 313) sure for himself against strong competitors from Germany and the U.S.A. for € 1,125,000*, a collector from the Berlin region needed the same amount to win the sensational rediscovered watercolor "Gebogene Spitzen" by Wassily Kandinsky (lot 376). He stood his grounds for the work that was considered lost for more than 70 years against the wills of art lovers from, among others, the German capital, London, New York and Zürich.

More prices in the millions were realized by Erich Heckel's impressive oil painting "Blaue Iris" € 1,062,500*, (lot 323) as well as by Keith Haring's "Andy Mouse" (lot 323). With € 1,037,500*, a phone bidder from Hong Kong beat the world record** for a graphic work by the artist set by Sotheby's in 2018 by far and relegated a fellow countryman and other competitors from all over the U.S.A., Great Britain and Spain to places second and beyond.

German records were set by Sean Scully's work "Fire" (lot 354), which found a new home in Switzerland for a result of € 937,500*, and by Franz Marc's watercolor "Zwei gelbe Tiere (Zwei gelbe Rehe)" (lot 367), which was called up at € 180,000. A collectors couple from Southern Germany let the top lot from the Collection Ilse and Herrmann Bode climb to the record result of € 875,000*. Bidders from all over Germany were left empty-handed. The other four works from the renowned collection, made by Lyonel Feininger, Otto Gleichmann, Paul Klee and Otto Mueller, also found new homes, the latter even for more than four times its calling price.

A suite of works by Joseph Beuys offered in an extra auction catalog honored the œuvre of the radical and likewise influential artist on occasion of his 100th birthday. As expected, the installation "Wo ist Element 3?" (lot 357) was the top lot. With a result of € 750,000* a bidder from Switzerland set a new German record**.

In the Departments of Post War and Contemporary Art, the auction's fourth extra catalog From An Important English Collection offered 59 works that were entirely sold. Next to two works by Subodh Gupta (lots 626 and 656), each fetching € 75,000*, Li Hui's monumental work "Reincarnation" (lot 617) was very popular with the bidders. For a result of € 85,000* the impressive installation was sold to the artist's home country.

Wolfgang M. Heckl's interesting AI-artwork "Phantom of the Opera" (lot 593) was able to realize a three-fold of its starting price of € 8,000. Sold for € 23.750*, the bidding fight took place mainly online.

Ketterer Kunst did not miss out on the good cause, either. Led by Bernd Zimmer's acrylic work "Das geheime Leben der Sterne 35" (lot 596), which an online bidder won for € 40,000*, a series of almost a dozen works of contemporary art realized a total of more than € 88,000* which will go to CARITAS.

More excellent results were also realized by, among others, the following works:

Lot
Artist (technique)
Title
Calling price
Result
347
Schoonhoven (relief)
R 71-18
€ 360,000
€ 687,500*
216
Heckel (color woodcut)
Zwei ruhende Frauen
€ 180,000
€ 450,000*
364
Schiele (chalk drawing)
Sitzender
weiblicher Akt
€ 90,000
€ 425,000*
444
Rainer (oil)
Zentralgestaltung
€ 55,000
€ 375,000*
311
Hartung (oil)
T 1931-1
€ 80,000
€ 337,500* Ge. Record**
498
Oelze (oil)
Wald
€ 40,000
€ 325,000* World Record**
At the grand opening of the three-day auction marathon on Thursday, the Department of 19th Century Art scored a fantastic result of more than € 2 million* in total proceeds and even excelled the great figures of the last spring auction season by almost half a million euro*. But that's not all: A sales quota of 85% by lots and an average increase of almost 120% prt sold object made for as much enthusiasm as four single results on or beyond the € 100,000* line.

The department's uncontested star was Detlev Conrad Blunck's "Allegorie des Sonntags" (lot 22) acquired by a Scandinavian National Museum. It took € 150,000*, a new world record** that more than doubled the old record, to make this victory possible. Next to a dozen international phones, five proxy bids and several online bidders fought hard over the gracious oil painting.

Likewise popular, especially in Germany, was Carl Spitzweg's "Einsiedler mit Mädchen" (lot 15). Called up at € 30.000, a private collector from Bavaria provided nearly a four-fold and won the oil on panel work for € 112,500*.

Four works by Karl Hagemeister realized great increases and made it into the department's top ten, first and foremost "Sanddornstrauch an der Meeresküste" (lot 65), which nearly quintupled its calling price and was sold to a bidder in the German capital for a price of € 105,000*.

With more than a dozen commisissions and phone bids, the small-sized painting "Birnen" (lot 49) by Joseph Decker saw very strong demand. The boisterous bidding fervor from all over the world was only halted by a collector from the U.S.A. and his € 100,000*.

Sarah Mohr, head of the Department of 19th Century Art, sums up: "Agile national and international participation and 34% first time buyers speak as much for itself as the fact that a focused range of 80 works saw results beyond the € 10,000* line for almost 50 works, more than half of the complete offering."

€ 1.5 million* is the good result of the Rare Books Department. Five-figure prices for more than 30 works and a sales quota of 88 % in the Evening Sale alone show how strong this section is. "Both established clients, as well as first time bidders value our expertise and flexibility", says Christoph Calaminus, auctioneer and head of the Hamburg-based department. "The active national and international auction participation, as well as the ever growing number of online bidders deliver proof thereof. A total of nearly 25% of all lots were sold via the internet. This excellent result holds a lot of potential for the future."

The season's figures are completed by the Online Only Auctions on www.ketterer-internet-auctions.com. With total proceeds of 1.5 million* including forecast results of the first term's last sole online auction ending June 20, it shows that the digitization has been completely integrated.

* The result is the hammer price + 25% buyer's premium
** Auction records according to www.artprice.com

Ketterer Kunst (www.kettererkunst.com and www.ketterer-internet-auctions.com) with headquarters in Munich and branches in Hamburg, Duesseldorf, Berlin as well as with a global network of representatives in, among others, the USA and Brazil, was founded in 1954. It is one of the leading houses for auctions of Fine Art from the 19th to the 21st Century and Rare Books. As market leader for Art from the 19th to the 21st Century in the German language region, the expert for German art, according to the 2020 report issued by the artprice database, is the only and strongest-selling family business represented in the global Top 10.
| Press inquiries: | Client inquiries: |
| --- | --- |
| Ketterer Kunst | Ketterer Kunst |
| Joseph-Wild-Str. 18 | Joseph-Wild-Str. 18 |
| 81829 Munich | 81829 Munich |
| Michaela Derra M.A. | |
| phone: +49-(0)89-55244-152 | phone: +49-(0)89-55244-0 |
| fax: +49-(0)89-55244-177 | fax: +49-(0)89-55244-177 |
| e-mail: m.derra@kettererkunst.de | e-mail: infomuenchen@kettererkunst.de |
Follow us on www.instagram.com/kettererkunst.de