Until July 15: Online Only Auction with 377 Original NASA Photographs
50 Years After: Moon Revisited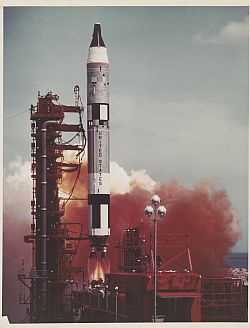 Lot 20 - NASA (Gemini I), April 8, 1964
The first launch of project Gemini
Chromogenic vintage print on fiber-based Kodak paper, printed, 1964
27,8 x 21 cm
Starting price: € 100
Estimate: € 600-800
Munich, June 30, 2021 (KK) - It may well be the beginning of a new space age: Whether its NASA, ESA, China, SpaceX or Airbus - they all want to return to the Moon and continue on to Mars. The new chapter is about to be opened with first launches in two or three years, more than 50 years after Apollo 17 commander Eugene Cernan was the last man to set foot on the moon in late 1972.

Lately the Moon has moved into the focus of scientists with an interest in both the orb itself and in its function as a stopover for a first journey to Mars. Elon Musk (Tesla, SpaceX) and Jeff Bezos (Amazon and Blue Origin) plan to set up permanent space stations on both Moon and Mars. Sir Richard Branson (Virgin Galactic) is working on a concept for space tourism. This pioneering enthusiasm marks the beginning of a new chapter in the history of space travel.

But we would not be at this point if it had not been for the Golden Age of Space Travel in the 1960s when man began to explore orbit and Moon.

The Paris collector Victor Martin-Malburet has a unique compilation of original NASA photographs from this era. These documents did not only allow for a peek into unknown worlds, but also redefined our view of Planet Earth. Now the space enthusiast parts with 377 of these iconic original photographs shot between 1958-1972. They will be called up with starting prices of € 100 each (estimates up to € 20,000) in the Ketterer Kunst Online Only Auction ending July 15. Bids can already be submitted on
www.ketterer-internet-auctions.com.

Victor Martin-Malburet is currently preparing a book and touring exhibition for the 50th anniversary of the last visit to the Moon (Apollo 17, 17 December 1972). An effort made to accompany the return to Moon and to document the to date untold visual story of mankind's greatest adventure. Its also about many "firsts": the first 14 years of NASA with the first flights into orbit, the first cameras in space, man's first sight of space, the first space selfies, the first shots of the Moon's surface and, of course, the first world-shaking pictures of Planet Earth from space.

Almost all NASA pictures from these days went straight to the space agency's archives and were only used for scientific purposes. Just a small part of the astronaut's space œuvre was used for press releases, book publications or as souvenirs for members of the Mercury, Gemini or Apollo missions.

Many of the photographs, which may well be considered the artistic legacy of the space pioneers, have become icons and make for an integral part of our collective visual memory. Additionally, the collection of Victor Martin-Malburet also comprises a large number of pictures that were only accessible for scientists.

They are the most expensive proofs ever made. Space-proof cameras alone cost a fortuneat the time, and transportation and development came on top. The original pictures feature NASA ID numbers, stamps, captions, logos and the signets of the labs they were produced at.

"These fantastic NASA originals are extraordinary art in many ways: They feature beauty, they deliver inspiration, they show what nobody had ever seen before, they required a massive technological effort and on top - people risked their lives to take them," auctioneer Gudrun Ketterer explains.

"NASA didn't realize the value of its own original photographs as they were gradually disseminated after the missions. Yet these were the first visual artifacts created by humans beyond Planet Earth," explains Victor Martin-Malburet. "These shots are a radical evolutionary milestone, comparable only with that moment in evolution when aquatic life came crawling up onto the land. These pictures are documents of contemporary history at its best and whet the appetite for the next chapter of the exploration of Moon and Mars."

The comprehensive auction catalog is available as a pdf-file on the Ketterer Kunst homepage on:
https://www.kettererkunst.de/downloads/Ketterer_Kunst_OnlineOnly20210715.pdf
Next to all photographs on offer, it also features interviews with the collector Victor Martin-Malburet and the German ESA astronaut Ulf Merbold, who traveled to space more often than any other German astronaut and who celebrated his 80th birthday just a few days ago.

Ketterer Kunst (www.kettererkunst.com and www.ketterer-internet-auctions.com) was founded in 1954. It is head-quartered in Munich with bases in Hamburg, Duesseldorf and Berlin as well as a global network of representatives in, among others, the USA and Brazil. It is one of the leading houses for Fine Art Auctions from the 19th to 21st Century and Rare Books. As market leader for 19th to 21st Century Art in the German language region, as well as, according to a report pbulished by the Arprice database in 2020, the expert for German art, Ketterer Kunst is the only strongest-selling family business represented in the global Top 10.
| Press inquiries: | Client inquiries: |
| --- | --- |
| Ketterer Kunst | Ketterer Kunst |
| Joseph-Wild-Str. 18 | Joseph-Wild-Str. 18 |
| 81829 Munich | 81829 Munich |
| Michaela Derra M.A. | |
| phone: +49-(0)89-55244-152 | phone: +49-(0)89-55244-0 |
| fax: +49-(0)89-55244-177 | fax: +49-(0)89-55244-177 |
| e-mail: m.derra@kettererkunst.de | e-mail: infomuenchen@kettererkunst.de |
Follow us on www.instagram.com/kettererkunst.de