Autumn Auctions: Art from the 19th to the 21st Century with Seminal Work by Egon Schiele
S l e e p i n g B e a u t y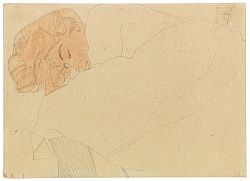 Egon Schiele
Schlafendes Mädchen
Pencil drawing with watercolors, 1908
22 x 30,2 cm
Estimate: € 150,000-250,000
Munich, 11. October 2021 (KK) -

This early work by Egon Schiele remained hidden in a private collection for more than 45 years. Now the pencil drawing with watercolors will be included into the catalog raisonné of the Schiele expert Jane Kallir, and will be sold in the Ketterer Kunst

Auction

from

December 10/11

in Munich, Germany.

"

Egon Schiele

's sheet "Schlafendes Mädchen" is of seminal importance, as it clearly shows the artist's development from Viennese Art Nouveau to Expressionism. Next to the delicate representation of the model, the artist also reveals his own inner sensation", explains the auctioneer

Gudrun Ketterer

.

Egon Schiele was only 18 years old when he rendered the sleeping girl in an extraordinary presence with just a few pencil lines and brushstrokes. Through the astounding reduction to vital details, the artist showed great poise in staging the body in all its comeliness.

He had begun to study at the Academy of Fine Arts in Vienna only two years earlier, but soon felt constrained and dropped out in 1907. He sought contact with

Gustav Klimt

, who became his mentor. The year "Schlafendes Mädchen" was made he also became acquainted with

Oskar Kokoschka

. These influences should unleash his enormous creative potential and he soon attained his signature partial color application, from which the hair-do and the delicate facial features - applied in just slightly washed watercolors - of the "Schlafendes Mädchen" also benefit.

This work is not only fascinating for its motif: The reverse side reveals another interesting aspect as it is inscribed "Besitz Hayd" (Ownership Hayd). The Austrian painter and graphic artist

Karl Hayd

also studied at the Academy in Vienna from 1902 to 1906. He only met Schiele after a longer stay in Prague. As they henceforth traded drawings, it is very likely that this was how the "Schlafendes Mädchen" got into the possession of the fellow painter, from where it found its way into the Nuremberg collection of Joseph Drexel. From his estate the elegant sheet became part of a Southern German private collection in 1976. It should take another 45 years before it is now in the limelight again. As part of the auction preview exhibitions, the work will be shown in five German cities as of mid November.

Next to Egon Schiele, the auction includes other fascinating works such as

Emil Nolde

's famous "Buchsbaumgarten" (estimate: € 1,2000,000-1,800,000, see separate press release), as well as

Vladimir Georgievitsch Bechteev

's painting "Leda und der Schwan" (see separate press release) and "Erzgebirgslandschaft im Winter" by

Erich Heckel

, both estimated at € 300,000-400,000. Other highlights are, among others,

Gabriele Münter

's "Berglandschaft mit Haus" (estimate: € 250,000-350,000),

Imi Knoebel

's "Lilola" (estimate: € 200,000-300,000) and works by renowned artists like Max

Beckmann

, Hans

Hartung

, Karl

Hofer

, Alexej von

Jawlensky

, Max

Liebermann

, Ernst Wilhelm

Nay

, Otto

Mueller

and Francis

Picabia

.
Preview
November 18/19 Ketterer Kunst Hamburg
November 21/22 Ketterer Kunst Düsseldorf
November 24 Galerie Schwind Frankfurt
Nov 27- Dec 2 Ketterer Kunst Berlin
December 04-10 Ketterer Kunst Munich
Auction in Munich
December 10 Post War / Cont. Art II / Evening Sale
December 11 19th Century Art / Modern Art II
Ketterer Kunst (www.kettererkunst.com and www.ketterer-internet-auctions.com) with headquarters in Munich and branches in Hamburg, Duesseldorf, Berlin as well as with a global network of representatives in, among others, the USA and Brazil, was founded in 1954. It is one of the leading houses for auctions of Fine Art from the 19th to the 21st Century and Rare Books. As market leader for Art from the 19th to the 21st Century in the German language region, the expert for German art, according to the 2020 report issued by the artprice database, is the only and strongest-selling family business represented in the global Top 10.
| Press inquiries: | Client inquiries: |
| --- | --- |
| Ketterer Kunst | Ketterer Kunst |
| Joseph-Wild-Str. 18 | Joseph-Wild-Str. 18 |
| 81829 Munich | 81829 Munich |
| Michaela Derra M.A. | |
| phone: +49-(0)89-55244-152 | phone: +49-(0)89-55244-0 |
| fax: +49-(0)89-55244-177 | fax: +49-(0)89-55244-177 |
| e-mail: m.derra@kettererkunst.de | e-mail: infomuenchen@kettererkunst.de |
Follow us on www.instagram.com/kettererkunst.de