Countess Keglevich's Successful Start At Ketterer Kunst With An Art-Historical Sensation
Jawlensky Rediscovered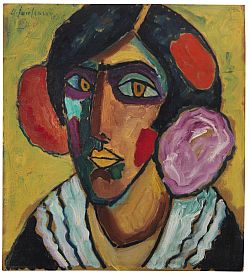 Alexej von Jawlensky
Frauenkopf mit Blumen im Haar
Oil on board, around 1913
53,5 x 49,3 cm
Estimate: € 2,500,000 - 3,500,000
Munich, November 8, 2021 (KK) - Nicola Countess Keglevich left Sotheby's and joined Ketterer Kunst on August 1. In her first auction she is now going to present a spectacular female head by Alexej von Jawlensky dated 1913 – an absolutely top-class masterpiece.

It is an art-historical sensation, because the painting was part of a German private collection for around 100 years. Only in 2017 it was presented to the Jawlensky archive and added to the supplement of the catalog raisonné which will be published in the near future.

Now this significant rediscovery will enter the race in the Evening Sale at Ketterer Kunst in Munich on December 10 with an estimate of € 2,500,000-3,500,000.

The leading German auction house won the contract for Jawlensky's masterwork against strong global competition. "We are very pleased that after such a long time we can now present this work of the highest museum quality for the first time on the art market," says Nicola Countess Keglevich, Senior Director at Ketterer Kunst.

The German-Russian artist Alexej von Jawlensky, who was part of the environment around the artist group "Der Blaue Reiter", was one of the luminaries of Expressionism. The anniversary exhibition 'Alles! 100 Jahre Jawlensky in Wiesbaden', on display at the Museum Wiesbaden since September 2021, testifies to his outstanding relevance.

"It is a great opportunity", Keglevich continues, "to finally have a chance to win a work from the artist's most sought-after period, as comparable works are very rarely offered on the auction market."

Alexej von Jawlensky and the significance of the "head" in his work

Heads play a key role in Alexej von Jawlensky's œuvre. The portrait of man, face and countenance are among the artist's great themes.

After the turn of the century, he made first portraits of people that were close to him. However, generalizing titles such as "Spaniard", "Japanese", "Infanta" or "Egyptian Woman" indicate that the mainly female and occasionally male heads, were not intended as individualized portraits. The iconic, expressive portraits rather demonstrate Jawlensky's quest to abstract the concrete and ultimately to express his soul.

"I understood that I didn't have to paint what I saw (...) what I felt, but only what lived in me, in my soul." - Alexej von Jawlensky

At the outbreak of the First World War, his first series of heads led to the famous "Abstract Heads", the "Constructive Heads", the "Savior's Faces" and finally to his "Meditations".

"The painting 'Frauenkopf mit Blumen im Haar' is from the artist's most important work phase shortly before the First World War," says Dr. Roman Ziegelgänsberger, curator in the Department of Modern Art at Museum Wiesbaden. "Although Jawlensky worked extremely powerful and expressive during this period, he also knew how to capture even the most subtle moods. This work is characterized by a kind of restrained melancholia that lies above it like a pleasant veil and which makes for its special charm. Not least because of this, the hitherto unknown painting with the hair painted in a blazing red and the billowing mint-cool collar can be considered a great discovery."

The Provenance
Emmy "Galka" Scheyer, who managed the marketing of Jawlensky's work as of 1920, also had the "Frauenkopf mit Blumen im Haar" on consignment, as a label on the reverse suggests. She placed the portrait with the Hamburg gallery Commeter, presumably for the major traveling exhibition in 1920/21. In addition to the gallery label on the original artist's frame, we also find information about another station of this work, the Galerie Arnold in Dresden.

The first known private owners were an architect of New Objectivity and his wife. He most likely saw works by Alexej von Jawlensky as early as in the exhibition at Barmer Ruhmeshalle in 1911, when he was active in Elberfeld.

The painting came into the collection of the current owner through donation: "I have grown very fond of this work as it layed the ground for my activities as a collector 45 years ago ," says the consignor from the Frankfurt region. "The decision to sell it was not an easy one, however, entrusting it to Ketterer Kunst was. To me choosing this auction house was a logical consequence for the sale of such an important work."

In fact, it was only this year that Ketterer Kunst achieved the world record for a "Mystical Head" by Alexej von Jawlensky with proceeds of € 1,125,000.

"Jawlensky's distinctive "Frauenkopf mit Blumen im Haar" which had previously been unknown to research, has an enormous potential. The work will not only enrich our auction and its new destination, but also promote Germany as an important international art marketplace", says Robert Ketterer, auctioneer and owner of Ketterer Kunst.

Further Auction Highlights
Next to works by Alexej von Jawlensky, the auction also boasts other fascinating works of MODERN ART, such as Emil Nolde's famous "Buchsbaumgarten" (estimate: € 1,2000,000-1,800,000, see separate press release), Max Beckmann's "Hunde" and Otto Mueller's "Drei badende Mädchen" (both estimated at € 400,000-600,000), as well as the paintings "Leda und der Schwan" by Vladimir Georgievitsch Bechteev (see separate press release) and Erich Heckel's "Erzgebirgslandschaft im Winter", both with estimated of € 300,000-400,000 each. Other highlights come from renowned artists like Georges Braque, Max Liebermann, Gabriele Münter and Francis Picabia.

The section of POST WAR ART features exciting works like, among others, a triptych by Albert Oehlen (estimate: € 1,500,000-2,500,000), Sean Scully's "Blue Yellow Figure" (Estimate: € 600,000-800,000), Pierre Soulages' "Peinture 92 x 65, 3 Aout 1954" (estimate: € 700,000-900,000), the portrait "Tara" by Alex Katz (estimate: € 350,000-450,000) and Cy Twomblys "Untitled (Drawing for Manifesto of Plinio" (estimate: € 250,000-350,000) as well as Imi Knoebel's "Lilola" (estimate: € 200,000-300,000). Other high-class contributions are made by, among others, Enrico Castellani, Yves Klein, Yoshitomo Nara, Ernst Wilhelm Nay and Jan Schoonhoven.
Preview
November 18/19 Ketterer Kunst Hamburg
November 21/22 Ketterer Kunst Düsseldorf
November 24 Galerie Schwind Frankfurt
Nov 27- Dec 2 Ketterer Kunst Berlin
December 04-10 Ketterer Kunst Munich
Auction in Munich
December 10 Post War / Cont. Art II / Evening Sale
December 11 19th Century Art / Modern Art II
Ketterer Kunst (www.kettererkunst.com and www.ketterer-internet-auctions.com) with headquarters in Munich and branches in Hamburg, Duesseldorf, Berlin as well as with a global network of representatives in, among others, the USA and Brazil, was founded in 1954. It is one of the leading houses for auctions of Fine Art from the 19th to the 21st Century and Rare Books. As market leader for Art from the 19th to the 21st Century in the German language region, the expert for German art, according to the 2020 report issued by the artprice database, is the only and strongest-selling family business represented in the global Top 10.
| Press inquiries: | Client inquiries: |
| --- | --- |
| Ketterer Kunst | Ketterer Kunst |
| Joseph-Wild-Str. 18 | Joseph-Wild-Str. 18 |
| 81829 Munich | 81829 Munich |
| Michaela Derra M.A. | |
| phone: +49-(0)89-55244-152 | phone: +49-(0)89-55244-0 |
| fax: +49-(0)89-55244-177 | fax: +49-(0)89-55244-177 |
| e-mail: m.derra@kettererkunst.de | e-mail: infomuenchen@kettererkunst.de |
Follow us on www.instagram.com/kettererkunst.de