Ketterer Kunst June Auctions With Sensational Discovery
Wassily Kandinsky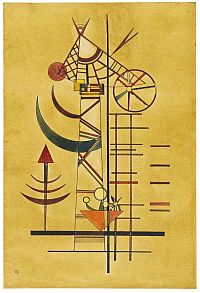 Wassily Kandinsky
Gebogene Spitzen
Watercolor, 1927, 48 x 32,2 cm
Estimate: € 250.000-350.000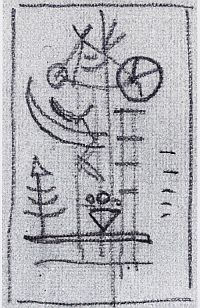 Wassily Kandinsky's sketch in the catalog raisonné
Munich, May 17, 2021 (KK) -

It was lost for more than 70 years: Now Wassily Kandinsky's work "Gebogene Spitzen" resurfaced. Experts of Ketterer Kunst have no doubts about its authorship. The watercolor with its fascinating history will be called up in the auctions at

Ketterer Kunst

in Munich on

June 17-19

. Wassily Kandinsky

's strictly geometric compositions from the Bauhaus years are his most-sought after paper works on the international auction market.

"I am all the more delighted ", says Robert Ketterer, "that we were able to identify such an outstanding work." The auctioneer and owner of Ketterer Kunst explains: "Many Kandinsky experts did research into the work, however, its exact appearance and whereabouts remained a mystery for decades. The only hint came from the catalog raisonné of Vivian Endicott Barnett: a tiny sketch made from memory inscribed "Location: Unknown."

With more than a dozen paintings and nearly 600 graphic works, the Collection Dr. Ismar Littmann put a strong emphasis on the art of Lovis Corinth. Dr. Littmann, a dedicated art lover with a liking for contemporary art, began compiling his collection in 1916, just one year prior to the making of "Klostergarten". He was highly valued for his generosity, as well as for his keen eye for art of exceptional quality. In many cases works from his collection found their way into renowned museums.

With shows in Berlin, Paris, The Hague, Brussels, Halle and Stockholm the watercolor looked back on a fascinating exhibition history when it still was in the artist's possession, however, the list ends in 1932.

After the National Socialists had closed the Bauhaus in Berlin in July 1933, Wassily Kandinsky and his wife Nina relocated to Paris in December that year. "Gebogene Spitzen" must have been part of their luggage, as a customs stamp on the reverse suggests.

A note in the artist's handlist proves that it was on consignment with the art trader Rudolf Probst. After Kandinsky's death in 1944 his wife Nina Kandinsky administered the estate and eventually noted "vendu par Probst" (sold through Probst) in the handlist. On top, the Fonds Kandinsky has a list of works that were at Probst in Mannheim in 1949, on which Nina Kandinsky had crossed out "Gebogene Spitzen" as sold. We can therefore act on the assumption that it was sold through Probst in 1949. Ever since the whereabouts of this distinguished artwork were unknown.

This balanced construction characterized by both motion and resting stability from the estate of a Western German private collection will be called up with an estimate of € 250.000-350.000. Before the auction it will go on an exhibition tour with stops in Frankfurt (May 28), Duesseldorf (May 30/31), Hamburg (June 2/3), Berlin (June 5-10) and Munich (June 12-18).
Auction in Munich
June 17 19th Century Art
June 18 Modern Art II / Evening Sale
June 19 Post War / Cont. Art II
Ketterer Kunst (www.kettererkunst.com and www.ketterer-internet-auctions.com) with headquarters in Munich and branches in Hamburg, Duesseldorf, Berlin as well as with a global network of representatives in, among others, the USA and Brazil, was founded in 1954. It is one of the leading houses for auctions of Fine Art from the 19th to the 21st Century and Rare Books. As market leader for Art from the 19th to the 21st Century in the German language region, the expert for German art, according to the 2020 report issued by the artprice database, is the only and strongest-selling family business represented in the global Top 10.
| Press inquiries: | Client inquiries: |
| --- | --- |
| Ketterer Kunst | Ketterer Kunst |
| Joseph-Wild-Str. 18 | Joseph-Wild-Str. 18 |
| 81829 Munich | 81829 Munich |
| Michaela Derra M.A. | |
| phone: +49-(0)89-55244-152 | phone: +49-(0)89-55244-0 |
| fax: +49-(0)89-55244-177 | fax: +49-(0)89-55244-177 |
| e-mail: m.derra@kettererkunst.de | e-mail: infomuenchen@kettererkunst.de |
Follow us on www.instagram.com/kettererkunst.de