Ketterer Kunst with Stardust For A Good Cause
Caritas Charity Auction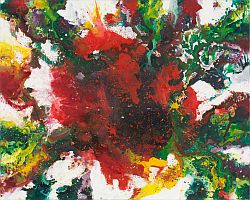 Bernd Zimmer
Das geheime Leben der Sterne 35
Acrylic on canvas, 2018
120 x 150 cm
Estimate: € 10.000-15.000
Munich, May 19, 2021 (KK) -

It can happen suddenly and it can happen to anyone: Life is normal the one moment, the next moment you have an accident, get ill and in need of care. What a good thing it is to have someone who takes care of you, and even better if that someone has support. The "Department for Family Member Carers" of Caritas is doing a tremendous job in this field. But that would not be possible without donations. For this good cause Ketterer Kunst is going to sell a small but select range of works in context of its

Auctions from June 17 to 19

in Munich, Germany.

"I am very pleased to have the opportunity to support Caritas and the great work they do with this project. My thanks primarily go to the artists, as it is their commitment that makes this benefit auction possible", says Robert Ketterer. The auctioneer and company owner continues: "In times that have raised our awareness of the significance of good care, it is particularly important to support those who we don't see doing mostly voluntary work in domestic settings."

The title of

Bernd Zimmer

's contribution to the auction could hardly be more appropriate. With his work "Das geheime Leben der Sterne" (The Secret Life of the Stars) dated 2018, the Bavarian artist distributes more than just a little stardust, as the proceeds of the work estimated at € 10,000-15,000 will help to shine a lot of light onto the lives of caring relatives guided by the Caritas department. In 2015, Bernd Zimmer was represented as one of the "Junge Wilde" in the grand overview exhibition "Die 80er" at Städel Museum in Frankfurt am Main. Further works by the artist are at, among others, the Kunsthalle Bremen, the Pinakothek der Moderne in Munich and the Busch-Reisinger Museum / Harvard Art Museum in Cambridge (MA) in the USA.

Magdalena Jatelová

's large-size work "Essential is no more visible", created with the help of pyrotechnics, will also be called up with an estimate of € 10,000-15,000. In 2015, the documenta artist created a moment in which time seems to stand still by capturing smoke in its visual form.

Elvira Bach

, who is represented in this auction with "Freiwillig allein (Auf unser schönes Leben)" (Voluntarily alone/ To our beautiful life, estimate: € 8,000-10,000), is well-known for figure pictures in most of which she celebrates self-confident and emancipated women in strong colors. Her portraits of women gained international fame as early as in the 1980s. Her works are part of important collections, including the Museum of Modern Art in New York and the Deutsche Bank Collection in the Städtische Galerie in Wolfsburg.

Additionally, the benefit auction also comprises artworks by Anke

Doberauer

, Florian

Haller

, Hubertus

Hamm

, Claus

Hipp

, Monika

Huber

, Prof. Peter

Kogler

, Richard

Schur

and Willi

Siber

. The estimates range between € 200 and € 15,000.

Next to the

Caritas Charity Auction

, the Ketterer Kunst June auctions also comprises

Art of the 20th and 21st Century

with works by big names like Lyonel

Feininger

, Katharina

Grosse

, Keith

Haring

, Hans

Hartung

, Erich

Heckel

, Alexej von

Jawlensky

, Asger

Jorn

, Wassily

Kandinsky

, Ernst Ludwig

Kirchner

, Julian

Opie

, Pablo

Picasso

, Hermann Max

Pechstein

, Gerhard

Richter

, Oskar

Schlemmer

, Jan

Schoonhoven

, Sean

Scully

, Victor

Vasarely

, Günther

Uecker

and Fritz

Winter

, while the department of

19th Century Art

offers works by notable artists like Edward Theodore

Compton

, Johann J.

Frey

, Karl

Hagemeister

and Franz von

Stuck

.

The auction is further enriched by among othters the extra catalog

From An English Collection

, select works by the

Deutsche Bank Collection

and a

suite of works by Joseph Beuys

(see separate press releases).
Preview
28 May Galerie Schwind Frankfurt
30-31 May Ketterer Kunst Düsseldorf
02-03 June Ketterer Kunst Hamburg
05-10 June Ketterer Kunst Berlin
12-18 June Ketterer Kunst Munich
Auction in Munich
June 17 19th Century Art
June 18 Modern Art II / Evening Sale
June 19 Post War / Cont. Art II
Ketterer Kunst (www.kettererkunst.com and www.ketterer-internet-auctions.com) with headquarters in Munich and branches in Hamburg, Duesseldorf, Berlin as well as with a global network of representatives in, among others, the USA and Brazil, was founded in 1954. It is one of the leading houses for auctions of Fine Art from the 19th to the 21st Century and Rare Books. As market leader for Art from the 19th to the 21st Century in the German language region, the expert for German art, according to the 2020 report issued by the artprice database, is the only and strongest-selling family business represented in the global Top 10.
| Press inquiries: | Client inquiries: |
| --- | --- |
| Ketterer Kunst | Ketterer Kunst |
| Joseph-Wild-Str. 18 | Joseph-Wild-Str. 18 |
| 81829 Munich | 81829 Munich |
| Michaela Derra M.A. | |
| phone: +49-(0)89-55244-152 | phone: +49-(0)89-55244-0 |
| fax: +49-(0)89-55244-177 | fax: +49-(0)89-55244-177 |
| e-mail: m.derra@kettererkunst.de | e-mail: infomuenchen@kettererkunst.de |
Follow us on www.instagram.com/kettererkunst.de