Ilse & Hermann Bode and the Pelikan Collection
Let's do it again!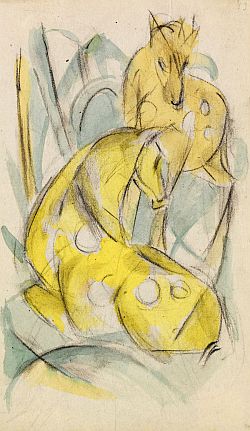 Franz Marc
Zwei gelbe Tiere (Zwei gelbe Rehe)
Watercolor, 1912/13
17 x 10 cm
Estimate: € 200,000-300,000
Munich, May 25, 2021 (KK) -

The Hannover dentist and art collector Hermann Bode was a cosmopolitan. The house of the Bodes was a meeting place for the most important artists and creative heads of the modern age, and their guest book with illustrious names is an artwork of its own. Now five select works by Feininger, Gleichmann, Klee, Marc and Mueller from the Collection Ilse and Hermann Bode will be called up in the

Ketterer Kunst Auction

from

June 17-19

.

Robert Ketterer

, auctioneer and owner of Ketterer Kunst, expresses his enthusiasm: "Quality and provenance are equally perfect. "He is convinced: "The international art market is going to appreciate this great discovery."

Hermann Bode

(1882-1973) was married in second marriage to Ilse Robert, neé Beindorff, daughter of Fritz and Elisabeth Beindorff. Elisabeth Beindorff, neé Wagner, was the daughter of Günther Wagner, founder of the writing utensil manufacturer Pelikan. Ilse and her husband Herrmann Bode shared a passion for art, which she had inherited from her father and grandfather, who had compiled the trendsetting Pelikan art collection.

They not only made part of their collection accessible to the public at the 'Provinzialmuseum Hannover' (today Landesmuseum Hannover) and later at the Sprengel Museum Hannover, they also had a large part of their collection on display at their company facilities. This, on the one hand, upgraded the working atmosphere, but it also illustrated the relevance of their company's products, which many of the artists represented were using.

The Pelikan Art Collection has always been much acclaimed, it comprises works from six centuries of art history and largely owes its exceptional quality to Günther Wagner and Fritz Beindorff, the former owners of the paint and ink manufacturing company. As part of their commitment for the 'Hannoversche Kunstverein' and the 'Kestner Gessellschaft', they a cquired high-quality artworks in their exhibitions, among them works by Lovis Corinth, Max Slevogt, August Macke and even a complete collection of works by Adolf Hölzl.

In 1911 they offered a prize for artists working with their company products. On the jury were museum directors like Gustav Pauli and Hugo von Tschudi, as well as artists such as Max Liebermann and Hugo von Habermann. El Lissitzky conceived a Pelikan campaign that went down in art history, a horizontal ink bottle by Wilhelm Wagenfeld became a design classic and Kurt Schwitters used misprints of company ads for his famous collages.

Between April and June 1963 the Kunstverein Hannover showed the exhibition "Pelikan-Kunstsammlung aus dem Besitz des Hauses Günther Wagner, Hannover, Pelikan-Werke, und der Familie Beindorff". While the Old Masters were represented by names like Rembrandt, Rubens, Cranach and Riemenschneider, the section of then contemporary art comprised works by, among others, Ernst Wilhelm Nay and Alexander Camaro. Next to the company collection, loans came from, among others, members of the Beindorff family and also from Dr. Hermann Bode.

The suite of works offered in the Ketterer Kunst Auction is led by

Franz Marc

's small-sized watercolor "Zwei gelbe Tiere (Zwei gelbe Rehe)" from the important time of the "Blauer Reiter" in 1912/13. Acquired from the artist's ownership, it has been part of the Collection Ilse and Hermann Bode until today. The poetic sheet in a very rare, nearly original condition will be called up with an estimate of € 200,000-300,000.

Paul Klee

's "Grundverhexte Landschaft" from 1924 is going to enter the race with an estimate of € 100,000-150,000. The work with a motif singular in the artist's œuvre was also been acquired directly from the artist. In Klee's characteristic pictorial language and a clear expressiveness, it shows a surreal composition made during the ingenious Swiss artist's important time at the Bauhaus.

Lyonel Feininger

's sheet "An der steilen Küste", estimated at € 40,000-60,000, delivers wonderful proof of his subtle sense of humor. The detailed watercolor with India ink drawing was made in 1921, Feininger's important first year at the State Bauhaus in Weimar, and is a document of the artist's fascination for the technology of his time.

Around 1925

Otto Mueller

made "Sitzender weiblicher Akt" in chalks and a subtle palette, owing to the clear frame drawing it appears almost like a painting. A well-proportioned and perfectly staged body testifies to the importance the artist attached to the female figure, as it offered him beauty and Eros in idealized and reduced form. The estimate for the work that has not been exhibited for more than 50 years is at € 30,000-40,000.

The only oil painting in this exquisite array is

Otto Gleichmann

's "Frauenbildnis" dated 1926. With her both romantic tender and expressive traits, the work estimated at 20,000-30,000 is reminiscent of portraits by Marie Laurencin.

Next to the works from the Collection Ilse and Hermann Bode, the Ketterer Kunst June auctions also comprise

Art of the 20th and 21st Century

with works by big names like Eduardo

Chillida

, Lyonel

Feininger

, Katharina

Grosse

, Hans

Hartung

, Alexej von

Jawlensky

, Paul

Klee

, Hermann Max

Pechstein

, Gerhard

Richter

, Jan

Schoonhoven

, Oskar

Schlemmer

und Günther

Uecker

, while the department of

19th Century Art

offers works by notable artists like Edward Theodore

Compton

, Johann J.

Frey

, Karl

Hagemeister

and Franz von

Stuck

.

The auction is completed among others by the extra catalog

From An English Collection

, select works from the

Deutsche Bank Collection

and a suite of works by

Joseph Beuys

(see separate press releases).
Preview
28 May Galerie Schwind Frankfurt
30-31 May Ketterer Kunst Düsseldorf
02-03 June Ketterer Kunst Hamburg
05-10 June Ketterer Kunst Berlin
12-18 June Ketterer Kunst Munich
Auction in Munich
June 17 19th Century Art
June 18 Modern Art II / Evening Sale
June 19 Post War / Cont. Art II
Online Only Auction
June 20 Art of the 20th/21st Century
Ketterer Kunst (www.kettererkunst.com and www.ketterer-internet-auctions.com) with headquarters in Munich and branches in Hamburg, Duesseldorf, Berlin as well as with a global network of representatives in, among others, the USA and Brazil, was founded in 1954. It is one of the leading houses for auctions of Fine Art from the 19th to the 21st Century and Rare Books. As market leader for Art from the 19th to the 21st Century in the German language region, the expert for German art, according to the 2020 report issued by the artprice database, is the only and strongest-selling family business represented in the global Top 10.
| Press inquiries: | Client inquiries: |
| --- | --- |
| Ketterer Kunst | Ketterer Kunst |
| Joseph-Wild-Str. 18 | Joseph-Wild-Str. 18 |
| 81829 Munich | 81829 Munich |
| Michaela Derra M.A. | |
| phone: +49-(0)89-55244-152 | phone: +49-(0)89-55244-0 |
| fax: +49-(0)89-55244-177 | fax: +49-(0)89-55244-177 |
| e-mail: m.derra@kettererkunst.de | e-mail: infomuenchen@kettererkunst.de |
Follow us on www.instagram.com/kettererkunst.de