June Auctions With Extra Catalog "From an Important English Collection"
EAST MEETS WEST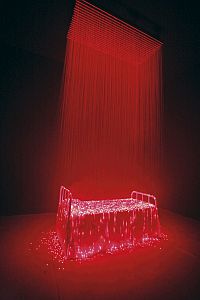 Li Hui
Reincarnation
Installation, 2007
Ca. 1000 x 450 x 200 cm
Height variable from 4 to 10 meters
Estimate: € 70.000-90.000
Munich, May 3, 2021 (KK) -

What is it that a fog machine, glass fiber fabric and golden shit sculptures have in common? All these odd components are parts of artworks by Li Hui, Jagannath Panda, and Terence Koh, three of nearly 40 artists from 15 countries whose works are part of an important English Collection of which around 60 objects will be called up in the

Ketterer Kunst Auctions

in Munich on

June 17-19

.

"This acclaimed collection is a prime example of an extremely successful fusion of positions in contemporary art from different cultural back-grounds" says Robert Ketterer, auctioneer and owner of Ketterer Kunst. "This is a one-off collection on the German auction market. It will particularly captivate art lovers who have a sense for the extraordinary."

Whether from the North, South, East or West - this collection covers the entire globe: It features works by artists from Denmark and the UK, Greece and Argentina, as well as from the USA, India, Japan or Iran. The range of objects, among them a number of large spatial installations, is particularly attractive for the usage of fascinating materials and interesting concepts.

The international selection is led by the monumental installation "Reincarnation" from the Beijing artist

Li Hui

. With a fog machine, laser light and various types of hangers he breathes life into a bedframe, makes it glow, and - most importantly - stirs emotions. The estimate for the work with a variable height from 4 to 10 meters is at € 70,000-90,000.

Found objects, so-called objets trouvés, are at the core of the creations of

Subodh Gupta

from New-Delhi. For his fascinating works, among them the two-part work "There Is Always Cinema (IV)", he makes exact copies of the original objects or, as it is the case with the oil and enamel object from 2007, shows fragments in close up view. Both works will be called up with estimates of € 60,000-80,000.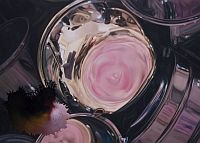 Subodh Gupta
Untitled
Oil and enamel on canvas, 2007
167 x 228 cm
Estimate: € 60.000-80.000
Next to the abstract acrylic work from the Swiss artist John Michael Armleder, the likewise large-size portrait "Johnny 3 D", embroidered on canvas by the Iranian Farhad Moshiri, and the "Portrait of Hariri" from the Chinese artist Yang Shaobin, will enter the bidding race with estimates of € 30,000-40,000.

While Till Gerhard and Dirk Skreber represent Germany, other fascinating works come from the Americans Banks Violette and Oscar Tuazon, the South Korean Hyungkoo Lee, the Indian artists T.V. Santhosh and Sudarshan Shetty, the Argentinian Tomás Saraceno, the Greek Kostas Sahpazis, the Dutchman Joep van Liefland and the Japanese Masakatsu Kondo.

In addition to the works presented in the extra catalog From an Important English Collection, the 20th/21st Century Art auction comprises works by big names like Eduardo Chillida, Lyonel Feininger, Katharina Grosse, Hans Hartung, Alexej von Jawlensky, Asger Jorn, Paul Klee, Hermann Max Pechstein, Gerhard Richter, Jan Schoonhoven, Oskar Schlemmer and Günther Uecker, while the auction of 19th Century Art offers high quality art from famous artists like Edward T. Compton, Johann J. Frey, Karl Hagemeister and Franz von Stuck.

The auction is completed by a suite of works by Joseph Beuys as well as by an extra catalog of gems from the Deutsche Bank Collection (see separate press releases).

Preview
28 May Galerie Schwind Frankfurt
30-31 May Ketterer Kunst Düsseldorf
02-03 June Ketterer Kunst Hamburg
05-10 June Ketterer Kunst Berlin
12-18 June Ketterer Kunst Munich
Auction in Munich
June 17 19th Century Art
June 18 Modern Art II / Evening Sale
June 19 Post War / Cont. Art II
Ketterer Kunst (www.kettererkunst.com and www.ketterer-internet-auctions.com) with headquarters in Munich and branches in Hamburg, Duesseldorf, Berlin as well as with a global network of representatives in, among others, the USA and Brazil, was founded in 1954. It is one of the leading houses for auctions of Fine Art from the 19th to the 21st Century and Rare Books. As market leader for Art from the 19th to the 21st Century in the German language region, the expert for German art, according to the 2020 report issued by the artprice database, is the only and strongest-selling family business represented in the global Top 10.
| Press inquiries: | Client inquiries: |
| --- | --- |
| Ketterer Kunst | Ketterer Kunst |
| Joseph-Wild-Str. 18 | Joseph-Wild-Str. 18 |
| 81829 Munich | 81829 Munich |
| Michaela Derra M.A. | |
| phone: +49-(0)89-55244-152 | phone: +49-(0)89-55244-0 |
| fax: +49-(0)89-55244-177 | fax: +49-(0)89-55244-177 |
| e-mail: m.derra@kettererkunst.de | e-mail: infomuenchen@kettererkunst.de |
Follow us on www.instagram.com/kettererkunst.de