China at the Summer Auction of Ketterer Kunst in Germany
CHU Teh-Chun

CHU Teh-Chun
Composition No. 7
Gouache, 1962, 75 x 28 cm
Estimate: € 20.000-30.000
Munich, March 24, 2021 (KK) -

He is one of the leading Chinese artists. Born in the People's Republic and living in France, Chu Teh-Chun would have turned 100 last year. Now Ketterer Kunst is going to auction two fascinating works by the pioneer of Lyrical Abstraction in its

Summer Auction on June 17-19

with an estimate of € 600,000-800,000 in Munich.

"A work by Chu Teh-Chun has already reached the double-digit millions on the international auction market", says auctioneer Robert Ketterer. "I am particularly delighted", the company owner of Ketterer Kunst explains, "about the opportunity to acquaint a wider audience in Germany with his œuvre by offering two gouaches by this important representative of 20th Century Abstraction in our auction."

In his imaginary landscapes

Chu Teh-Chun

impressively captures realistic perceptions of nature while still remaining true to abstraction. His inimitable pictorial language combines elements of classic Chinese calligraphy with elements of French Post-Impressionism and Western Post-War Abstraction. In this process poetry and painting are inseparably connected.

Chu Teh-Chun was born in the province of Jiangsu in 1920. From an early point on the son of a family of doctors and art collectors gained experience in the traditional art of calligraphy. At the tender age of 15 he was accepted into the Hangzhou Art Academy, a talent factory led by Lin Fengmian. Many of its staff were trained at the Ecole des Beaux-Arts in Paris and Dijon. In Hangzhou Chu The-Chun met Wu Guangzhong and Zao Wou-Ki. Their professor Fang Ganmin, a famous painter himself, familiarized his young students with Western Art, among others with Cézanne, Matisse and Derain. Through the art of French Post-Impressionism Chu found an own path that would take him from his roots in Chinese Art to Lyrical Abstraction.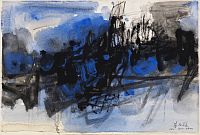 CHU Teh-Chun
Composition No. 85
Gouache, 1961, 38 x 56,5 cm
Estimate: € 25.000-35.000
After he had earned his degree he went to Taiwan with his family and accepted a post as professor for architecture at the Taipei National Institute of Technology. In the 1950s he celebrated first successes as an artist and used his newly gained financial freedom for first journeys to France. In 1955 he eventually settled in France, just like his old schoolmate Zao Wou-Ki had done. He became acquainted with the art of Nicolas de Staël at the Musée de l'Art Moderne and was so deeply impressed by the abstraction of the French painter that this encounter would mark a turning point in his artistic career.

Starting with India ink drawings, Chu developed a gestural style that produced inner pictures characterized by a tremendous tenderness and elegance. His graceful compositions evoke associations of primal mountains with water running down their flanks, and of snow clouds towering on the horizon like walls. Nature is omnipresent in his work. He creates imaginary landscapes with broad brushstrokes and energetic calligraphic lines in a unique pictorial language that explores entirely new forms of abstract expression, making him one the most fascinating Chinese artists of 20th Century Abstraction.

Next to Chu Teh-Chun, the Department of Art of the 20th and 21st Century offers works by big names like Lyonel Feininger, Katharina Grosse, Hans Hartung, Alexej von Jawlensky, Asger Jorn, Julian Opie, Hermann Max Pechstein, Gerhard Richter, Oskar Schlemmer, Victor Vasarely and Fritz Winter, while the Department of 19th Century Art showcases gems by notable artists such as Edward Theodore Compton, Johann J. Frey, Karl Hagemeister and Franz von Stuck.

Additionally, the auction comprises select works from the Deutsche Bank Collection and a suite of works by Joseph Beuys.

Preview
28 May Galerie Schwind Frankfurt
30-31 May Ketterer Kunst Düsseldorf
02-03 June Ketterer Kunst Hamburg
05-10 June Ketterer Kunst Berlin
12-18 June Ketterer Kunst Munich
Auction in Munich
June 17 19th Century Art
June 18 Modern Art II / Evening Sale
June 19 Post War / Cont. Art II
Ketterer Kunst (www.kettererkunst.com and www.ketterer-internet-auctions.com) with headquarters in Munich and branches in Hamburg, Duesseldorf, Berlin as well as with a global network of representatives in, among others, the USA and Brazil, was founded in 1954. It is one of the leading houses for auctions of Fine Art from the 19th to the 21st Century and Rare Books. As market leader for Art from the 19th to the 21st Century in the German language region, the expert for German art, according to the 2020 report issued by the artprice database, is the only and strongest-selling family business represented in the global Top 10.
| Press inquiries: | Client inquiries: |
| --- | --- |
| Ketterer Kunst | Ketterer Kunst |
| Joseph-Wild-Str. 18 | Joseph-Wild-Str. 18 |
| 81829 Munich | 81829 Munich |
| Michaela Derra M.A. | |
| phone: +49-(0)89-55244-152 | phone: +49-(0)89-55244-0 |
| fax: +49-(0)89-55244-177 | fax: +49-(0)89-55244-177 |
| e-mail: m.derra@kettererkunst.de | e-mail: infomuenchen@kettererkunst.de |