Fair And Just Solution For A Work From The Collection Dr. Ismar Littmann
LOVIS CORINTH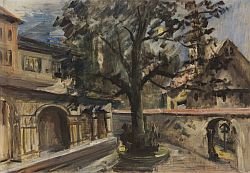 Lovis Corinth
Klostergarten, 1917
Oil over pencil on canvas-structured paper on canvas
47 x 65 cm
Estimate: € 60.000-80.000
Munich, May 4, 2021 (KK) -

The Jewish lawyer and patron Dr. Ismar Littmann was an icon of the Wroclaw art scene, his collection was one of the most select in the 20th century. After he had taken his life in 1934 his collection assured his family's survival. On basis of an amicable agreement with the heirs of Dr. Ismar Littmann, a very special work from this exceptional selection, Lovis Corinth's "Klostergarten", will be called up in the auction at Ketterer Kunst in Munich on

June 17-19

.

"Rehabilitating artworks from the ownership of Jewish families that were lost through persecution is a heart matter to me", says company owner Robert Ketterer. "Which is why I am all the more happy that we were also able to mediate a fair and just solution in the sense of the Washington Principles in this case."

In his "Klostergarten" dated 1917

Lovis Corinth

renders the architecture in a rough yet tremendously precise manner and explores different spatial levels and perspectives. What makes this work so special is not only the powerful interpretation of the old topos of the divine in nature, but also the remarkable fact that the work was conceived as a draft for a stage design. With great mastery the artist succeeds in depicting the monastery courtyard as an energetic, flickering miniature universe that emanates a charm the observer can hardly elude.

With more than a dozen paintings and nearly 600 graphic works, the Collection Dr. Ismar Littmann put a strong emphasis on the art of Lovis Corinth. Dr. Littmann, a dedicated art lover with a liking for contemporary art, began compiling his collection in 1916, just one year prior to the making of "Klostergarten". He was highly valued for his generosity, as well as for his keen eye for art of exceptional quality. In many cases works from his collection found their way into renowned museums.

Dr. Ismar Littmann was persecuted because of his Jewish descent from an early point on and the National Socialists imposed an occupational ban on him. Heavily indebted and without any future prospects he took his life by poisoning himself in September 1934, leaving his widow no other option than to sell the beloved art collection in order to safeguard the family's survival and to prepare for their flight.

Lovis Corinth's "Klostergarten" is a prime example of the collection's high quality standard. In 1935 it was bought in an auction by the bank director and passionate art collector Wilhelm von Suntum, who subsequently noted: "Acquired from Lepke in Berlin after fierce bidding for 1400 M". Thus we can already look forward to an electrifying bidding skirmish in June.

The auction of

20th/21st Century Art

comprises works by big names like Eduardo

Chillida

, Lyonel

Feininger

, Katharina

Grosse

, Hans

Hartung

, Alexej von

Jawlensky

, Asger

Jorn

, Paul

Klee

, Julian

Opie

, Hermann Max

Pechstein

, Gerhard

Richter

, Jan

Schoonhoven

, Oskar

Schlemmer

, Günther

Uecker

and Victor

Vasarely

, while the auction of

19th Century Art

offers high quality art from famous artists like Edward T.

Compton

, Johann J.

Frey

, Karl

Hagemeister

and Franz von

Stuck

.

The auction is completed by a suite of works by

Joseph Beuys

as well as by an extra catalog of gems from the

Deutsche Bank Collection

(see separate press releases).
Preview
28 May Galerie Schwind Frankfurt
30-31 May Ketterer Kunst Düsseldorf
02-03 June Ketterer Kunst Hamburg
05-10 June Ketterer Kunst Berlin
12-18 June Ketterer Kunst Munich
Auction in Munich
June 17 19th Century Art
June 18 Modern Art II / Evening Sale
June 19 Post War / Cont. Art II
Ketterer Kunst (www.kettererkunst.com and www.ketterer-internet-auctions.com) with headquarters in Munich and branches in Hamburg, Duesseldorf, Berlin as well as with a global network of representatives in, among others, the USA and Brazil, was founded in 1954. It is one of the leading houses for auctions of Fine Art from the 19th to the 21st Century and Rare Books. As market leader for Art from the 19th to the 21st Century in the German language region, the expert for German art, according to the 2020 report issued by the artprice database, is the only and strongest-selling family business represented in the global Top 10.
| Press inquiries: | Client inquiries: |
| --- | --- |
| Ketterer Kunst | Ketterer Kunst |
| Joseph-Wild-Str. 18 | Joseph-Wild-Str. 18 |
| 81829 Munich | 81829 Munich |
| Michaela Derra M.A. | |
| phone: +49-(0)89-55244-152 | phone: +49-(0)89-55244-0 |
| fax: +49-(0)89-55244-177 | fax: +49-(0)89-55244-177 |
| e-mail: m.derra@kettererkunst.de | e-mail: infomuenchen@kettererkunst.de |
Follow us on www.instagram.com/kettererkunst.de