Nicola Countess Keglevich: From Sotheby's to Ketterer Kunst
Robert Ketterer Wins Top German Art Executive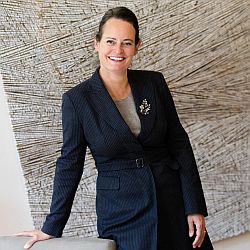 © Photo: Steph Waldstein
Nicola Countess Keglevich
Senior Director for Strategy and Internationalization
Ketterer Kunst
Munich, June 10, 2021, (kk) - Robert Ketterer surprises with a very special staff boost: From August 1, Nicola Countess Keglevich, previous director and head of the Sotheby's branch in Munich, will join the executive team of Germany's top selling auction house Ketterer Kunst. Keglevich was with Sotheby's for almost 15 years and earned a reputation as a highly competent advisor to international collectors of predominantly contemporary art, but also of impressionist and modern art.

Over the last couple of years Ketterer Kunst has become firmly established in the global art business Top 10, which has made the auction house all the more attractive as employer for international top executives.

"Nicola Countess Keglevich is going to support our house as Senior Director with a focus on Strategic Development and Internationalization," says auctioneer and company owner Robert Ketterer. "She will add experience, expertise and femininity to the Ketterer Kunst executive team. Her global market know-how and her close contact with clients around the world are further assets."

Robert Ketterer explains: "An executive team as strong as our is singular among German auction houses. This strengthens our position not only on the domestic market." He continues: "The German art market is in motion. Many participants realign strategies in reaction to volume, stability and prospects of the German market, as well as to the Brexit aftermath and also in response to our enormous success." The head of the traditional family-owned enterprise sees change as an opportunity to expand his market leader position: "Our development strategy has proven particularly successful in private consulting. With quality, expertise and customer focus, we will continue to be one step ahead."

Nicola Countess Keglevich studied art history in Munich and Florence. Before she organized her first auction at Sotheby's in 2006, she had been active for Gurr Johns, an international art advisory- and art valuation company. She has been in charge of the Munich branch of Sotheby's since 2016. As a freelancer she inventorized two German palaces and initiated the "Young Collectors Circle" with the objective of bringing young people closeer to art and collecting. She will now be Senior Director for Strategy and Internationalization at Ketterer Kunst.

It was only in April that Robert Ketterer appointed the art trader Dr. Sebastian Neußer as new director for high-end client service and the expansion on the international market. Just like Neußer, Keglevich will be part of the executive team around the company owner Robert Ketterer, with the auctioneer Gudrun Ketterer, the managing director Peter Wehrle and the art advisor Dr. Mario von Lüttichau as other members.

UPCOMING AUCTION in MUNICH from JUNE 17-19 and ONLINE ONLY on JUNE 20

The next grand live auction with art from the 19th to the 21st century will take place at Ketterer Kunst in Munich from June 17-19. It is accompanied by an Online Only-Auction ending June 20.

The saleroom auction alone offers 581 top-quality artworks in a total of seven catalogs, among them the four extra catalogs "Joseph Beuys", "From the Deutsche Bank Collection – Part 2", "From the Collection Ilse and Hermann Bode" and "From An Important English Collection".

Half a dozen works have high six-figure estimates. The vast range of offerings includes works by big German names like Erich Heckel, Ernst Ludwig Kirchner, Franz Marc, Emil Nolde, Gerhard Richter and Günther Uecker, while we also find acclaimed international artists such as Keith Haring, Alexej von Jawlensky, Asger Jorn, Wassily Kandinsky, Robert Longo, Pablo Picasso, Jan Schoonhoven and Sean Scully.

Ketterer Kunst (www.kettererkunst.com and www.ketterer-internet-auctions.com) with headquarters in Munich and branches in Hamburg, Duesseldorf, Berlin as well as with a global network of representatives in, among others, the USA and Brazil, was founded in 1954. It is one of the leading houses for auctions of Fine Art from the 19th to the 21st Century and Rare Books. As market leader for Art from the 19th to the 21st Century in the German language region, the expert for German art, according to the 2020 report issued by the artprice database, is the only and strongest-selling family business represented in the global Top 10.
| Press inquiries: | Client inquiries: |
| --- | --- |
| Ketterer Kunst | Ketterer Kunst |
| Joseph-Wild-Str. 18 | Joseph-Wild-Str. 18 |
| 81829 Munich | 81829 Munich |
| Michaela Derra M.A. | |
| phone: +49-(0)89-55244-152 | phone: +49-(0)89-55244-0 |
| fax: +49-(0)89-55244-177 | fax: +49-(0)89-55244-177 |
| e-mail: m.derra@kettererkunst.de | e-mail: infomuenchen@kettererkunst.de |
Follow us on www.instagram.com/kettererkunst.de