Cologne Art Dealer Dr. Sebastian Neußer Joins Ketterer Kunst
Enhanced Executive Team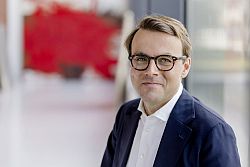 Dr. Sebastian Neußer
Director
Ketterer Kunst
Munich, April 26, 2021, (kk) - Robert Ketterer continues to further consolidate his company's top position: As of May 1 the renowned art trader Dr. Sebastian Neußer (44) will join the executive team of Germany's strongest-selling auction house Ketterer Kunst. The Aachen native used to be director of the globally active Michael Werner gallery and earned a reputation as both acclaimed expert and accomplished art dealer..

"Senior staff with a longtime experience in international client services is highliy sought-after on the market, which is why I am all the more delighted that Dr. Sebastian Neußer chose to join us", says auctioneer and company owner Robert Ketterer. His auction house has been Germany's No. 1 for sales of the 19th-21st Century Art for several years. "Strong global competition requires continuous redevelopment - especially when it comes to profound client counseling," explains Robert Ketterer.

As a trained banker with a great love for art and a PhD in art history, Dr. Sebastian Neußer is the perfect consultant for the knowledgeable clientele of Ketterer Kunst. Following stays in the USA and the UK, he became director at Michael Werner, one of Germany's leading galleries. For almost ten years he applied his experience in organizing exhibitions and supporting artists, and also became a successful art broker.

Starting May 1, Dr. Sebastian Neußer, who will now be in charge of high-end client service with a focus on the expansion on the international market, will join the executive team of Ketterer Kunst, which, next to the company owner Robert Ketterer, also comprises the auctioneer Gudrun Ketterer, managing director Peter Wehrle and the scientific advisor Dr. Mario von Lüttichau.

Ketterer Kunst (www.kettererkunst.com and www.ketterer-internet-auctions.com) with headquarters in Munich and branches in Hamburg, Duesseldorf, Berlin as well as with a global network of representatives in, among others, the USA and Brazil, was founded in 1954. It is one of the leading houses for auctions of Fine Art from the 19th to the 21st Century and Rare Books. As market leader for Art from the 19th to the 21st Century in the German language region, the expert for German art, according to the 2020 report issued by the artprice database, is the only and strongest-selling family business represented in the global Top 10.
| Press inquiries: | Client inquiries: |
| --- | --- |
| Ketterer Kunst | Ketterer Kunst |
| Joseph-Wild-Str. 18 | Joseph-Wild-Str. 18 |
| 81829 Munich | 81829 Munich |
| Michaela Derra M.A. | |
| phone: +49-(0)89-55244-152 | phone: +49-(0)89-55244-0 |
| fax: +49-(0)89-55244-177 | fax: +49-(0)89-55244-177 |
| e-mail: m.derra@kettererkunst.de | e-mail: infomuenchen@kettererkunst.de |
Follow us on www.instagram.com/kettererkunst.de