Exhibition in Berlin: Works From a German Private Collection visiting Ketterer Kunst
What Caught Our Eye
Gerhard Richter
1. Jan. 2000 (Firenze)
Oil on color lithograph, 2000
12 x 12 cm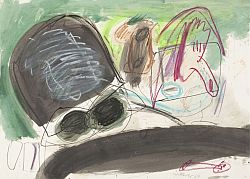 Walter Stöhrer
Ohne Titel, 1964
Gouache, color chalk, pencil, feather and felt-tip pen on wove paper
54,8 x 75,4 cm

Munich, August 23, 2021 (KK) - This collection features many big names of German post-war painting: Baselitz, Kiefer, Lüpertz and Uecker are just a few of the celebrity artists for which the collector couple has a fancy. Their collection will be showcased at Ketterer Kunst in Berlin under the title "Was uns ins Auge sprang" (What Caught Our Eye) as of September 10..

Over decades the collectors, who value their anonymity, have shown an extremely good feel for quality. They maintained personal contacts with the relevant galleries and the artists represented in their collection. In doing so they put focus on German abstraction: Whether Cobra, Informel, Spur, New Figuration or Zero – it was always the singularity of a work and the special something that caught the couple's eyes that was decisive for the purchase.

For this reason this German private collection perfectly fits the concept of Germany's leading auction house: "Quality is our top priority. An expert eye and the feel for an artwork's peculiarity are enormously important", says Robert Ketterer, auctioneer and owner of Ketterer Kunst. "I am particularly happy about the opportunity to present this one-off collection at our Berlin representation in a most suitable setting and to make it accessible to the public for such a long time."

In total around 40 fascinating works by artists such as Pierre Alechinsky, Horst Antes, Willi Baumeister, Peter Brüning, Williem N. Copley, Martin Disler, Lothar Fischer, Karl Otto Götz, Hans Hartung, Gerhard Hoehme, Jörg Immendorff, Asger Jorn, Per Kirkeby, André Lanskoy, Hermann Nitsch, A.R. Penck, Serge Poliakoff, Sigmar Polke, Heimrad Prem, Arnulf Rainer, Antonio Saura, Emil Schumacher, Helmut Sturm, Theodor Werner, Fritz Winter and HP Zimmer will be on display.

On occasion of the opening on September 9 from 7 to 9 p. m., the welcoming speech by Dr. Simone Wiechers, curator and Berlin representative of Ketterer Kunst, will be followed by an introduction from Prof. Dr. Siegfried Gohr, art historian and former museum director.


What ?
Exhibition: Was uns ins Auge sprang – Werke einer deutschen
Privatsammlungzu Gast bei Ketterer Kunst
Times ?
Opening: Thu., September 9, 2021 from 7 to 9 p. m.
Exhibition:
Fri., September 10, 2021 to Sat., November 13, 2021
Hours:
Mon.–Sat. from 12 to 4 p. m.
Location ?
Ketterer Kunst,Fasanenstr. 70, 10719 Berlin-Charlottenburg
Ketterer Kunst (www.kettererkunst.com and www.ketterer-internet-auctions.com) with headquarters in Munich and branches in Hamburg, Duesseldorf, Berlin as well as with a global network of representatives in, among others, the USA and Brazil, was founded in 1954. It is one of the leading houses for auctions of Fine Art from the 19th to the 21st Century and Rare Books. As market leader for Art from the 19th to the 21st Century in the German language region, the expert for German art, according to the 2020 report issued by the artprice database, is the only and strongest-selling family business represented in the global Top 10.
| Press inquiries: | Client inquiries: |
| --- | --- |
| Ketterer Kunst | Ketterer Kunst |
| Joseph-Wild-Str. 18 | Fasanenstr. 70 |
| 81829 Munich | 10719 Berlin, Germany |
| Michaela Derra M.A. | |
| phone:+49-(0)89-55244-152 | phone:+49-(0)30-886 75 363 |
| fax: +49-(0)89-552440 | fax: +49-(0)30-886 75 643 |
| e-mail: m.derra@kettererkunst.de | e-mail: infoberlin@kettererkunst.de |
Follow us on www.instagram.com/kettererkunst.de