Atlasses and Other Discoveries: Auction of Rare Books in Hamburg
SPATHBREAKING
Hamburg, May 28, 2019 (kk) -

No other auction house has implemented more radical changes than Ketterer Kunst. That pays off now: With total proceeds of more than € 2 million* the

Rare Books

department realized its best result ever with yesterday's auction in Hamburg, Germany.
Top 5


€ 300,000* Calling price: € 100,000
No. 023: Claudius Ptolemaeus
Geographiae opus novissima traductione, Straßburg 1513

€ 148,000* Calling price: € 100,000
No. 189: Marc Chagall
Daphnis & Chloé, Paris 1961

€ 110,000* Calling price: € 85,000
No. 039: Pierre Joseph Redouté
Les liliacées, Paris 1802-16

€ 100,000* Calling price: € 10,000
No. 061: Friedrich Nietzsche
Also sprach Zarathustra, Leipzig 1908,
in a master binding by Otto Dorfner

€ 74,000* Calling price: € 25,000
No. 052: Karl Marx
Das Kapital, volume 1,
Hamburg 1867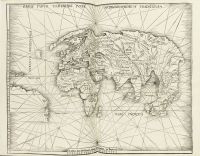 Claudius Ptolemaeus - Geographia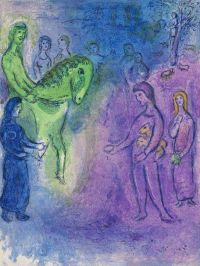 Marc Chagall - Daphnis & Chloé

"This outstanding result was realized with just 488 lots, that is just one third of the range of offers in former auctions. It clearly shows that our concept of a sharp reduction of objects works out well", explains company owner Robert Ketterer. He continues: "With this innovative step into the future our house also manifests it leading position as trend-setter".

According to Christoph Calaminus, auctioneer and department head, "it was a fantastic auction". "The top class range of offerings convinced book lovers all over the world. Four lots even crossed the magic € 100,000 line."

The auction was led by what presumably is the most important edition of the "Geographia" (lot 23) from Claudius Ptolemaeus, the first atlas with a map of America. It was in demand with phone bidders from Switzerland, Germany, the Netherlands and Great Britain. At the end of a fervid bidding skirmish a German art dealer stood his grounds also against a number of commissions and a tough competitor in the saleroom with the grand sum of € 301,350* granted over the phone. The pathbreaking maps by Martin Waldseemüller, especially the eponymous map of America, were largely responsible for the great success.

Second place in the auction ranking is occupied by an artist book by Marc Chagall. It took a Northern German bidder in the saleroom € 147,600* to beat commissions from the US to win the famous lithographic cycle "Daphnis & Chloé" (lot 189).

Pierre-Joseph Redouté's flowery masterwork "Les liliacées" (lot 39), the most splendid and most elaborate book by the most important flower painter of all times, went to a Swiss dealer for a result of € 110,700* who had to stand his grounds against German colleagues.

A large number of book lovers from all over Europe made sure that Friedrich Nietzsche's "Also sprach Zarathustra" (lot 61) saw the auction's sharpest increase - a ten-fold of the starting price of € 10,000. Endowed with the seminal makeup of Henry van de Velde and in a sensational master binding from Otto Dorfner, a Swiss art trader on the phone honored the work with a result of € 100,860*. Neither competing phones from all over Germany and the Netherlands nor the written bid from a library or the German and English book lovers in the saleroom were able to keep up with the pace.

A collector from the Benelux won "Das Kapital" (lot 52) by Karl Marx for a result of € 73,800* over the phone. Online bidders from all over Europe, who for the first time joined the auction through Ketterer Kunst's own platform, as well as phone bidders from Germany and Switzerland, and half a dozen commissions, among them some from the USA, entered the bidding race.

Francesco Colonna's "Hypnerotomachia Poliphili" (lot 13) had a similarly strong international appeal. Half a dozen phone bidders from Italy, Great Britain and Switzerland and a good number of commissions entered bidding for the famous Italian Renaissance book at a starting price of € 14,000. The bidding frenzy lasted on until it was stopped by an English art dealer at € 66,420*.

More interesting results were realized by, among others, the following:


| Lot no. | Artist | Title/Type | Calling price | Result |
| --- | --- | --- | --- | --- |
| 026 | Jan Huygen van Linschoten | Itinerarium | € 43,000 | € 62,730* |
| 033 | Georges Louis Leclerc de Buffon | Histoire naturelle | € 20,000 | € 36,900* |
| 021 | Flavius Josephus | Historien und Bücher | € 5,000 | € 34,440* |
Unsold objects are offered in the post auction sale until June 28, 2019.

The family company Ketterer Kunst (www.kettererkunst.com and www.ketterer-internet-auctions.com), with headquarters in Munich and branches in Hamburg, Duesseldorf, Berlin and the USA, was founded in 1954. It is one of the leading European houses for auctions of Fine Art from the 19th to the 21st Century and Rare Books. The latest art market review for Fine Art 2018, compiled by artprice.com, ranks Ketterer Kunst on place 16 in the global TOP 100. The auctioneer's clientele predominantly consists of international collectors, art dealers, curators and museums.

* The rounded result is the hammer price + 23 percent buyer's premium

| Your press contact: | Your contact in the Rare Books department: |
| --- | --- |
| Ketterer Kunst | Ketterer Kunst |
| Joseph-Wild-Str. 18 | Holstenwall 5 |
| 81829 Munich, Germany | 20355 Hamburg, Germany |
| Michaela Derra | Christoph Calaminus / Christian Höflich |
| Phone: +49-(0)89-55244-152 | Phone: +49-(0)40-374961-11 /-20 |
| Fax: +49-(0)89-55244-177 | Fax: +49-(0)40-374961-66 |
| E-Mail: m.derra@kettererkunst.de | E-Mail: infohamburg@kettererkunst.de |
Contact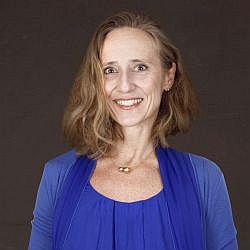 Michaela Derra, M.A.
Ketterer Kunst GmbH & Co. KG
z. Hd. Michaela Derra
Joseph-Wild-Str. 18
81829 Munich
Tel.: +49 89 55 244 152
m.derra@kettererkunst.de
Archiv