Anniversary Auction with Art of the 20th and 21st Century
Museum Art in Munich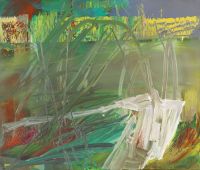 Gerhard Richter
Abstraktes Bild
Oil on canvas , 1986
24.4 x 28.3 inches
€ 600.000-800.000
Munich, October 14, 2019 (KK) -

Ketterer Kunst's anniversary year comes to an end, but the big highlights are still up: Pablo Picasso, Gerhard Richter and Andy Warhol, to name but a few of the internationally celebrated artist who are represented with their masterpieces in the

Anniversary Auction

on occasion of Ketterer Kunst's 65th birthday. They will be called up on

December 6 and 7

, and it is already being speculated whether a score in the millions will be realized again.

He was born in Dresden and lives and works in Cologne, but his art is a sought-after commodity on the global market. The last five paintings by

Gerhard Richter

were sold in the USA, in the UK and in China. This is why it is so exciting that one of his excellent works, titled "Abstraktes Bild" from 1986 that expresses the intersection of Informalism and Abstract Expressionism, is finally offered on the artist's home market again. In 2018 it was part of the much praised exhibition "Gerhard Richter. Abstraktion" at Museum Barberini in Potsdam. The work has a long list of notable provenances and shows the artist's gestural signature style, it will enter the race with an estimate of € 600,000-800,000.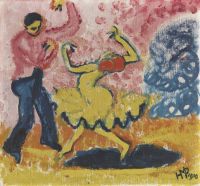 Hermann Max Pechstein
Tänzer
Oil on canvas, 1910
20 x 21.8 inches
€ 600.000-800.000
The same price and a likewise consistent provenance with renowned collectors make Hermann Max Pechstein's "Tänzer" a gem of museum quality. In the heyday of the "Brücke" the artist executed the eccentric dance motif that shows the dancer's rhythmical motions with great mastery. The observer feels the exhilarating music and the erotic atmosphere that sweeps like an invisible mist over the exuberant and uninhibited dance scene. As early as in 1910, immediately after it was made, this eye-catching work with its burst of blue and rose colors caught the fancy of the writer, critic and director Felix Holländer, who would acquire it directly from the artist. In 2019 it adorned the cover of the catalog and the posters for the exhibition "Tanz! Max Pechstein. Bühne, Parkett, Manege" at the Max Pechstein-Museum in Zwickau.

The array of around a dozen works by Günther Uecker is led by a rare large-size piece from the 1990s which is particularly captivating for its dense and highly dynamic nail structure. The signature work "Weißes Feld" from 1993 is a true force field of a highly pictorial effect and has been part of a private collection in Berlin ever since it was made. Now it is showcased for the first time and will be offered with an estimate price of € 500,000-700,000.

"L'Esplanade rose" from 1953, an extraordinary landscape in Jean Dubuffet's characteristic duct and in an unusual coloring, will enter the bidding race with a price tag of € 400,000-600,000. In 1954 the painting was shown in the artist's first retrospective exhibition at Cercle Volnay in Paris. Similar works from the series "Pâtes battues" are in possession of, among others, Tate Gallery in London or the MACBA in Barcelona.

Andy Warhol's "Portrait of a Lady" from 1984 carries the same estimate. The one square meter large work allows the observer to immerse into a fascinating blend of commission work and self-portrait, as Warhol did not only depict his client but also part of himself and his concept of beauty. After Ketterer Kunst realized € 1,125,000*** in its last auction for a portrait of a lady from 1985 in similar format and with the same estimate price, it'll be exiting to see how this unique work will be received.
Katharina Grosse
Untitled
Acrylic on canvas, 2015
79.1 x 53.1 inches
€ 100.000-1500.000
From the world of glamour Ernst Ludwig Kirchner's "Heimkehrende Ziegenherde" (Goat Herd Returning Home) from 1920 takes the observer to the calm mountainside. The work with an estimate price of € 400,000-600,000 from his first years in Davos is Kirchner's homage to a simple life in harmony with nature, which helped the artist's stressed soul to heal. Kirchner pays tribute to the sublime landscape and the humble life of the mountain farmers who drive their goats down a narrow path from the alp and into the village. This marvelous painting with its consistent provenance history is an enchanting orchestration rife with wonderful color contrasts.

He is most likely the undisputed star of 20th Century Art, as Pablo Picasso was able to permanently reinvent himself like no other artist could. His artistic examination of Manet's "Dejéuner sur l'herbe", an icon of art history, reached its peak in 1961. This color chalks work "Les Déjeuners" offered here is one of the very rare colored sheets in the Déjeuner cycle and is part of a series of just eight sheets that Picasso made on July 26, 1961. It is an impressive document of Picasso's poised advancement of the subject. This highly qualitative and market-fresh drawing is the series's sixth sheet, and is not only considered one of the most elaborate ones, because of its mature composition and bright colors, it is also one of the two most densely executed sheets from the series. Today the majority of works from the famous "Déjeuner" cycle is in possession of acclaimed international museums and private collections. Coming straight from a large German private collection, this gem will now be presented with an estimate of € 300,000-400,000.

The same estimates have been tagged to Alexej von Jawlensky's outstanding portrait "Mystischer Kopf: Dichterin" from 1917 as well as to "White Pine 2" from Alex Katz, one of the "100 TOP ARTISTS". The latter work with its inimitable luminance is one of the most monumental works ever offered on the auction market. It was made in the "Pine Tree State" Maine, where the artist had his beloved summer home. In this work Katz combines his unique signature style with the local landscape. He chose a detail of a giant white pine tree, which can reach heights of up to 67 meters, and captured this impressive appearance along with the magic of the moment on an almost five meter wide canvas.

Next to Erich Heckel's "Hafeneinfahrt", Konrad Klapheck's "Die Verschwörung" and Gabriele Münter's "Tauwetter im Dorf" (each estimated at € 250,000-350,000) as well as Yves Klein's "Monochrome bleu sans titre (IKB 316)", Tony Cragg's "Runner" and Lovis Corinth's "Blumen im Bronzekübel" (each estimated at € 200,000-300,000) other highlights come from Heinrich Campendonk, Otto Dix, Wojciech Fangor, Diego Giacometti, Gotthard Graubner, Katharina Grosse, Hans Hartung, Ernst Wilhelm Nay and Serge Poliakoff.
Preview Exhibitions
Oct.31 - Nov. 04 Galerie Herold Colonnaden 5, 20354 Hamburg*
November 05-07 Fabian & Claude Walter Galerie Rämistrasse 18, 8001 Zürich*, CH
November 10-12 Galerie Schwind/Tristan Lorenz Fahrgasse 17, 60311 Frankfurt*
November 15-18 Ketterer Kunst Königsalleee 45, 40212 Düsseldorf*
November 22-28 Ketterer Kunst Fasanenstr. 70, 10719 Berlin*
December 01-06 Ketterer Kunst Joseph-Wild-Str. 18, 81829 Munich**

* select works ** all works *** The result comprises the hammer price+ buyer's premium.

Auction in Munich
December 06 Limited Editions * Evening Sale
December 07 Modern Art * Post War / Contemporary Art


The family company Ketterer Kunst (www.kettererkunst.com and www.ketterer-internet-auctions.com), with headquarters in Munich and branches in Hamburg, Duesseldorf, Berlin and the USA, was founded in 1954. It is one of the leading European houses for auctions of Fine Art from the 19th to the 21st Century and Rare Books. The latest art market review for Fine Art 2018, compiled by artprice.com, ranks Ketterer Kunst on place 11 in the global TOP 100. The auctioneer's clientele predominantly consists of international collectors, art dealers, curators and museums.
| Press inquiries: | Client inquiries: |
| --- | --- |
| Ketterer Kunst | Ketterer Kunst |
| Joseph-Wild-Str. 18 | Joseph-Wild-Str. 18 |
| 81829 Munich | 81829 Munich |
| Michaela Derra M.A. | |
| phone: +49-(0)89-55244-152 | phone: +49-(0)552440 |
| fax: +49-(0)89-55244-177 | fax: +49-(0)89-55244-177 |
| e-mail: m.derra@kettererkunst.de | e-mail: infomuenchen@kettererkunst.de |