June Auction with Gems from the 20th and 21st Century
Jewel-Packed Jubille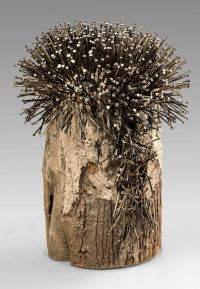 Günther Uecker - Baum
Nails, paint and ashes-glue compound on trree trunk, 1988
Height: 111cm / 43.7 inches Diameter
€ 400,000-600,000
Munich, April 30, 2019 (KK) -

Wassily Kandinsky, Franz Marc, Gerhard Richter, Cy Twombly and Andy Warhol, to mention but a few of the top-class artists represented with their masterpieces in the

Anniversary Auction

of Ketterer Kunst. They will be called up in Munich on

June 7 and 8

with estimates in six- and seven-figure regions.

Next to

Wassily Kandinsky

's spectacular oil painting "Treppe zum Schloss (Murnau)", which leads the range of offers with an estimate of € 1,500,000-2,500,000 (see separate press release), the auction includes scores of highlights from German artists.

Günther Uecker

contributes around a dozen works, among them five with six-digit estimates. Next to "Hommage ā Adalbert Stifter - 'Feld der Erwartung'"and "Hilfe für Vietnam", his "Baum" is a striking document of the artist's wake-up call against the destruction of nature through the hand of man.

Apart from several works by

Gerhard Richter

, led by the work "Portrait Karl-Heinz Hering" (estimate: € 300,000-400,000) from 1968, his namesake

Daniel Richter

deservedly demands attention with "Alles ohne Nichts" (estimate: € 250,000-350,000), one of his main works from the important year 2007, the year that Gerhard Richter's window for the Cologne Cathedral was unveiled. In his Dance of Death-themed picture Daniel Richter references the window's color plates. Following the painting "Farbenlehre" from 2005, it is his second allusion to the famous fellow painter.

German Expressionism at its best is represented by

Ernst Ludwig Kirchner

and

Franz Marc

, whose works are estimated at € 300,000-400,000 each: The oil painting "Drehende Tänzerin" from 1931/32 by the former is a remarkable document of the important role dance played in the œuvre of the "Brücke" artist. The paper work "Zwei Pferde" from 1910-11 by the latter is part of the series of the "Weidenden Pferde" (Grazing Horses), which has its origin in the founding period of the "Blaue Reiter". It is also the only known preliminary work for the painting "Streitende Pferde". The reverse side of the unusually large sheet is adorned with "Zwei stehende Mädchenakte mit grünem Stein".

While "6 Hasensteine" by

Joseph Beuys

will be offered with the same estimate of € 300,000-400,000,

Ernst Wilhelm Nay

's timeless yet highly topical work "Mit gotischem Rot" from 1963 is at € 250,000-350,000 (see separate press release). His "Lob des Grau" was made eleven years earlier and will enter the bidding race with a price of € 200,000-300,000. It counts among the first works from the period of the "Rhythmische Bilder" (Rhythmic Pictures) and marks a highlight in the artist's creation between the Hekate era and the Disc Pictures.

Several works from the early 20th century, among them "Abstrakter Kopf (Poesie des Morgens)", "Teller mit Äpfeln (Äpfelstillleben)" and "Variation: Duft und Frische (Holland)" (with estimate prices of up to € 300,000), come from

Alexej von Jawlensky

, while

Otto Dix

delivers proof of his mastery with, among others, the two works "Alte Birnbäume in Hemmenhofen" (estimate: € 180,000-240,000) and "Golf" (estimate: € 150,000-250,000). These two very different works fascinate the observer with their very individual charm.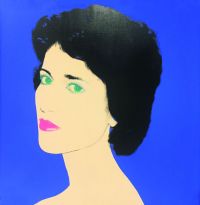 Andy Warhol
Portrait of a Lady (section)
Acrylic and silkscreen paint on canvas,
Unique object, 1985
101,6 x 101,6cm
€ 400,000-600,000
Besides the Who-is-Who of German art, big international players are also on parade: While Andy Warhol sets a bright blue accent with his "Portrait of a Lady" (estimate: € 400,000-600,000), two very restrained works will be called up with Cy Twombly's "Untitled (Notes from a Tower)". Made in 1961, they are part of the renowned "Wolkenstein" series. The estimate for both works with notable provenances such as the galleries La Tartaruga and Zwirner is at € 180,000-240,000 each.

A price of € 180,000-220,000 has been tagged to John Chamberlain's metal object "OKTETT2SHARPS". In this unique object with a musical connotation the artist, one of the most acclaimed representatives of Abstract Expressionism, transforms industrial steel sheet into flowery airiness.

The array of the Anniversary Auction is completed by the portrait "Sophie" by Alex Katz (estimate: € 200,000-300,000) from 2003, and a large number of likewise fascinating works by, for instance, Willi Baumeister, Jonas Burgert, Tony Cragg, Max Ernst, Wojciech Fangor, Günter Fruhtrunk, Gotthard Graubner, Erich Heckel, Karl Hofer, Anish Kapoor, Anselm Kiefer, El Lissitzky, August Macke, Gabriele Münter, Emil Nolde, Christian Rohlfs, Karl Schmidt-Rottluff, Victor Vasarely and Herbert Zangs.


Previews
02-04 May Galerie Schwind/Tristan Lorenz Fahrgasse 17, 60311 Frankfurt*
07-09 May Fabian & Claude Walter Galerie Rämistrasse 18, 8001 Zurich*, CH
13/14 May Ketterer Kunst Holstenwall 5, 20355 Hamburg*
17-20 May Ketterer Kunst Malkastenstr. 11, 40211 Düsseldorf*
24-30 May Ketterer Kunst Fasanenstr. 70, 10719 Berlin*
01-07 June Ketterer Kunst Joseph-Wild-Str. 18, 81829 Munich**
* selected works ** all works

Auction in Munich
07 June Limited Editions * Evening Sale *
08 June Young Collectors * Modern Art * Post War * Contemporary Art


The family company Ketterer Kunst (www.kettererkunst.com and www.ketterer-internet-auctions.com), with headquarters in Munich and branches in Hamburg, Duesseldorf, Berlin and the USA, was founded in 1954. It is one of the leading European houses for auctions of Fine Art from the 19th to the 21st Century and Rare Books. The latest art market review for Fine Art 2018, compiled by artprice.com, ranks Ketterer Kunst on place 16 in the global TOP 100. The auctioneer's clientele predominantly consists of international collectors, art dealers, curators and museums.
| Press inquiries: | Client inquiries: |
| --- | --- |
| Ketterer Kunst | Ketterer Kunst |
| Joseph-Wild-Str. 18 | Joseph-Wild-Str. 18 |
| 81829 Munich | 81829 Munich |
| Michaela Derra M.A. | |
| phone: +49-(0)89-55244-152 | phone: +49-(0)552440 |
| fax: +49-(0)89-55244-177 | fax: +49-(0)89-55244-177 |
| e-mail: m.derra@kettererkunst.de | e-mail: infomuenchen@kettererkunst.de |
Contact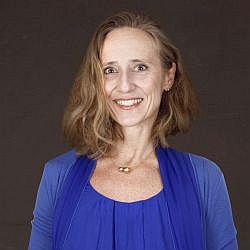 Michaela Derra, M.A.
Ketterer Kunst GmbH & Co. KG
z. Hd. Michaela Derra
Joseph-Wild-Str. 18
81829 Munich
Tel.: +49 89 55 244 152
m.derra@kettererkunst.de
Archiv