Jubilee Kick-Off in Munich with 19th Century Art Auction
Fauntastic!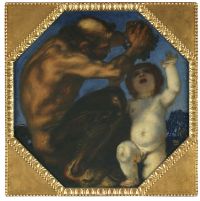 Franz von Stuck
Faun und Bacchusknabe, 1905
Oil on canvas,
Estimate: € 100.000-150.000

Munich, April 26, 2019, (kk) -

The fascinating composition makes Franz von Stuck's oil painting "Faun und Bacchusknabe" a work of true museum quality. The impressive picture will be called up in the

19th Century Art Auction

on May 24 which marks the beginning of the Anniversary Auctions on occasion of Ketterer Kunst's 65th birthday. Franz von Stuck

's brilliant work is a wonderful document of his strong fascination with the ancient world and its mythology. We usually meet fauns as smitten conquerors of nymphs, mermaids and maenads in his oeuvre, however, in this rare scene we see the faun as playful and caring cup-bearer of the young God of the Wine. The iconic motif from Greek Mythology has two more remarkable features, as it comes in a very interesting octagonal format and an original opulent artist frame. Franz von Stuck, who created an intimate scene characterized by a strong closeness here, stands in the tradition of Bacchus depictions by artists like Caravaggio, Peter Paul Rubens and Michelangelo Buonarroti. The idyllic masterpiece is estimated at € 100,000-150,000.

Idyllic masterworks with a focus on nature are

Alexander Koester

's powerful composition "Enten, Reichenau" (estimate: € 40,000-60,000), as well as

Peder Mørk Mønsted

s photo-realistic painting "Wintersonne im Engadin". His snow-covered winter landscape emanates an airiness and an intensity that captures the observer right away. The more than 2 meter wide painting invites us to walk right into the breathtaking winter's tale. The fluffy snow, the creek's crystal-clear water and the tall peaks that surround the valley add a strong notion of immediacy to the scene that culminates in an impressive lighting atmosphere. The estimate price for this wonderful Mønsted moment is at € 40,000-60,000.

The same estimate has been tagged to

Carl Spitzweg

's "Nixenfang" from around 1860. The motif with museum quality and a magic character is part of a group of works by the artist that are rarely offered on the auction market. A small version of it is in the collection Georg Schäfer in Schweinfurt, Germany.

The painting "Standartenreiter auf dem Schlachtfeld" by

Josef von Brandt

takes the observer right into the events on the battlefield. The dynamic scene has been estimated at € 30,000-40,000. Despite its small format, the artist succeeds in expressing the powerful elegance of this impressive motif from Polish history by means of a striking dynamic and a vast image space.

Karl Hagemeister

captured the sizzling tension of a gathering thunderstorm in the springtime idyll "Kemnitzer Heide". The shoreline's lush flora and fauna, executed in pastose manner, dominates the picture's foreground and helps the observer to a very immediate sensation of nature. Estimated at € 25,000-35,000, the work dated 1893 was made at a point where the artist attained his monumental concept of nature in a perfect impressionist sense.

Heinrich Bürkel

is regarded one of the best and most creative representatives of the Munich Biedermeier School of landscape- and genre painters. It was in 1834 that Ludwig I of Bavaria helped him to his breakthrough with the acquisition of one of his works. With great mastery Bürkel succeeds in creating synthesis between spatial and coloristic effects. This becomes particularly obvious in the clear light of the mountain range in the oil paining "Ankunft auf der Alm" (estimate: € 25,000-35,000) from 1835.

The light of the south fascinates

Carl Morgenstern

just as much as the marvelous interplay of forms and colors. In "Blick auf die Amalfik&uouml;ste bei Sorrent", made in 1840 shortly after he had returned from Italy, he pays homage to everything he loves about the south. The estimate is at € 20,000-30,000.

Apart from four oil paintings by Edward Theodore

Compton

, Johan Barthold

Jongkind

, Gotthard

Kühl

and Hans

Thoma

, each estimated at € 18,000-24,000, the range of offerings is completed by works by among others Edward

Cucuel

, Franz von

Defregger

, Friedrich

Kallmorgen

, Hermann

Kaulbach

, Albert von

Keller

, Max

Klinger

, Edvard

Munch

, Otto

Pippel

, Rudolf

Riemerschmid

and Henri de

Toulouse-Lautrec.

.
Previews:
Duesseldorf* May 06-07
Hamburg* May 09-10
Berlin* May 13-14
Munich** May 19-23
*select work ** all works

Auction: 19th Century Art in Munich on May 24, 2019

The family company Ketterer Kunst (www.kettererkunst.com and www.ketterer-internet-auctions.com), with headquarters in Munich and branches in Hamburg, Duesseldorf, Berlin and the USA, was founded in 1954. It is one of the leading European houses for auctions of Fine Art from the 19th to the 21st Century and Rare Books. The latest art market review for Fine Art 2018, compiled by artprice.com, ranks Ketterer Kunst on place 16 in the global TOP 100. The auctioneer's clientele predominantly consists of international collectors, art dealers, curators and museums.
| Press inquiries: | Client inquiries: |
| --- | --- |
| Ketterer Kunst | Ketterer Kunst |
| Joseph-Wild-Str. 18 | Joseph-Wild-Str. 18 |
| 81829 Munich | 81829 Munich |
| Michaela Derra M.A. | |
| phone: +49-(0)89-55244-152 | phone: +49-(0)552440 |
| fax: +49-(0)89-55244-177 | fax: +49-(0)89-55244-177 |
| e-mail: m.derra@kettererkunst.de | e-mail: infomuenchen@kettererkunst.de |
Contact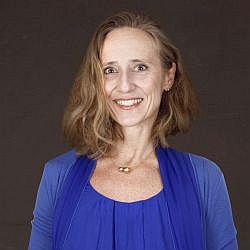 Michaela Derra, M.A.
Ketterer Kunst GmbH & Co. KG
z. Hd. Michaela Derra
Joseph-Wild-Str. 18
81829 Munich
Tel.: +49 89 55 244 152
m.derra@kettererkunst.de
Archiv