Now Twice A Month: Online Only Auction With 100 Works From € 100
Stars Go Online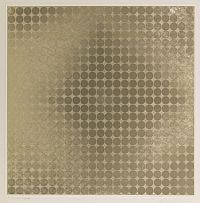 Victor Vasarley
DI-AM (from: Hommage à Bach)
Print. Embossed gilt foil,1973
19.2 x 19 inches
Starting price: € 100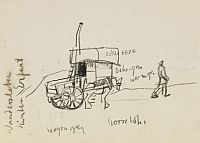 Lyonel Feininger
Horse Carriage (section)
Charcoal drawing, around 1911
4.5 x 7.7 inches
Starting price: € 100
Munich, March 26, 2020, (kk) -

With "KETTERER's 100" Ketterer Kunst offers a new online only auction format to meet customers' demands: Getting high quality art at attractive prices from the comfort of their homes on a regular basis. Accordingly, the auction house doubles the frequency of its online only auctions and knocks the virtual hammer down on the 1st and the 15th of every month on

www.ketterer-internet-auctions.com

. Around 100 works of art from the 20th and 21st century, many with starting prices of € 100, will be on offer.

"Over the past few weeks we have noticed strong increase in traffic on our online platform, participation in our last online only auction skyrocketed. Indeed, on the two last days of the auction we received 250 additional bids on just 50 objects. Now the fact that we as a pioneer in auction digitalization have pursued this path with strong focus and massive investments for more than 15 years really pays off. This allows us to meet the increasing demand instantly", explains Robert Ketterer, owner of Ketterer Kunst. He continues: "Additionally, our concept includes high-quality, diverse and diligently curated works with appealing prices. It has never been easier to feel the thrill and excitement of an auction from the comfort of your home."
Günther Förg
Untitled (2 parts)
Color lithographs, 1997
35.9 x 25.1 inches
Starting price: € 520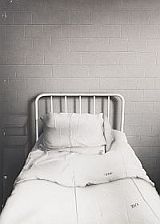 Ben Willikens
Bett Nr. 17
Acrylic (spray technique), 1976
39.3 x 28.7 inches
Starting price: € 7.290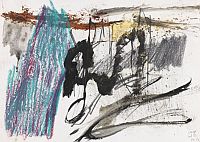 Per Kirkeby
Untitled, 1983
Mixed media
16.3 x 23.2 inches
Starting price: € 3.870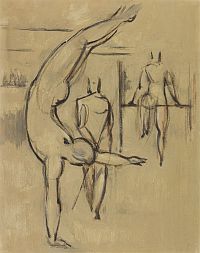 Willi Baumeister
Handstand
Oil on paper, 1924
17.9 x 14 inches
Starting price: € 7.150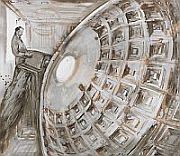 Slava Seidel
Laboratorium
Sepia ink on canvas, 2011
51.1 x 59 inches
Starting price: € 100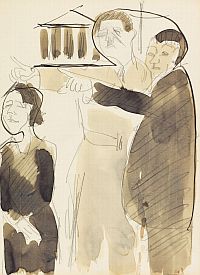 Ernst Ludwig Kirchner
Straßenszene
Ink brush, wash, around 1930
11.3 x 8.3 inches
Starting price: € 5.150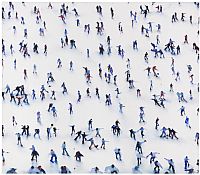 Jonathan Huxley
Ball game
Oil on canvas, 1996
62.9 x 72.2 inches
Starting price: € 100

Felix Rehfeld
Untitled (2 parts)
Oil on canvas, 2011/2012
0.8 x 94.4 inches
Starting price: € 100
The range of offers is aimed to appeal to a broad group of collectors, as it comprises works by both national and international artists of the 20th and 21st century with prices from three to five figure euro realms. As far as motifs are concerned, there is also something to suit everyone's taste:

Lyonel Feininger is represented with two charcoal drawings (starting prices: € 100 each) and an etching (starting price: € 10,290), all made around 1910/11, in which he addresses the everyday life on the streets, while Jonathan Huxley's 1996 oil painting "Ball games" (starting price: € 100) stresses a recreational aspect.

Max Beckmann delivers proof of his mastery in the self-portrait genre with his drypoint etching "Selbstbildnis von vorn, im Hintergrund Hausgiebel" (starting price: € 7,720) from 1918 and Des Lawrence contributes two stunning silver pen drawings "Obituary Portrait: Hope Lange" and "Obituary Portrait: Sheikh Ahmed Yassim" (starting prices: € 100 each).

Abstraction finds marvelous expression in works by Per Kirkeby ("Untiteled", starting prices: € 3,870), Felix Rehfeld ("Villeneuve", starting price: € 160) and Günther Förg ("Ohne Titel", starting price: € 520).

The manifold offering is completed by Willi Baumeister's oil study "Handstand" (starting price: € 7,150) from the sought-after work group of the "Sportbilder" made between 1922-1934, as well as by works by, among others, renowned and fascinating artists like Ernst Ludwig Kirchner, Martin Spengler, Slava Seidel and Ben Willikens.


| | |
| --- | --- |
| What ? | KETTERERs 100 - ONLINE ONLY AUCTION of around 100 lots artists |
| When? | April 15, 2020 at 3 p.m. to May 1, 2020 at 3 p.m. |
| Where ? | www.ketterer-internet-auktion.com |
| Prices | Starting prices from € 100. The final bid equals the invoice final amount |
The family company Ketterer Kunst (www.kettererkunst.com and www.ketterer-internet-auctions.com) with headquarters in Munich and branches in Hamburg, Duesseldorf, Berlin as well as with a global network of representatives in , among thers, the USA and Brazil, was founded in 1954. It is one of the leading European houses for auctions of Fine Art from the 19h to the 21st Century and Rare Books. According to the latest figures issued by artnet Price Database for 2019, Ketterer Kunst holds place 11 in the ranking for Art after 1900, for Art of the 20th Century it is the strongest-selling family business world-wide.
| Press inquiries: | Client inquiries: |
| --- | --- |
| Ketterer Kunst | Ketterer Kunst |
| Joseph-Wild-Str. 18 | Joseph-Wild-Str. 18 |
| 81829 Munich | 81829 Munich |
| Michaela Derra M.A. | |
| phone: +49-(0)89-55244-152 | phone: +49-(0)552440 |
| fax: +49-(0)89-55244-177 | fax: +49-(0)89-55244-177 |
| e-mail: m.derra@kettererkunst.de | e-mail: infomuenchen@kettererkunst.de |