Spring Auction Season at Ketterer Kunst: Art from the 20th and 21st Century
STRONG CONTEMPORARIES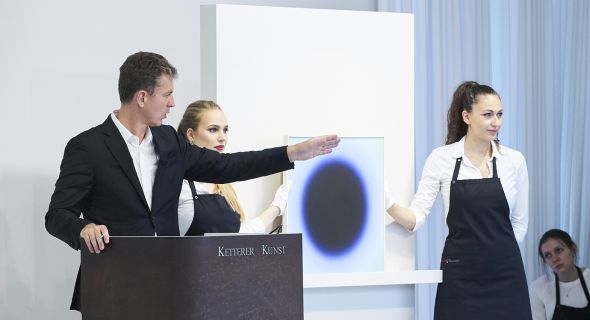 Auctioneer Robert Ketterer realizes 44 results above the € 100,000 mark, as well as many record prices in his spring auctions
Munich, June 10, 2018 (KK) – Satisfied clients and excellent numbers - that's the overall result of the seven auctions that realized more than € 23 million* - around 2.5 million* more than in spring 2017. In comparison with the same period in 2017, this auction saw a total of 44 results on or beyond the € 100,000 line, instead of a previous 38. Additionally, a great number of records were achieved. The demand for Post War Art was particularly strong.

Top 5


€ 825,000* Calling price: € 600,000
Lot 909: Günther Uecker - Woge, Japan

€ 662,500* Calling price: € 280,000
Lot 935: Tony Cragg - Point of View

€ 537,500* Calling price: € 240,000
Lot 919: Robert Rauschenberg - County Sweep

€ 525,000* Calling price: € 220,000
Lot 715: Alfons Walde - Aurach bei Kitzbühel

€ 500,000* Calling price: € 180,000
Lot 854: Ernst Wilhelm Nay - Purpurmelodie


After the Departments of 19th Century Art and Rare Books had already grossed proceeds of around € 2.5 million* a few days earlier, the Departments of Modern-, Post War- and Contemporary Art set a strong final chord for the first auction term in 2018 with sales figures of more than € 20 million*.

Auctioneer and company owner Robert Ketterer sums up: "I am very delighted that we were even able to surpass last year's great performance". He continues: "What I find very remarkable was the fact that artists with strong ties to Germany sell particularly well in German auctions. Good examples therefor are Tony Cragg, Katharina Grosse, Ernst Wilhelm Nay, Gerhard Richter and, of course, Günther Uecker."

The focus of the auction from June 7 to 9 was on the following sections:
1. Post War Art
2. Contemporary Art
3. Modern Art

1. Post War Art
Günther Uecker's "Woge, Japan" (lot 909) led both the department's range of offerings as well as the entire auction. With lovers mainly in Germany and Switzerland the nail picture entered the race with an opening bid of € 600,000 and realized € 825,000* offered by a Bavarian collector. Another eight works from the ZERO master were also met with great enthusiasm, first and foremost the work "Feld (For Ezra Pound)" (lot 902) from 1999, which was lifted from € 130,000 to a result of € 200,000* by a collector from Great Britain.

Tony Cragg's "Point of View" (lot 935) provided an exceptional result in the sculpting section. Against fierce competition from mainly Southern German bidders, the winning bid of € 662,500* eventually came from Bavaria, too. The huge plastic more than doubled its calling price of € 280,000 and did not only make second place in the auction, moreover, it realized a new world record** for the artist.

With a result of € 537,500* Robert Rauschenberg's large-size "County Sweep (Galvanic Suite)" (lot 919) occupies third place. Called up with € 240,000 it more than doubled its price and will go to a collector on the American East Coast who stood his grounds against other phone bidders from Belgium and Slovenia.

Ernst Wilhelm Nay's work "Purpurmelodie" (lot 854) was called up with € 180,000 and found a new home with a passionate collector from Baden-Württemberg for a result of half a million euro. He relegated competitors in the saleroom and half a dozen phones, mainly from Germany and Switzerland, to places second and beyond.

Next to Enrico Castellani's "Superficie bianca" (lot 903), which found a new home in Italy for € 312,500*, Victor Vasarelys "Dauve" (lot 879) was also very popular. A persistent collector from Poland eventually won the trophy for a result of € 350,000*, almost twice the opening bid of € 180,000.

Half a dozen works by Gerhard Richter also made for excitement in the saleroom, first and foremost three works with six-digit estimates. While "Fuji" (lot 914) was sold to Hong Kong for € 300,000* and "Grün-Blau-Rot" (lot 951) to Seoul for € 262,500*, the work "Ohne Titel (9.12.96)" (lot 877) will remain in Southern Germany for € 256,250*.

The longest list of phone bids was compiled for François Morellet and his work "5 trames de grillage 0° 18° 36° 54° 72°" (lot 901) which needed 22 lines to Belgium, England, France, Italy, South Africa, Cyprus and Switzerland. In the end, however, a German collector in the saleroom succeeded and silenced competitors for the iron wire work with a bid of € 206,250*, additionally, he provided a new German record** for the artist.

Interest in "B99" (lot 869) by the Warsaw artist Wojciech Fangor was noticeabley strong, which showed already long before the auction. As expected, most of the 14 phone bidders came from Poland, however, art lovers from Germany, Monaco, Russia and the USA were also represented when the vividly colored oil painting was called up at € 30,000. Eventually, a Polish private collection carried the victory home. With a result of € 200,000* the buyer also provided more than a six-fold of the calling price.

The following lots also realized excellent results:
lot no.
artist
title
starting price
result
886
Klapheck (oil)
Der Chefideologe
€ 180,000
€ 287,500*
924
Katz (oil)
Sunset 2
€ 180,000
€ 275,000*
955
Förg (oil)
Farbfeld
€ 81,000
€ 187,500*
860
Chadwick (bronze)
Maquette for R34 …
€ 35,000
€ 175,000*
913
Fruhtrunk (acrylic)
Enge-Höhe-Tiefe-Breite
(world record**)
€ 70,000
€ 172,500*
2. Contemporary Art
The undisputed star of the department is
Katharina Grosse
. Three of her works with calling prices in five-digit realms were sold with excellent increases. While lot 788 fetched € 212,500*, lot 814 even climbed to € 275,000* and recorded a new German
record
**. As expected, most bidders came from Germany, however, collectors from Italy and Cyprus also got involved.
Apart from
Imi Knoebel
's "Porträt 98-32" (lot 793), which was in demand with ten phone bidders and eventually honored with a price of € 92,500* (staring price: € 34,000) by a private collector from Switzerland, Karin Kneffel set another highlight with her oil painting "2008/8" (lot 806), which was taken to heights of € 125,000* (staring price:€ 75,000) by a Southern German collector.
3. Modern Art
This section is led by
Alfons Walde
's work "Aurach bei Kitzbühel" (lot 715), which realized a multiple of its opening price of € 200,000. A Franconian private collector made the masterly staged winter landscape sure for himself with a commission that offered room for more - despite the great result of € 525,000* - an aspect that may be a bit consoling for competitors in the saleroom and two Austrian phone bidders.
While
Lovis Corinth
's "Luzerner See am Vormittag" (lot 720) was sold to an art lover from Northern Germany against the opposition of a private collector from Hesse on the phone for a result of € 375,000*, a collector from North Rhine-Westphalia won
Gabriele Münter
's "Haus am Hang" (lot 741) with a commission that had not been entirely exhausted. The atmospheric picture of an Alpine landscape near Murnau realized € 262,500*, almost a threefold of the calling price. Bidders in the saleroom and on the phones from Germany, the USA and Switzerland left empty-handed.
The range of nine works from
Hermann Max Pechstein
was almost entirely sold, three of them with prices in six-digit realms. The top spot is shared by two works that realized proceeds of € 187,500* each: the work "Blumenstilleben" (lot 700) from 1913 and the impressive landscape "Am Genfer See"" (lot 713). While the first will go to a private collection in Monaco the latter will call the Rhineland its new home after a bidding skirmish with strong headwind from Switzerland.
On Thursday the auction was opened with a new
world record
** when
Josef Scharl
's oil painting "Der Abend" (lot 108) was sold. Despite active international participation with many written bids from Germany and the USA, as well as a dozen phones from, among others, Monaco and Great Britain, the double portrait in unusually slim upright format will remain in Germany. An art lover from Hesse honored the work with a result of € 150,000*, which is almost twelve times the starting price of € 13,000.
Very good results were also realized by, among others, following lots:
| lot no. | artist | title | starting price | result |
| --- | --- | --- | --- | --- |
| 716 | Nolde (watercolor) | Mohnblumen | € 70,000 | € 175,000* |
| 709 | Nolde (watercolor) | Mädchen mit blauem Haar | € 85,000 | € 162,500* |
| 732 | Baumeister (oil) | Speerwerfer und Sportler | € 38,000 | € 143,750* |
| 745 | Pechstein (oil) | Am Ostseestrand | € 50,000 | € 137,500* |
| 682 | Rohlfs (oil) | Kornpuppen im Kornfeld | € 40,000 | € 120,000* |
| 737 | Schlemmer (alu.) | Relief H. | € 40,000 | € 110,000* |
Unsold objects can be acquired in the post auction sale until August 4, 2018. Result lists are available by phone on +49-(0)89-552440.

* The rounded result is the hammer price + 25 % commission for hammer prices up to € 500,000. The share of the hammer price that exceeds € 500,000 is subject to a commission of + 20 % added to the commission charged for the share up to € 500,000.
** Source: www.artprice.de

The family company Ketterer Kunst (www.kettererkunst.com and www.ketterer-internet-auctions.com), with headquarters in Munich and branches in Hamburg, Duesseldorf, Berlin and the USA, was founded in 1954. It is one of the leading European houses for auctions of Fine Art from the 19th to the 21st Century and Rare Books. The 2017 art market review, compiled by artprice.com, ranks Ketterer Kunst on place 21 in the TOP 100 Fine Art Auction Houses worldwide. The auctioneer's clientele predominantly consists of international collectors, art dealers, curators and museums.


| Press inquiries: | Client inquiries: |
| --- | --- |
| Ketterer Kunst | Ketterer Kunst |
| Joseph-Wild-Str. 18 | Joseph-Wild-Str. 18 |
| 81829 Munich | 81829 Munich |
| Michaela Derra M.A. | |
| Phone:+49-(0)89-55244-152 | Phone:+49-(0)89-55244-0 |
| Fax: +49-(0)89-55244-177 | Fax: +49-(0)89-55244-177 |
| e-mail: m.derra@kettererkunst.de | e-mail: info@kettererkunst.com |
Contact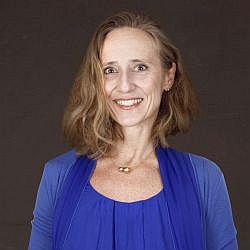 Michaela Derra, M.A.
Ketterer Kunst GmbH & Co. KG
z. Hd. Michaela Derra
Joseph-Wild-Str. 18
81829 Munich
Tel.: +49 89 55 244 152
m.derra@kettererkunst.de
Archiv