December Auctions: From 20th Century Classics to Contemporary Art
MASTERPIECES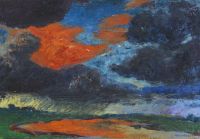 Emil Nolde
Herbstwolken, Friesland
Oil on canvas, 1929
28.9 x 41.9 inches
Estimate: € 1,200,000-1,500,000
Munich, 24 October 2018 (kk) -

"Herbstwolken, Friesland" is a powerful natural spectacle and an absolutely marvelous masterpiece. The view from the window of Emil Nolde's living room will be called up in the

auction

from

6 - 8 December

at Ketterer Kunst in Munich, Germany. The estimate is at € 1,200,000 - 1,500,000.

With its bright colors and the dissolving forms, this oil painting is a unique document of

Emil Nolde

's mystical concept of nature. Green marshland nestles up against the reflections of the afterglow on the water, while wild forces of nature rage on the sky. Strong brushstrokes of a bright orange glow whirl on the deep, sulfur yellow rainy sky, black-gray piles of towering clouds fight against the glistening azure.

The powerful natural spectacle awakens an abundance of associations within the suggestive range of human emotions. The faces of two primal, fire-spitting creatures can be recognized in the cloud formations. Respectively, their battle possibly illustrates the uncertain times between the May upheavals in Berlin and the Black Thursday stock market crash during which this work was made. Whatever it is, that the observer finds in this splendid masterpiece, it will surely leave him behind deeply touched.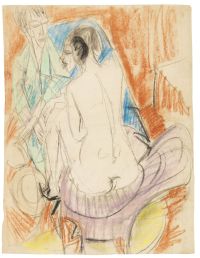 Ernst Ludwig Kirchner
Selbstporträt mit Gerda
(Mann und Sitzende im Atelier)
Pastel, 1915, 26.5 x 20.4 inches
Estimate: € 400,000-600,000
Untouched, on contrary, is how Gerda Schilling possibly left Ernst Ludwig Kirchner, at least that's the impression one gets in "Selbstporträt mit Gerda (Mann und Sitzende im Atelier)" from 1915. The seated rear nude is at the center of the color chalk drawing, and obviously shows Erna Schilling's younger sister Gerda. Her erotic forces even seize control of the surrounding objects and fill the entire room. With his closed arms and the absent look, the artist distances himself from her appeal. One possible reason for his rejection may be the fact that he had already decided to make Erna his partner after they had spent three summers on the Baltic island of Fehmarn together. The scene from his studio, which perfectly combines a spontaneous, dynamic draft and atmospherically composed colors, will enter the bidding race with an estimate of € 400,000-600,000.

The fascinating days of Ernst Wilhelm Nay's Disc Pictures produced the work "Schwarze Sternenbahn". Among the ten periods of creation that his oeuvre comprises, it is the artist's most sought-after one, both on the domestic and international market. This oil painting from 1955 is a perfect example of this type in its purest form, a well-thought-out choreography of color details that create a sophisticated play of lightness and heaviness. In this work the artist does almost entirely without linear means of design, thus the composition solely lives on color bodies that float at different image levels. Soft shades of turquoise, taupe and coral on the one side and strong shades of blue with color glorioles on the other are framed by black and white fields. The titular dark diagonal at the center of the painting adds decisive impulse to the work. The estimate for this mellifluous composition is at € 400,000-600,000.

Ernst Wilhelm Nay
Schwarze Sternenbahn
Oil on canvas, 1955, 100 x 160 cm
39.3 x 62.9 inches
Estimate: € 400,000-600,000
Next to works by Gerhard Richter (among them "Porträt Schniewind", € 800,000-1,200,000), Günther Uecker (e.g. "Zärtlicher Garten", € 600,000-800,000) and Ernst Wilhelm Nay, the auction also comprises impressive works by Erich Heckel ("Badende am Stein", 1914, estimate: € 500,000-700,000) and August Macke ("Begrüssung", 1913, estimate: € 350,000-450,000) as well as by Georg Baselitz, Joseph Beuys, Max Bill, Lovis Corinth, Tony Cragg, Otto Dix, Karl Hofer, Alexej von Jawlensky, Asger Jorn, Wilhelm Lehmbruck, Sol LeWitt, Roy Lichtenstein, Max Liebermann and László Moholy-Nagy (see separate press release).


Previews
November 01-03 Ketterer Kunst Holstenwall 5, 20355 Hamburg*
November 06-08 Fabian & Claude Walter Galerie, Rämistrasse 18, 8024 Zuerich, CH*
November 12/13 Galerie Schwind Fahrgasse 8 , 60311 Frankfurt*
November 16-19 Ketterer Kunst Malkastenstr. 11, 40211 Düsseldorf*
November 23-29 Ketterer Kunst Fasanenstr. 70, 10719 Berlin*
December 02-07 Ketterer Kunst Joseph-Wild-Str. 18, 81829 Munich**
* selected works ** all works

Lectures
November 23 , 6 pm "Visions of The Art of Tomorrow - Avant-gard Tendencies in the Works
of Heinz Macks, Jan Schoonhoven, Günther Ueckers from after 1945"
by Dr. Ulrike Schmitt
December 03, 7 pm "Günther Uecker: Poetry of Destruction" by Dr. Alexander Tolnay
December 04, 7 pm "Emil Nolde: Herbstwolken" by Dr. Manfred Reuther

Auctions in Munich
06-08 December 20th Century Classics / Ketterer Contemporary

The family company Ketterer Kunst (www.kettererkunst.com and www.ketterer-internet-auctions.com), with headquarters in Munich and branches in Hamburg, Duesseldorf, Berlin and the USA, was founded in 1954. It is one of the leading European houses for auctions of Fine Art from the 19th to the 21st Century and Rare Books. The 2018 art market review, compiled by artprice.com, ranks Ketterer Kunst on place 19 in the TOP 100 Fine Art Auction Houses worldwide. The auctioneer's clientele predominantly consists of international collectors, art dealers, curators and museums.
| Press inquiries: | Client inquiries: |
| --- | --- |
| Ketterer Kunst | Ketterer Kunst |
| Joseph-Wild-Str. 18 | Joseph-Wild-Str. 18 |
| 81829 Munich | 81829 Munich |
| Michaela Derra M.A. | |
| phone: +49-(0)89-55244-152 | phone: +49-(0)552440 |
| fax: +49-(0)89-55244-177 | fax: +49-(0)89-55244-177 |
| e-mail: m.derra@kettererkunst.de | e-mail: infomuenchen@kettererkunst.de |