June Auctions: From Modern to Contemporary Art
Hurricanes of the Possible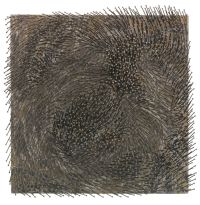 Günther Uecker
Woge, Japan
Nails, black paint on canvas and on wood, 1995
49.2 x 47.2 inches
Estimate: € 600.000-800.000
Munich, 4 May 2018 (kk) -

To Günther Uecker the primal force of a wave is an allegory of the creative process, a "Hurricane of the Possible". His work "Woge, Japan" is a boisterously stirred masterpiece in which the artist unleashes his creative powers like a storm. The work will be called up in the

auctions from 7-9 June

at Ketterer Kunst in Munich: 1) Post War / Contemporary Art
2) Modern Art

on 1) Post War / Contemporary Art

Both the nail picture "Sturz (Kamakura)", today part of the collection Bundeskunsthalle in Bonn and "Woge, Japan", which has never been on the market before, were made under the spell of his journey through Japan. They are the two only works of the topic that is so important to the artist. Subtle allusions to an icon of Japanese woodcut art reflect the transboundary dimension in the artist's creation and emphasize his special affinity to Asian culture and philosophy. Only the auction day will show whether the estimate price of € 600,000-800,000 for this highly associative masterpiece from the sought-after work group of the "Nagelfelder" (Nail Fields) will also make for a "Hurricane of the Possible". That day will also tell if the estimate of € 140,000-180,000 for Uecker's slightly smaller work "Feld (For Ezra Pound)" from 1999 will be confirmed or even surpassed.

The array of around a dozen works by

Gerhard Richter

is led by three works with six-digit estimates from the 1990s. Next to "Grün-Blau-Rot" (estimate: € 200,000-300,000) from the edition of oil paintings of the same name made for the Swiss art magazine "Parkett" and the untitled small-size work "Ohne Titel (9.12.96)" (estimate: € 150,000.250,000), the painting "Fuji" (estimate: € 250,000-350,000) provides fascinating insight: The structure of Richter's painting method becomes quite obvious here, as the bright red and orange colors, initially applied with a brush before the squeegee came into play, shimmer through in places of the lower margin.

Color or Non-color? That is the question that

Enrico Castellani

posed. The bright white work "Superficie Bianca" from 1980 comes from his most important work group of the "Superficie Trapunte", which is considered as the art-historically most significant contribution to Italian Post War Art. The magnificent work in landscape format will enter the race with an estimate of € 250,000-350,000.

The same price has been tagged to

Robert Rauschenberg

's "County Sweep". The monumental mixed media work is particularly impressive, however, not exclusively, for its tremendous length of more than three meters (120 inches).

With a height of 2.65 meters and a width of 2.3 meters (104.3 x 57 x 90.5 inches),

Tony Cragg

's massive bronze "Point of View" also has a respectable appearance. With its estimate price of € 300,000-400,000 it is the leading work in the section of sculptures. Other works that can be found here are

Adolf Luther

's "Spiegelobjekt" (estimate: € 80,000-100,000) and

Heinz Mack

's "Relief" (estimate: € 70,000-90,000) from around 1970, as well as the bronze "Google Head" by

Elisabeth Frink

(estimate: € 80,000-120,000),

Norbert Kricke

's "Raumplastik (Kleine Reux)" (estimate: € 50,000-70,000) and

Fritz Koenig

's bronze "Camarque XIV" (estimate: € 40,000-60,000).

Imi Knoebel

will be represented with more than a dozen of his colorful and energetic works. Next to the collage "Pure Freude 10(1-3)" and the mixed media work "Rot/Gelb/Weiss/Blau", the acrylic- and aluminum work "Alle Vier" from 1998, carrying an estimate of € 40,000-60,000, is a particularly big temptation for every art lover.

Other important works in the department are

Ernst Wilhelm Nay

's "Purpurmelodie", (estimate: € 200,000-300,000) and

Günther Förg

's "Fenster I" (estimate: € 100,000-150,000) as well as works by

Dadamaino

, Rainer

Fetting

, Günther

Fruhtrunk

, Katharina

Grosse

, Roberto

Matta

, A.R.

Penck

, Sigmar

Polke

, Fred

Thieler

, Victor

Vasarely

and, of course, Andy

Warhol

.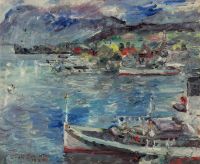 Lovis Corinth
Luzerner See am Vormittag
Oil on canvas, 1924
60 x 73,5 cm
Estimate price: € 300 000 - 400 000
on 2) Modern Art
This section is led by one of just two views of Lake Lucerne that Lovis Corinth created in 1924. While "Luzerner See am Nachmittag" today is part of the collection of the Kunsthalle Hamburg, the work "Luzerner See am Vormittag" may be available for € 300,000-400,000.

Among the other top lots in this department are several works by Alexej von Jawlensky. Next to the "Helle Erscheinung" (estimate: 280,000-340,000) from 1916, another oil painting, "Gelbe Häuser" (estimate: € 250,000-350,000), which the artist had made during his time in Murnau seven years earlier, is particularly captivating. The magnificent work is not only striking for its intense blaze of colors, it also seduces the observer with a lately discovered incomplete portrait of Helene Nesnakomoff, the young lover and later wife of the artist, on its rear side. For decades Jawlensky lived in a love triangle with her and his artistic companion Marianne von Werefkin. While "Meereslandschaft Borkum" and "Frühlingswind und Wiesen" will enter the race with estimates of € 180,000-300,000, the oil painting "Grosses Stilleben: Helles Bouquet" could be obtained for € 100,000-150,000.

Next to August Macke's idyllic scene "Kinder am Brunnen II", Alfons Walde will take the observer to a trip to snowy Austria. Walde stages the magnificent Alpine landscape like no one else, so that one immediately falls for the love and passion he has for his homeland. His oil painting "Aurach bei Kitzbühel" 1926/1928 displays a perfect winter's day. Both works have been estimated at € 200,000-300,000 each.

Emil Nolde's portrait "Ada" has been estimated at € 150,000-250,000. The bright blue and red watercolor, a portrait of his wife from around 1930/1935, delivers the same proof of the artist's virtuosity as his flower watercolors (with estimate prices up to € 120,000) that were made around the same time and come from a renowned German private collection. The two expressive watercolors "Marschlandschaft" and "Mädchen mit blauem Haar" (estimate prices up to € 150,000) have a likewise notable provenance as they come from the Canadian collection of dr. Hugo and Madeleine Simons.

Hermann Max Pechstein is also represented with several works. Next to a flower still life dated 1913 (estimate e 150,000-200,000), the range of offerings is led by the oil painting "Am Genfer See". Made during unburdened days in Montreaux in 1925, the work has been on permanent loan at the Kunsthalle Emden since 2006 and will now be called up with an estimate of € 140,000-180,000.

Further notable works in the section of Modern Art are Conrad Felixmüller's oil painting "Klöckner-Hochofen-Werk, Haspe vom Wohnzimmerfenster Familie Wulf gemalt, mit Sohn Ludwig" which shows the unusual motif of blast furnaces seen from a living-room window (estimate: € 90,000-120,000), Karl Hofer's melancholic soulscape "Im grünen Kleid" and Koloman Moser's "Landschaft bei Semmering" (estimate: € 80,000-120,000 each), as well as works by acclaimed artists such as Ernst Barlach, Otto Dix, Lyonel Feininger, Gustav Klimt, Max Liebermann, Gabriele Münter, Pablo Picasso, Egon Schiele and Max Slevogt.

Previews
May 3/5 Ketterer Kunst Holstenwall 5, 20355 Hamburg*
May 8-10 Galerie von Vertes Bahnhofstrasse 16, 8001 Zuerich, CH*
May 15/16 Galerie Schwind Fahrgasse 8 , 60311 Frankfurt*
May 18-21 Ketterer Kunst Malkastenstr. 11, 40211 Düsseldorf*
May 25-31 Ketterer Kunst Fasanenstr. 70, 10719 Berlin*
June 2-8 Ketterer Kunst Joseph-Wild-Str. 18, 81829 Munich**
* selected works ** all works

Theme Nights
May 23, 7-8 p. m. Ketterer Kunst Berlin "Fred Thieler: Malen als Antwort auf die Welt"
Introduction by Sigrid Melchior M.A., art historian and author of Fred Thieler's catalog raisonné

June 4, 6 – 7 p. m. Ketterer Kunst Munich "Gerhard Richters Unikate in Serie"
Introduction by Hubertus Butin, author, curator and Gerhard Richter's former assistant, as well as publisher of the new catalog raisonné of Gerhard Richter's editions

Auctions in Munich
June 7-9 Modern Art / Post War Art /Contemporary Art

The family company Ketterer Kunst (www.kettererkunst.com and www.ketterer-internet-auctions.com), with headquarters in Munich and branches in Hamburg, Duesseldorf, Berlin and the USA, was founded in 1954. It is one of the leading European houses for auctions of Fine Art from the 19th to the 21st Century and Rare Books. The 2017 art market review, compiled by artprice.com, ranks Ketterer Kunst on place 21 in the TOP 100 Fine Art Auction Houses worldwide. The auctioneer's clientele predominantly consists of international collectors, art dealers, curators and museums.
| Press inquiries: | Client inquiries: |
| --- | --- |
| Ketterer Kunst | Ketterer Kunst |
| Joseph-Wild-Str. 18 | Joseph-Wild-Str. 18 |
| 81829 Munich | 81829 Munich |
| Michaela Derra M.A. | |
| phone: +49-(0)89-55244-152 | phone: +49-(0)552440 |
| fax: +49-(0)89-55244-177 | fax: +49-(0)89-55244-177 |
| e-mail: m.derra@kettererkunst.de | e-mail: infomuenchen@kettererkunst.de |
Contact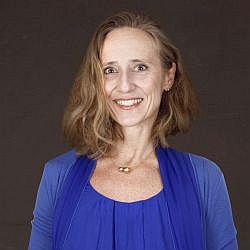 Michaela Derra, M.A.
Ketterer Kunst GmbH & Co. KG
z. Hd. Michaela Derra
Joseph-Wild-Str. 18
81829 Munich
Tel.: +49 89 55 244 152
m.derra@kettererkunst.de
Archiv