Auction 465 in Germany - 19th Century Art
Of Noble Blood
Albrecht Adam
Napoleon vor dem brennenden Smolensk
Oil on canvas, 1836
59,7 x 78,5 cm
Estimate: € 100.000-120.000
Munich, 23 April, 2018, (kk) - It is no one less than the Emperor himself whom Albrecht Adam depicted in pensive pose in his history painting. The impressive motif will be called up in the auction of 19th Century Art at Ketterer Kunst in Munich on May 18.

Albrecht Adam, court painter of Eugène de Beauharnais, Napoleon Bonaparte's son in law and viceroy of Italy, created a remarkable historic document with "Napoleon vor dem brennenden Smolensk". As eyewitness to the battle, he made numerous sketches and drawings right after the city had been conquered. Since he had not met the Emperor during the Invasion of Russia, he used his memories of an encounter near the burning town of Regensburg, Germany in 1809 for the painting: "It was in the early evening when I saw Napoleon [...] on a hill in close distance […], his steadfast look onto the city ablaze. He seemed sinister, Nero came to my mind" (quote from: Autobiography, page 71). In 1836, only 27 years after this encounter and 24 years after the Battle of Smolensk, the artist eventually put all components together and created this remarkable work which is now entering the race with an estimate price of € 100,000-120,000.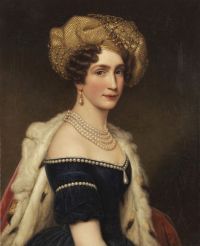 Joseph Karl Stieler
Auguste Amalie von Bayern, Herzogin von Leuchtenberg,
oil on canvas, around 1824/25
74,5x60 cm
Estimate: € 15.000-20.000
A charming portrait of "Auguste Amalie von Bayern, Herzogin von Leuchtenberg" (estimate: € 15,000-20,000), sister of Ludwig I of Bavaria, spouse of aforementioned Eugène de Beauharnais and thus Napoleon's daughter in law, comes from Joseph Karl Stieler. The composition's overall arrangement, as well as the head and the hood of the depicted lady, were supplied by the artist, body and background were executed by one of his students, presumably Friedrich Dürck. Dürck was Stieler's nephew and earned a reputation for his detailed accounts of jewelry and fur.

Leo Putz also dedicated his oil painting "Auf dem Sofa II (Gusti)" from 1908 to lovely femininity. Owing to the upright and yet relaxed posture, his masterly executed female nude emanates great self-confidence and has been estimated at € 60,000-80,000.

The work "Forellenweiher" by Franz von Stuck, who is represented with several works, may be available for € 20,000-30,000. The mysterious landscape in deep dark colors is one of the artist's few select compositions solely dedicated to the depiction of nature. At the same time it occupies a leading position in this field, which is reflected by the work's provenance, as it used to be in possession of the landscape artist Joseph Wenglein, a key representative of late Munich plein-air painting.

A bucolic idyll comes from Stefano Bruzzi, who rendered his account of a herdswoman in "Hirtenmädchen bei der Schafschur". The estimate for the enchanting oil painting from 1880 is at € 18,000-24,000.

This is exactly the same estimate as for Edward Theodore Compton's "Hoher Göll vom Watzmann-Hocheck" with an oil sketch of Rose Island in Lake Starnberg on rear.

Apart from several works by Heinrich Bürkel, Franz von Defregger, Anselm Feuerbach, Karl Hagemeister and Friedrich Kallmorgen (with estimates of up to € 15,000) and Adolf Lier's oil painting "Der Starnberger See von Pöcking aus gesehen" (estimate: € 15,000-20,000) the range of offferings is completed by works from acclaimed artists such as Oswald Achenbach, Paul Baum, Charles Johann Palmié, Valentin Ruths and aforementioned Josef Wenglein.


Preview

26/27 April Ketterer Kunst Holstenwall 5, 20355 Hamburg*
03/04 May Ketterer Kunst Malkastenstr. 11, 40211 Düsseldorf*
07/08 May Ketterer Kunst Fasanenstr. 70, 10719 Berlin*
12-17 May Ketterer Kunst Joseph-Wild-Str. 18, 81829 Munich**
* selected works ** all works

Auction 19th Century Art in Munich on 18 May

The family company Ketterer Kunst (www.kettererkunst.com and www.ketterer-internet-auctions.com), with headquarters in Munich and branches in Hamburg, Duesseldorf, Berlin and the USA, was founded in 1954. It is one of the leading European houses for auctions of Fine Art from the 19th to the 21st Century and Rare Books. The house's clientele predominantly consists of international collectors, art dealers, curators and museums.
| Press inquiries: | Client inquiries: |
| --- | --- |
| Ketterer Kunst | Ketterer Kunst |
| Joseph-Wild-Str. 18 | Joseph-Wild-Str. 18 |
| 81829 Munich | 81829 Munich |
| Michaela Derra M.A. | |
| phone: +49-(0)89-55244-152 | phone: +49-(0)552440 |
| fax: +49-(0)89-55244-177 | fax: +49-(0)89-55244-177 |
| e-mail: m.derra@kettererkunst.de | e-mail: infomuenchen@kettererkunst.de |
Contact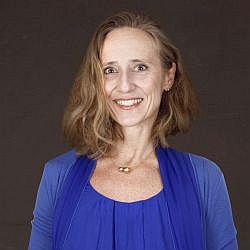 Michaela Derra, M.A.
Ketterer Kunst GmbH & Co. KG
z. Hd. Michaela Derra
Joseph-Wild-Str. 18
81829 Munich
Tel.: +49 89 55 244 152
m.derra@kettererkunst.de
Archiv