Global Ranking Sees Ketterer Kunst as Best German House
Top Auction Houses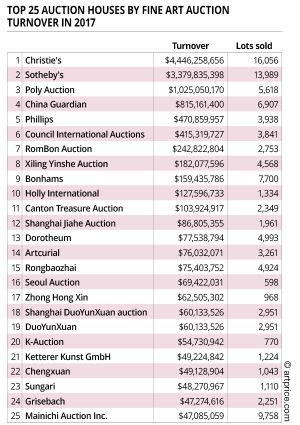 Source: www.artprice.com
"Annual review: The art market ushers in a new era"
Munich, 5 April, 2018 (kk) - The online data bank Artprice has just released the latest art market ranking for 2017. Only two German art sellers made it into the TOP 25. As best German house Ketterer Kunst occupies 21st place in the global ranking.

This result is particularly interesting when considering the fact that in terms of auction proceeds Germany comes in fifth behind China, the USA, Great Britain and France.

Another interesting point is that Ketterer Kunst realized its remarkable revenue of more than € 49 million with only 1,224 lots. Just three other auctioneers managed to gain higher proceeds with even fewer lots. The other German house in the Top 25 had to sell 2,251 lots - almost twice as many - to finish place 24.

What Rober Ketterer regards as especially important is the fact that the average number of bidders per lot increases continuously: "In comparison with 2015 we were able to nearly double the mean number of bidders per lot while the total figure of lots offered was almost cut in half over the same period of time", states the auctioneer and owner of Ketterer Kunst.

The family company Ketterer Kunst (www.kettererkunst.com and www.ketterer-internet-auctions.com), with headquarters in Munich and branches in Hamburg, Duesseldorf, Berlin and the USA, was founded in 1954. It is one of the leading European houses for auctions of Fine Art from the 19th to the 21st Century and Rare Books. The latest art market review for 2017, compiled by artprice.com, ranks Ketterer Kunst on place 21 in the TOP 100. The house's clientele predominantly consists of international collectors, art dealers, curators and museums.


| Press inquiries: | Client inquiries: |
| --- | --- |
| Ketterer Kunst | Ketterer Kunst |
| Joseph-Wild-Str. 18 | Joseph-Wild-Str. 18 |
| 81829 Munich | 81829 Munich |
| Michaela Derra M.A. | |
| phone: +49-(0)89-55244-152 | phone: +49-(0)552440 |
| fax: +49-(0)89-55244-177 | fax: +49-(0)89-55244-177 |
| e-mail: m.derra@kettererkunst.de | e-mail: infomuenchen@kettererkunst.de |
Contact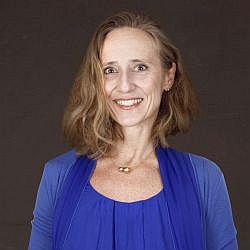 Michaela Derra, M.A.
Ketterer Kunst GmbH & Co. KG
z. Hd. Michaela Derra
Joseph-Wild-Str. 18
81829 Munich
Tel.: +49 89 55 244 152
m.derra@kettererkunst.de
Archiv