Exhibition at Ketterer Kunst in Berlin: Lothar Quinte
Color Chords in Retrospect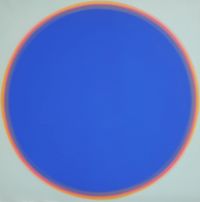 Lothar Quinte
Corona blauer Kreis, 1972
Acrylic on canvas
140 x 140 cm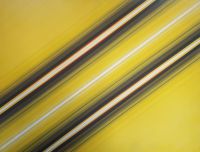 Lothar Quinte
Doppel Diagonal II, 1964
Acrylic on canvas
95 x 130 cm

Berlin, December 17, 2018 (kk) - Whether Geometric Abstraction or Op-Art: Lothar Quinte was a master in his field. The Berlin branch of Ketterer Kunst hosts a homage exhibition dedicated to the Silesian native from February 22, 2019. Around 30 select works from the most important work groups since the 1950s will be on display.

Lothar Quinte counts among the most exciting German representatives of Op-Art, but that's not all. The student of HAP Grieshaber created an oeuvre that is particularly convincing for its versatility - reinventing himself and his fine art time and again. His works are characterized by clarity, warmth and poetry.

While his veil- and window pictures examine questions regarding light and space, his work series of foldings and slit pictures focus on geometric figures. The latter group, in which the artist superimposed layers of bright colors on darker layers, are considered his most significant accomplishments. In the early 1970s Quinte's creation was dominated by the "Corona Pictures", as well as by a series of ripping- and Net Pictures", which tied in with gestural aspects of earlier works.

Lothar Quinte died at the age of 77 on July 29, 2000. His wife, the artist Sibylle Wagner-Quinte, made a bronze of her husband's deathbed pillow which she titled "Letzter Abdruck für L.Q." (Last Impression for L.Q.). The work will also be on display.

Following the opening address of "Lothar Quinte - Farbklänge, retrospektiv" on February 22, 2019 at 7 pm, delivered by Dr. Simone Wiechers, curator of the exhibition and head of the Berlin branch of Ketterer Kunst, Dr. Ulrike Lorenz, director of Kunsthalle Mannheim and designated president of the 'Klassik Stiftung Weimar', will deliver insight into the exciting oeuvre of the artist whom she knew personally.


What ?
Exhibition of around 30 works
When ?
Opening: Friday, February 22, 2019, 7pm
Exhibition: Saturday, February 23, to Sunday April 28, 2019 (Gallery Weekend)
Öffnungszeiten: Mo-Fr von 10-18 Uhr, Sa von 11-16 Uhr.

Where?
Ketterer Kunst Berlin, Fasanenstr. 70, 10719 Berlin, Germany
The family company Ketterer Kunst (www.kettererkunst.com and www.ketterer-internet-auctions.com), with headquarters in Munich and branches in Hamburg, Duesseldorf, Berlin and the USA, was founded in 1954. It is one of the leading European houses for auctions of Fine Art from the 19th to the 21st Century and Rare Books. The 2017 art market review, compiled by artprice.com, ranks Ketterer Kunst on place 19 in the TOP 100 Fine Art Auction Houses worldwide. The auctioneer's clientele predominantly consists of international collectors, art dealers, curators and museums.
| Press inquiries: | Client inquiries: |
| --- | --- |
| Ketterer Kunst | Ketterer Kunst |
| Joseph-Wild-Str. 18 | Fasanenstr. 70 |
| 81829 Munich | 10719 Berlin, Germany |
| Michaela Derra M.A. | |
| phone:+49-(0)89-55244-152 | phone:+ +49-(0)89-55244-152 |
| fax: +49-(0)89-552440 | fax: +49-(0)89-55244-177 |
| e-mail: m.derra@kettererkunst.de | e-mail: infoberlin@kettererkunst.de |
Contact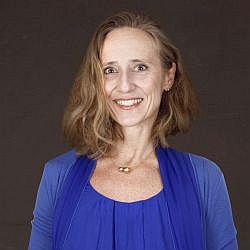 Michaela Derra, M.A.
Ketterer Kunst GmbH & Co. KG
z. Hd. Michaela Derra
Joseph-Wild-Str. 18
81829 Munich
Tel.: +49 89 55 244 152
m.derra@kettererkunst.de
Archiv