Exhibition in Hamburg and Berlin: Max Kaus and Karl Schmidt-Rottluff - Two Artist Friends
Expressive Explosions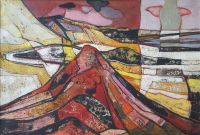 Max Kaus
Dünenküste, 1955
Oil on cnvas
70 x 100 cm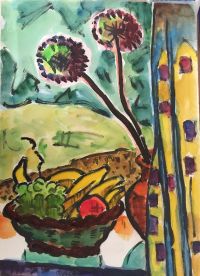 Karl Schmidt-Rottluff
Stillleben mit Südfrüchten und Pusteblume
Watercolor
ca 80 x 60 cm

Berlin, July 23, 2018 (kk) - They are explosions of vivid colors as well as expressions of a deep love for life - the paper works by Karl Schmidt-Rottluff and Max Kaus. In September Ketterer Kunst will show around 30 select works in Hamburg. In October the exhibition will be on display in Berlin.

The exhibition will highlight the friendship of the two first- and second-generation expressionists. Max Kaus, who was not a member of the "Brücke" group from day one, became acquainted with Erich Heckel during his service as paramedic in World War I. Four years later he met Karl Schmidt-Rottluff in the Free Secession, where Kaus regularly showed his works.

Schmidt-Rottluff and Kaus were likewise affected by the reign of the National Socialists, who defamed their art as degenerate and imposed occupational bans on both of them. After the end of WW II they were reappointed professors in Berlin and their accomplishments were honored with numerous awards.

The friendship did not only include the two men, as they met for dinner parties or other activities along with their wives on many occasions, sharing their views on art and discussing everyday topics.

Max Kaus and Karl Schmidt-Rottluff also shared a deep love for nature. Both had a strong preference for figuration and rendered pictures that document their great fascination for landscapes, still lifes, flowers and the fruits of nature.

Still today Karl Schmidt-Rottluff is the bigger name, however, this exhibition puts particular focus on Max Kaus' talent and mastery. Despite his close ties with the "Brücke" artists he maintained his very own expressiveness, of which his bright colored landscapes with coastlines, hills and dunes from the 1950s and '60s deliver particularly impressive proof of.

Following a preview at Ketterer Kunst in Hamburg, the exhibition "Max Kaus & Karl Schmidt-Rottluff - Zwei Künstlerfreunde" moves on to Berlin where it will be opened by Dr. Simone Wiechers of Ketterer Kunst on October 12 at 7 pm. Christiane Remm, curator at the Karl and Emy Schmidt-Rottluff-Foundation and author of the catalog raisonneé of Karl Schmidt-Rofftluff's paintings, will deliver the introductory speech.

The works by Karl Schmidt-Rottluff from a private foundation in Hamburg, as well as Max Kaus' works, contributed by a Berlin collection, are unsalable loans.

What ?
Exhibition of around 30 objects in Hamburg and Berlin
When ?
Hamburg Exhibition: Monday, September 24 - Friday, September 28, 2018
Hours: 11am - 5pm
Berlin Opening: Friday, October 12, 2018, 7pm in Berlin
Exhibition: Saturday, October 13, 2018 - Saturday, November 3, 2018
Hours: Monday to Friday from 10 am to 6 pm
Saturday from 11 am to 4 pm
Where ?
Ketterer Kunst Hamburg, Holsenwall 5 , 20355 Hamburg


Ketterer Kunst Berlin, Fasanenstr. 70, 10719 Berlin
The family company Ketterer Kunst (www.kettererkunst.com and www.ketterer-internet-auctions.com), with headquarters in Munich and branches in Hamburg, Duesseldorf, Berlin and the USA, was founded in 1954. It is one of the leading European houses for auctions of Fine Art from the 19th to the 21st Century and Rare Books. The 2018 art market review, compiled by artprice.com, ranks Ketterer Kunst on place 19 in the TOP 100 Fine Art Auction Houses worldwide. The auctioneer's clientele predominantly consists of international collectors, art dealers, curators und museums.
| Press inquiries: | Client inquiries: |
| --- | --- |
| Ketterer Kunst | Ketterer Kunst |
| Joseph-Wild-Str. 18 | Fasanenstr. 70 |
| 81829 Munich | 10719 Berlin, Germany |
| Michaela Derra M.A. | |
| phone:+49-(0)89-55244-152 | phone:+ +49-(0)89-55244-152 |
| fax: +49-(0)89-552440 | fax: +49-(0)89-55244-177 |
| e-mail: m.derra@kettererkunst.de | e-mail: infoberlin@kettererkunst.de |