Rare Books Auction in Hamburg with Biblical Results
€ 144,000* for the Word of God
Hamburg, 23 May 2017, (kk) -
With total proceeds of around € 1.6 million*, the auction of
Rare Books
at Ketterer Kunst in Hamburg on 22 May 2017 achieved an outstanding result. The new concept with a focus on high-quality offers worked out. A lot total reduced by around 60% in comparison to last year's May auction grossed a result on par with figures from the same period.
Top 5


€ 144.000* calling price: € 100.000
No. 11: Dritte deutsche Bibel. Augsburg around 1474

€ 72.000* calling price: € 60.000
No. 39: Jan Huygen van Linschoten
Itinerario. London 1598

€ 60.000* calling price: € 17.000
No. 13: Deutsch-lateinische Bibel.
Wittenberg 1574

€ 60.000* calling price: € 42.000
No. 08: Hartmann Schedel
Liber chronicarum. Nuremberg 1493

€ 50.000* calling price: € 15.000
No. 09: Damião de Goes
Chronica do felicissimo rei Dom Emanuel.
Lisbon 1566-67

€ 50.000* calling price: € 8.500
No. 94: Zao Wou-Ki
Harry Roskolenko: Paris Poems. Paris 1950

€ 36.000* calling price: € 30.000
No. 53: Adolph von Menzel
Armeewerk Friedrichs des Großen. around 1850-60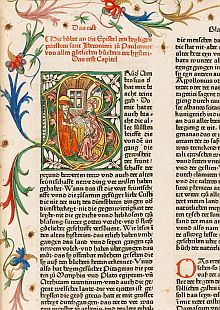 Biblia germanica
with 73 picture initials in old coloring and numerous mayflower initials.
Augsburg around 1474
calling price: € 100,000 - result: 144,000*
Several religious works were among the auction's main attractions, the array was led by the "Biblia germanica" (lot 11) made in Augsburg around 1474. It was sold to a collector from North Rhine-Westphalia in the saleroom who stood his grounds against mainly German competitors for a remarkable result of € 144,000*.

The "Biblia germanica-latina" (lot 13) made in Wittenberg around 1574, was also in heavy demand. A number of written bids and half a dozen phone bidders from Germany, Argentina and Switzerland made for a sharp increase of the calling price of € 19,000. Despite strong international competition, a German dealer eventually won the lot with a bid worth € 60,000*.
While Jan Huygen van Linschoten's "Itinerario", the most acclaimed geographic work of its days with major impact on the Dutch expansion in Asia, was sold, as expected, to a Dutch private collector for a result of € 72,000*, Hartmann Schedel's "Liber chronicarum" (lot 8) was sold to the west coast of the USA for € 60,000* and a French dealer won the "Chronica do felicissimo rei Dom Emanuel" (lot 9) by Damião de Goes. Even though a German collector in the saleroom fought as hard as several phone bidders from Argentina and the USA, the Frenchman outbid them all with a result of € 50,400*.

The same result was also realized for Zao Wou-Ki's "Harry Roskolenko: Paris Poems" (lot 94). The rare and complete copy of the de-luxe edition with a signed watercolor and the extra suite of lithographs went to an online bidder who left numerous phone bidders from all over Europe behind.

Both Adolph von Menzel's "Armeewerk Friedrichs des Großen", which climbed up to € 36,000*, as well as the auction's most sought-after book "Le Surréalisme en 1947" (lot 89) by André Breton and Marcel Duchamp, with 24 original graphics and an object by Marcel Duchamp, remained in Germany. The latter was in great demand with the auction room, half a dozen written bids and a dozen phones from all over the world, making sure that this first edition of the important surrealist catalog soared from a calling price of € 5,000 to a result of € 34,800*.

Other lots that realized remarkable results:


Lot no.
Artist
Title
Calling
price
Result
07
Nam June Paik
Fluxus Testament
€ 17.000
€ 28.800*
03
Manuskript
Heures a l'usage de Rome
€ 3.400
€ 24.000*
81
Georg Heym
Umbra Vitae
€ 4.500
€ 14.400*
86
Franz Toussaint
Le jardin des Caresses
€ 1.800
€ 11.400*
The auction of
Maritime and North German Art
, traditionally held in Hamburg right before the auction of Rare Books, also has some results worthwhile mentioning.
Here a small selection:
Lot no.
Artist
Title
Calling
price
Result
547
Thomas Herbst
Stehendes Mädchen im blauen Kleid
€ 2.800
€ 10.200*
512
Johannes Holst
Hamburger Vollschiff "Klio"
€ 3.000
€ 9.840*
511
Johannes Holst
Weiße Dreimastbark auf ruhiger See
€ 2.500
€ 6.720*
Unsold objects can be acquired in the post auction sale until 15 June 2017.

Since it was founded in 1954, Ketterer Kunst has been on the forefront of auction houses dealing in Fine Art and Rare Books, with its headquarters in Munich, and a branch in Hamburg. Representatives' offices in Berlin, Heidelberg, Duesseldorf, Italy and the US have contributed substantially to the company's success. In addition, exhibitions, special thematic and charity auctions as well as monthly online auctions at www.ketterer-internet-auction.com are regular events at Ketterer Kunst. Robert Ketterer is owner and CEO of Ketterer Kunst.

* The rounded result is the hammer + 20 percent buyer's premium

| Your press contact: | Your contact in the Rare Books department: |
| --- | --- |
| Ketterer Kunst | Ketterer Kunst |
| Joseph-Wild-Str. 18 | Holstenwall 5 |
| 81829 Munich, Germany | 20355 Hamburg, Germany |
| Michaela Derra | Christoph Calaminus / Christian Höflich |
| Phone: +49-(0)89-55244-152 | Phone: +49-(0)40-374961-11 /-20 |
| Fax: +49-(0)89-55244-177 | Fax: +49-(0)40-374961-66 |
| E-Mail: m.derra@kettererkunst.de | E-Mail: infohamburg@kettererkunst.de |