From the December Auctions at Ketterer Kunst in Munich:
Mario Schifano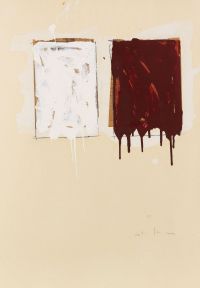 Mario Schifano
Untitled, 1960/65
Mixed media. Acrylic and pencil over collaged newsprint on board, 120 x 90cm
Estimate price:: €140,000-180,000
With a "Certificato di Autentica e Archiviazione" from the Archivio Mario Schifano, dated 13 November, 2017
Munich, 24 November, 2016 (kk) -

He showed his works in exhibitions with Andy Warhol and Roy Lichtenstein, he was a rock musician and made 16 mm films. Now an artwork by the great Schifano will be called up in the

auctions

of Modern Art, Post War and Contemporary Art at Ketterer Kunst in Munich from

7 - 9 December

.

Mario Schifano was one of the most acclaimed representatives of Italian Postmodernism. After World War II his family relocated from Libya to Rome. He had little interest in school, instead he liked restoring old ceramics, a skill he head learned from his father who was an archeologist and restorer.

But Schifano wanted more, so he began to express his creativity in painting. He had a strong preference for monochrome color fields and experimented with newsprint, made collages and soon had his international breakthrough. Exhibitions in Italy and the USA contributed to his fame.

In the 1960s the work group of the "Monochrome" paintings, for which he discovered common household varnish as his preferred material, came into existence. With this unconventional painting means Mario Schifano attained his very own style of which the untitled work offered in the auction is a particularly fine example. The artist applied the paint with an expressive gesture, in this case over two collaged rectangular newspaper cuttings. The artwork comes with a "Certificato di Autentica e Archiviazione" from the Archivio Mario Schifano, dated 13 November, 2017. It is registered at the Archivio Generale dell'Opera di Mario Schifano with the number 03592171111.

Find more great auction offers in the following departments:

MODERN ART

This section offers around 300 works, the array is led by Kurt

Schwitters

' "Merzzeichnung" from 1919 and a still life by Max

Beckmann

(each estimated at € 400,000-600,000). Other highlights come from Albert

Birkle

, George

Grosz

, Erich

Heckel

, Auguste

Herbin

, Karl

Hofer

, Alexej von

Jawlensky

, Ernst Ludwig

Kirchner

, Oskar

Kokoschka

, Max

Liebermann

, Franz

Marc

, Otto

Mueller

, Gabriele

Münter

, Emil

Nolde

, Pablo

Picasso

, Leo

Putz

, Karl

Schmidt-Rottluff

, Max

Slevogt

and Alfons

Walde

.

POST WAR and CONTEMPORARY ART

Some of the most important works in this section, next to the extra catalog

Collection Ellen Sauter

, which comprises highlights by Günther

Uecker

and Jan

Schoonhoven

, can be found in the six digit realm with works by Horst

Antes

, Georg

Baselitz

, Sérgio de

Camargo

, Sandro

Chia

,

Dadamaino

, Yves

Klein

, Robert

Longo

, Heinz

Mack

, Henry

Moore

, Ernst Wilhelm

Nay

, Blinky

Palermo

, Otto

Piene

, Serge

Poliakoff

, Gerhard

Richter

and Andy

Warhol

.
Preview
25 Nov. - 02 Dec. Ketterer Kunst Fasanenstr. 70, 10719 Berlin*
04 - 09 December Ketterer Kunst Joseph-Wild-Str. 18, 81829 Munich**
* selected works ** all works

Auction in Munich 7 - 9 December

Since it was founded in 1954, Ketterer Kunst has been on the forefront of auction houses dealing in Fine Art and Rare Books, with its headquarters in Munich, and a branch in Hamburg. Representatives' offices in Berlin, Heidelberg, Duesseldorf, the Benelux Union, France, Italy, Switzerland and the US have contributed substantially to the company's success. In addition, exhibitions, special thematic and charity auctions as well as monthly online auctions at www.ketterer-internet-auctions.com are regular events at Ketterer Kunst. Robert Ketterer is the company's managing director and owner.
| Press inquiries: | Client inquiries: |
| --- | --- |
| Ketterer Kunst | Ketterer Kunst |
| Joseph-Wild-Str. 18 | Joseph-Wild-Str. 18 |
| 81829 Munich | 81829 Munich |
| Michaela Derra M.A. | |
| phone: +49-(0)89-55244-152 | phone: +49-(0)552440 |
| fax: +49-(0)89-55244-177 | fax: +49-(0)89-55244-177 |
| e-mail: m.derra@kettererkunst.de | e-mail: infomuenchen@kettererkunst.de |
Follow Ketterer Kunst on Instagram with behind the scenes pictures and news on auctions and events.