Charity Auction in Munich: ZERO and Concrete Art
Collection Sauter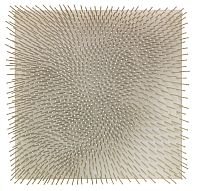 Günther Uecker
Weißes Feld
Object, 1965, 60,5 x 60,5 x 9 cm
Estimate: € 200.000-300.000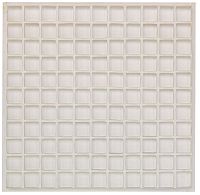 Jan Schoonhoven
R 43-4
Relief, pigment and papier mâché
on wood, 1973
75 x 75 x 4,5 cm
Estimate: € 150.000-200.000
Munich, 29 September 2017, (kk) -

It is an unusual collection compiled by an exceptional woman which will be offered in context of the auctions of

Modern Art /Post War/Contemporary Art

at Ketterer Kunst in Munich from 7-9 December.

The lately deceased Ellen Sauter was a woman who followed an inner compass that guided her through her entire life. She dealt with challenging situations with distinct intuition and clarity of thought, even if the goal was distant and difficult to reach. After her husband's death in 1978 the then mother of two teenagers took over directorate of the family-owned knitwear factory.

It was during those days that art played an increasingly important role in Ellen Sauter's life and she began to combine business with pleasure. On her quest for new works, the passionate art lover used her business trips to European metropolises for visits to galleries and studios. She met Friedrich Becker, goldsmith and creator of kinetic jewelery, as well as artists such as Gotthard Graubner, Adolf Luther, Erich Reusch and Jürgen Brodwolf. Little by little she compiled a very personal collection, she saw the fascination of it in "the interplay of delicately colored Art Nouveau objects and the absolutely clear lines, color and surfaces of Concrete Art". She expressed her exceptional feel for colors and forms in the design of her interiors. A look into her former living spaces (see auction catalog) delivers proof of the successful symbiosis of works from the ZERO group with Art Nouveau lamps and vases by Daum, Gallé, Schneider, Poschinger and Legras, as well as glass works from the glass art manufactory of Joh. Lötz widow.

Contact with the collector was a personal gain for the artists, too, which they expressed in dedications and greeting cards. Artists like Marcia Hafif, Lali Johne, Ben Hübsch and Stefan Baumkötter were regular guests at Ellen Sauter's home. They were captivated by the building that was tailored to suit her collection. Before construction the collector had a model of the building with removable floors made, it allowed her to try out different mounting concepts in order to find the perfect presentation for her unusual artworks.

When Ellen Sauter learned about her severe illness it became a heart matter to her to make sure that her collection, which had always been a source of energy and inspiration, would continue to fulfill this purpose after her death. So she decided that the works will be sold for the benefit of SOS Children's Villages, this way her works can go to the hands of new art lovers and the proceeds will help children in need.

Ketterer Kunst will sell the collection Sauter in cooperation with the Munich auction house Quittenbaum. The auctioneers Robert Ketterer and Askan Quittenbaum will call up the respective segment in context of their relevant autumn sales.

Apart from the special auction, Ketterer Kunst's three-day auction from 7-9 December offers the assemblage "Merzzeichnung" (estimate: € 400,000-600,000) by

Kurt Schwitters

,

Gerhard Richter

's "Rot-Blau-Gelb" (€ 200,000-300,000), as well as works by

Sérgio de Camargo

and

Karl Hofer

that have been estimated at € 140,000-180,000 each. The range of exciting objects on offer is topped off by works from acclaimed artists like Chuck

Close

, Gotthard

Graubner

, Alexej von

Jawlensky

, Max

Liebermann

, Heinz

Mack

, Gabriele

Münter

and Pablo

Picasso

.
Preview

02-04 November Ketterer Kunst Holstenwall 5, 20355 Hamburg*
07/08 November Galerie Schwind Fahrgasse 8, 60311 Frankfurt*
14 November Galerie Römerapotheke Rämistr. 18 , 8001 Zürich, CH*
17-20 November Ketterer Kunst Malkastenstr. 11, 40211 Düsseldorf*
24-30 November Ketterer Kunst Fasanenstr. 70, 10719 Berlin*
02-08 December Ketterer Kunst Joseph-Wild-Str. 18, 81829 Munich**
* selected works ** all works

Auctions in Munich 7th - 9th December Modern- / Post War- / Contemporary Art

Since it was founded in 1954, Ketterer Kunst has been on the forefront of auction houses dealing in Fine Art and Rare Books, with its headquarters in Munich, and a branch in Hamburg. Representatives' offices in Berlin, Heidelberg, Duesseldorf, the Benelux Union, France, Italy, Switzerland and the US have contributed substantially to the company's success. In addition, exhibitions, special thematic and charity auctions as well as monthly online auctions at www.ketterer-internet-auctions.com are regular events at Ketterer Kunst. Robert Ketterer is the company's managing director and owner.
| Press inquiries: | Client inquiries: |
| --- | --- |
| Ketterer Kunst | Ketterer Kunst |
| Joseph-Wild-Str. 18 | Joseph-Wild-Str. 18 |
| 81829 Munich | 81829 Munich |
| Michaela Derra M.A. | |
| phone: +49-(0)89-55244-152 | phone: +49-(0)552440 |
| fax: +49-(0)89-55244-177 | fax: +49-(0)89-55244-177 |
| e-mail: m.derra@kettererkunst.de | e-mail: infomuenchen@kettererkunst.de |