December Auctions: From Modern to Contemporary Art
S I N G U L A R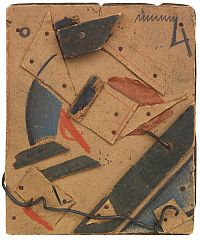 Kurt Schwitters
Merzzeichnung, 1919
Assemblage. card, paper, wood, wire, nails, color pen
17.5 x 14 cm / 6.8 x 5.5 inches
Estimate: € 400.000-600.000
Munich, 17 October 2017 (kk) - When he made his "Merz Drawing" in 1919, Kurt Schwitters put a price of 1,000 Mark on its back side. Now the work will be called up with an estimate of € 400,000-600,000 at Ketterer Kunst in context of the auctions from 7-9 December:

1) Modern Art
2) Post War
3) Contemporary Art

on 1) Modern Art

The main catalog of this department is led by Kurt Schwitters" "Merzzeichnung" from 1919, the only object of this kind that unites drawing and assemblage in one work of art.

Still under the impressions of war and inflation, which made Kurt Schwitters a modern artist who would even leave Expressionism behind him, the first collages of incidentally found materials came into existence as early as in 1918.

Based on his art concept and literary texts, he founded the Dada institution "Merz" in Hanover, for the name he uses a fragment of the word "Commerzbank" (lat. cum=with, merx=commodity). It was in those days that Schwitters was in contact with the circle around the artist Bernhard Hoetger. This assemblage came into existence in context of an artist meeting in Worpswede. Eugenie von Garvens, a direct neighbor of Hoetgers, gives account of an "artwork of wood and cardboard" that Kurt Schwitters "laid down" in her garden. The artist put a price of nothing less than 1000 Mark on the back of the small work – far more than Schwitters would usually ask for his works in 1919 and perhaps his way to express his appreciation for this type of work in his oeuvre. The piece got into the ownership of a Dutch family, where it remained until 1976, through the Worpswede artist Fritz Uphoff. After stops in Switzerland and the USA, the work is now back in Germany.

After the very succesful sale of Max Beckmann's "Château d'If" this summer, his work "Stillleben mit Rosen" from 1927 will be called up in the coming auction. The enthralling composition has been estimated at € 400,000-600,000.

Oskar Kokoschka's "Hamburg III" is a declaration of love to the Hanseatic city. In 1967 he wrote in a letter to Wilhelm Reinhold: "How much I loved the time in Hamburg [...], whenever I think back I feel homesick. No other city in the world was such a rich source of inspiration and nowhere did I meet such lovely and generous people".The oil painting from 1961 is one of his inimitable depictions of world metropolises, which are among his most sough-after works on the art market. Painted from an elevated position, they capture a detailed panorama view. "Hamburg III" shows a view onto the Hamburg harbor from the Stülcken shipyard on the southern banks of the river Elbe, where Kokoschka had a temporary studio in dizzy heights of 60 meters above the water. It was only accessible with a small elevator. The artist had an identity card for non-employees and three weeks time to create this blaze of colors. The estimate for one of his finest accomplishments of his late period of creation is at € 200,000-300,000.

The same estimate price has been tagged to Franz Marc's watercolor and tempera over pencil work "Zwei Pferde, blaugrün" from 1911. It is an outstanding document of the artist's focus on Expressionism and underlines the significance of the progressive motif of the blue horses in the early days of Modernism.

A range of works by Max Liebermann is led by the "Junge Kuhhirtin", which carries an estimate of € 150,000-180,000. The pastel from 1896 delivers proof of the artist's technical mastery, as he was able to add something sublime and monumental to even the most simple motifs.

Alexej von Jawlensky also adds a couple of works to the range of offers. Next to two "Meditations", a bouquet of roses and a still life (estimates of up to € 120,000), the "Heilandsgesicht" from 1921 and the oil on board painting "Abstrakter Kopf: Orient - Verhaltene Glut" from 1932 are particularly captivating. Both objects will be called up with an estimate of € 150,000-250,000 each.

Apart from some works by Karl Schmidt-Rottluff, led by the "Pelargonientopf" from 1951 and estimated at 140,000-180,000, other impressive works of Modern Art come from, among others, Albert Birkle, Auguste Herbin, Karl Hofer, George Grosz, Ernst Ludwig Kirchner, Otto Mueller, Gabriele Münter, Emil Nolde (see separate press release), Pablo Picasso, Leo Putz, Max Slevogt and Alfons Walde.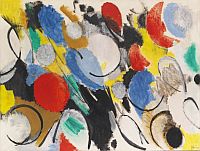 Ernst Wilhelm Nay
Scheiben und Halbscheiben
Oil on canvas, 1955
120 x 161 cm / 47.2 x 63.3 inches
Estimate: € 250.000-350.000
on 2) Post War

Among the leading works in this section we find - next to Robert Longo's charcoal drawing "Untitled (Shark 15)" estimated at € 320,000-380,000 and Blinky Palermos "Happier than the Morning Sun (to S. Wonder)" (estimate: € 200,000-300,000) - Ernst Wilhelm Nay's oil painting "Scheiben und Halbscheiben" (estimate: € 250,000-350,000) from 1955, in which round color fields organize subtle space- and color modulations.

By mixing the three primary colors Gerhard Richter attains infinite coloring in his work "Rot-Blau-Gelb" from 1973. Through the connecting brushstroke lines he also creates an illusion of spatiality, the painting has been estimated at € 200,000-300,000. His works "17.10.1990" and "Gebirge" also have quotes in six-digit realms, while nearly a dozen other of his works carry four- and five-digit estimate prices.

The "Das Abgarbild" by Georg Baselitz has been estimated at € 180,000-240,000, because the oil painting from 1984 is one of the large-size creations from his early period and counts among the most sought-after works by the Saxon artist on the international auction market.

Next to Yves Klein's mixed media work "Monochrome bleu (IKB 242 A)" (estimate: € 150,000-250,000) two works by Serge Poliakoff ("Composition abstraite") and Sérgio de Camargo ("Ohne Titel (n° 349)") guarantee suspense in the saleroom. Both carry estimates of € 140,000-180,000 each.

The range of further offerings is topped off by Henry Moore's "Stringed Figure" (estimate: € 150,000-200,000) and two untitled works by Otto Piene (estimate: € 100,000-150,000) and Mario Schifano (Taxe: € 140.000-180.000) as well as by top lots from acclaimed artists like Horst Antes, Stephan Balkenhol, Max Bill, Lynn Chadwick, Sandro Chia, Dadamaino, Gotthard Graubner, Norbert Kricke, Heinz Mack, Serge Poliakoff, Pierre Soulages and Andy Warhol.

More significant works in this section will also be presented in the extra catalog Collection Ellen Sauter (see separate press release).

on 3) Contemporary Art

This department is led by the only print of a portrait of the British super model Kate Moss by Chuck Close. "Kate" might be available for the estimate price of € 90,000-120,000. Other exciting names are, among others, André Butzer, Dan Colen, George Condo, Rainer Fetting, Imi Knoebel, Chris Succo and Gert and Uwe Tobias.

Preview

02-04 November Ketterer Kunst Holstenwall 5, 20355 Hamburg*
07/08 November Galerie Schwind Fahrgasse 8, 60311 Frankfurt*
14 November Galerie Römerapotheke Rämistr. 18 , 8001 Zürich, CH*
7-20 November Ketterer Kunst Malkastenstr. 11, 40211 Düsseldorf*
24-30 November Ketterer Kunst Fasanenstr. 70, 10719 Berlin*
02-08 December Ketterer Kunst Joseph-Wild-Str. 18, 81829 Munich**
* selected works ** all works

Auctions in Munich7-9 December Modern Art / Post War Ar /Contemporary Art

Since it was founded in 1954, Ketterer Kunst has been on the forefront of auction houses dealing in Fine Art and Rare Books, with its headquarters in Munich, and a branch in Hamburg. Representatives' offices in Berlin, Heidelberg, Duesseldorf, the Benelux Union, France, Italy, Switzerland and the US have contributed substantially to the company's success. In addition, exhibitions, special thematic and charity auctions as well as monthly online auctions at www.ketterer-internet-auctions.com are regular events at Ketterer Kunst. Robert Ketterer is the company's managing director and owner.
| Press inquiries: | Client inquiries: |
| --- | --- |
| Ketterer Kunst | Ketterer Kunst |
| Joseph-Wild-Str. 18 | Joseph-Wild-Str. 18 |
| 81829 Munich | 81829 Munich |
| Michaela Derra M.A. | |
| phone: +49-(0)89-55244-152 | phone: +49-(0)552440 |
| fax: +49-(0)89-55244-177 | fax: +49-(0)89-55244-177 |
| e-mail: m.derra@kettererkunst.de | e-mail: infomuenchen@kettererkunst.de |