Auction 456, Auction Rare Books, Manuscripts, Autographs, Decorative Prints
THE BIRDS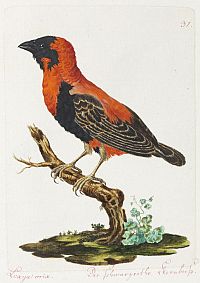 Joachim J. N. Spalowsky
Beytrag zur Naturgeschichte der Vögel
Volumes I-IV
Vienna, 1790-92
Estimate: € 20.000
Hamburg, 25 September 2017 (kk) – The only edition of Joachim Spalowsky's "Naturgeschichte der Vögel" is extremely rare and gorgeous. The colored dedication copies are heightened with noble metals and endowed with the crests of illustrious rulers like the Beethoven patron Franz Joseph Maximilian von Lobkowitz. They will be called up in the Rare Books auction at Ketterer Kunst in Hamburg on 20 November 2017.

The range of offerings is currently led by two top lots: An impressive Breviarium, made in Northern France around 1482, with 12 miniatures and numerous marvelous initials in various sizes and styles. The splendid parchment manuscript was written in Latin by Franciscan monks and will enter the race with an estimate of € 60,000.

The same price has been tagged to a Parisian Book of Hours from around the same period. The Horae B.M.V., written in French and Latin, comes from the ownership of Catherine de Bourbon (1559-1604), sister of the French king Henri IV. Catherine, the well-known Calvinist had decisive influence on the formation of the Edict of Nantes, which granted the Calvinist Protestants religious tolerance and full civil rights in the mainly Catholic country France. The Book of Hours is a unique document of a failed forced conversion. The well-educated Catherine followed the wish of her brother and married the ultra Catholic Henry II, Duke of Lorraine. Both her brother as well as her husband were convinced that it would sooner or later be possible to convert her, but she remained true to her reformed set of beliefs until her death. One can assume that the opulently endowed manuscript may have been a present.with ulterior motives from her husband or even the king.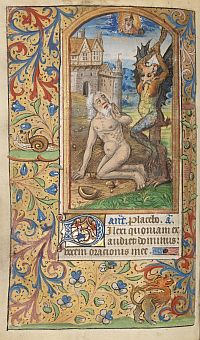 Horae B.M.V.
Latin and French parchment manuscript
Paris around 1490
Estimate: € 60.000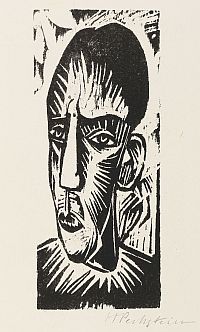 Paul Fechter
Das graphische Werk Max Pechsteins
Berlin, 1920
Estimate: € 20.000
Paris also was the place of origin of a Calendar from 1380 that has been estimated at € 50,000. The rare and artistically significant parchment manuscript contains 12 elaborately made sheets, each endowed with a large gilt initial, a labor of the month and the respective sign of the zodiac. The appealing illustrations make the work particularly impressive.

Another work that will guarantee suspense in the salesroom is "Das graphische Werk Max Pechsteins". The scarce and complete copy is the de-luxe edition that Paul Fechter made in Berlin in 1920. It comprises ten signed original prints and will be called up with an estimate of € 20,000.

The same amount has been calculated for Henri Abraham Châtelain's seven-volume "Atlas historique". The complete copy of the monumental atlas comprises the large map of North and South America and is illustrated with depictions of coins, crests and genealogy plates. It is a rich source of information on Europe, Asia, Russia and the Middle East in the time between and 1718 and 1720.

The division of autographs offers a particularly captivating Album Amicorum that has been estimated at € 18,000. The album covers the period between 1798 and 1811 and was compiled by the mining student Jakob Christian Menzler from Freiberg, it comprises 62 entries by his fellow students and friends, among them one by the famous poet Novalis. After he had completed his law studies, he was active as court clerk and mining assessor. However, he decided to enroll at the mining academy in Freiberg under his birth name Friedrich von Hardenberg and studied geology, mineralogy, mining, chemistry and maths. At that time Freiberg was one of the most acclaimed universities for natural sciences. Novalis completed the study course in less than half the regular program duration of three to four years. It was this highly receptive and productive period during which he developed his encyclopedic, natural-philosophical mysticism in which poetry and science form a fruitful synthesis. Accordingly, the Freiberg academy is regarded the birthplace of the romanticist Novalis, who left an entry in Menzler's album with the poem "Das Flüchtigste" by Herder towards the end of his studies on 13 May 1799. A year later the opposite side was inscribed with an entry by Sigismund August Wolfgang von Herder, Herder's second eldest son. The later Saxonian chief mining officer also studied at the Freiberg academy.
Preview
08-10/ 13-17 November Ketterer Kunst Holstenwall 5, 20355 Hamburg
19 November by appointment
Auction
20 November Ketterer Kunst Holstenwall 5, 20355 Hamburg


Since it was founded in 1954, Ketterer Kunst has been on the forefront of auction houses dealing in Fine Art and Rare Books, with its headquarters in Munich, and a branch in Hamburg. Representatives' offices in Berlin, Heidelberg, Duesseldorf, the Benelux Union, France, Italy, Switzerland and the US have contributed substantially to the company's success. In addition, exhibitions, special thematic and charity auctions as well as monthly online auctions at www.ketterer-internet-auctions.com are regular events at Ketterer Kunst. Robert Ketterer is the company's managing director and owner.

| Your media contact: | Your contact in the Rare Books department: |
| --- | --- |
| Ketterer Kunst | Ketterer Kunst |
| Joseph-Wild-Str. 18 | Holstenwall 5 |
| 81829 Munich | 20355 Hamburg |
| Michaela Derra M.A. | Christoph Calaminus / Christian Höflich |
| phone: +49-(0)89-55244-152 | phone: +49-(0)40-374961-11 /-20 |
| fax: +49-(0)89-55244-177 | fax: +49-(0)40-374961-66 |
| email: m.derra@kettererkunst.de | email: infohamburg@kettererkunst.de |