Auction in Munich, Germany: 19th Century Art
Loveable Dissonance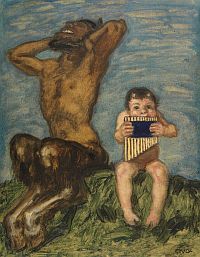 Franz von Stuck
Dissonanz
Oil on board, 1910, 46 x 36 cm
Estimate: € 30.000-40.000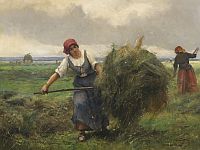 Julien Dupré
Heuernte
Oil on canvas, about 1890-1895
46 x 61,5 cm
Estimate: € 30.000-40.000
Munich, 2 October 2017, (kk) –

No matter whether earsplitting or heartbreaking – it's the good will that counts. In Franz von Stuck's oil painting "Dissonanz" the teacher is in great need of a strong will, while it is hard for the observer to refrain from smirking. The likeable motif will be called up in the auction of

19th Century Art

at Ketterer Kunst in Munich on 24 November.

Apart from that,

Franz von Stuck

is also represented with the painting "Scherzo" from 1909, which has also been estimated at € 30,000-40,000. In "Scherzo" the artist creates an exemplary Utopia in which man is liberated from repression through sexuality. The focus of his oil painting "Iphigenie auf Tauris", which has been estimated at € 80,000-120,000, is also on the examination of the relationship between man and woman. Next to two works on paper, an "Amazone" from 1897 will be called up. The bronze puts more emphasis on the athletic than the erotic aspect of the spear throwing warrior. The estimate is at € 15,000-20,000.

Suspense in the salesroom is guaranteed when Julien Dupré's "Heuernte" will be called up Estimated at € 30,000-40,000, the motif is one of the artist's most popular ones. Unlike it is the case with his role model Jean-François Millet, Dupré did not put the arduous farm labor in the focus of his paintings. The young farm girl on the sun-filled field seems jaunty, the glistening hay reflects the sunlight and creates an impression of easiness. Solely the turned-up sleeves and the strong body that jams the pitchfork into the stack of hay suggest the labor's physical effort.

Works from

Karl Hagemeister

, who contributes several objects to the auction's range of offers, mirror the extraordinary charm of landscape depictions. The two top works are the two oil paintings "Herbst III" and "Meereswogen" that will be called up with an estimate of € 25,000-35,000 each.

Jean-Léon Gérôme

's oil painting "Arnaute buvant" from 1856 will enter the race with the same estimate. It is a document of the artist's weakness for oriental subjects and his fascination for a hyperrealistic style showing details in an almost photographic precision. The "Arnaut" is an Albanian mercenary in service for the Osman Empire. They came to Egypt in the late 18th century to fight the French troops and found a new home there. The best known variant of the theme presumably is Gérôme's painting "Arnautes jouant aux échecs", today in possession of the Wallace Collection in London.

Another top name is

Ludwig Adrian Richter

, one of the 19th century's most acclaimed German illustrators, who is represented with an oil painting that presumably remained unfinished owed to an eye disease. His work "Hirten am Feuer (Abendlandschaft)", which will be called up with an estimate of € 15,000-20,000, emanates a deep and calm love for nature.

The range of offers is topped off by several works from

Friedrich Kallmorgen

(estimates up to € 24,000),

Jan Chelminski

's oil painting "Große höfische Jagdgesellschaft" (estimate: € 20,000-30,000), the work "Sabinerhütten im Sabinergebirge" (estimate: € 18,000-24,000) by

Valentin Ruth

s and by works from other acclaimed artists like Wilhelm

Busch

, Heinrich

Bürkel

, Ludwig von

Hofmann

, Emil Paul

Jacobs

, Wilhelm von

Kobell

, Alexander

Koester

, Adolph von

Menzel

, Charles Johann

Palmié

and Heinrich von

Zügel

.
Preview

06/07 November Ketterer Kunst Holstenwall 5, 20355 Hamburg*
09/10 November Ketterer Kunst Malkastenstr. 11, 40211 Düsseldorf*
13/14 November Ketterer Kunst Fasanenstr. 70, 10719 Berlin*
17- 23 November Ketterer Kunst Joseph-Wild-Str. 18, 81829 Munich**
* selected works ** all works

Auction in Munich 19th Century Art on 24th November

Since it was founded in 1954, Ketterer Kunst has been on the forefront of auction houses dealing in Fine Art and Rare Books, with its headquarters in Munich, and a branch in Hamburg. Representatives' offices in Berlin, Heidelberg, Duesseldorf, the Benelux Union, France, Italy, Switzerland and the US have contributed substantially to the company's success. In addition, exhibitions, special thematic and charity auctions as well as monthly online auctions at www.ketterer-internet-auctions.com are regular events at Ketterer Kunst. Robert Ketterer is the company's managing director and owner.
| Press inquiries: | Client inquiries: |
| --- | --- |
| Ketterer Kunst | Ketterer Kunst |
| Joseph-Wild-Str. 18 | Joseph-Wild-Str. 18 |
| 81829 Munich | 81829 Munich |
| Michaela Derra M.A. | |
| phone: +49-(0)89-55244-152 | phone: +49-(0)552440 |
| fax: +49-(0)89-55244-177 | fax: +49-(0)89-55244-177 |
| e-mail: m.derra@kettererkunst.de | e-mail: infomuenchen@kettererkunst.de |