June-Auctions: From Modern Classics to Contemporary
Pure Nature - Naturally Good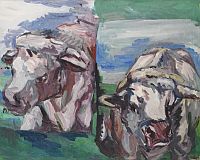 Georg Baselitz
Zwei halbe Kühe, 1968
Oil on canvas, (51,1 x 63,7 in)
Estimate: € 500.000-600.000
Otto Mueller
Vier Badende (Stehende und liegende weibliche Akte; Badende; Vier lebensgroße Akte auf der Wiese), presumably 1910 Distemper on burlap, (35.4 x 27.4 in)
Estimate: € 300.000-400.000
Munich, 28 March 2017 (kk) - Naturally good is not only true for the nature motifs sold at the Ketterer Kunst auction in Munich from 8 – 10 June. Next to rural scenes from Otto Mueller and Gabriele Münter, as well as from Emil Nolde and Georg Baselitz, highest quality by internationally acclaimed masters of abstraction is also on offer.

1) Modern Art
2) Post War / Contemporary Art

on 1) Modern Art
The number one spot in the department is currently held by Otto Mueller's work "Vier Badende" that has been estimated at € 300,000-400,000. This work, presumably made as early as in 1910, is one of the multi-figure nude scenes by the artist that are highly sought-after on the global auction market. Otto Mueller reduced these composition to a natural simplicity. His figures freely move about a meadow, fully aware of their physicality and entirely untinged by any doubt in their existence. The aspect of the seemingly unreachable unconstrained idyl amidst the bustle of an ever new and progressive urban setting makes this work more topical than ever.

The outdoors where also a place where Gabriele Münter felt at home. She is represented with several works in this auction, the array is, of course, led by two motifs of nature. While the "Berglandschaft mit Haus" from 1910 has been estimated at € 240,000-280,000, the price for the work "Landschaft mit gelbem Haus" is at € 180,000-240,000.

A bit more, € 200,000-300,000 to be exact, has been tagged to Hermann Max Pechstein's oil painting "Ronmay" from 1917. It shows the daughter of the chief of Palau, who impressed the artist just as much as the beautiful landscape of the South Sea islands did. The portrayed lady's exotic appeal, the lucent colors and the expressive stroke of the brush must have been reason enough for the US director Josef von Sternberg to buy the work while he was on location in Berlin to make the movie "The Blue Angel" with Marlene Dietrich. Until 1949 the work was part of his acclaimed collection and was presented to the public in several exhibitions.

While Heinrich Maria Davringhausen's painting "Krieg" (estimate: € 100,000-150,000) from 1914 illustrates the destructive forces of war, Emil Nolde's Northern German landscapes emanate peace and energy at the same time. Next to his "Marschlandschaft mit Bauernhof" (estimate: € 80,000-100,000) and the watercolor "Nordfriesische Landschaft mit Bauernhof" (€ 140.000-180.000), around a dozen more works by the remarkable artist will be called up.


Gerhard Richter
Stadtbild, 1968
Oil on canvas, (20.8 x 16.9 in)
Estimate: € 300.000-400.000
Besides a number of works from Ernst Ludwig Kirchner, led by the woodcut "Die Geliebte" (estimate: € 100,000-150,000) from 1915, other remarkable works of Modern Art come from, among others, Ernst Barlach, Albert Birkle, Otto Dix, George Grosz, Alexej von Jawlensky, August Macke, Karl Schmidt-Rottluff, Georg Schrimpf and Max Slevogt.

on 2) Post War / Contemporary Art

With an estimate of € 500,000-600,000 the work "Zwei halbe Kühe2, painted by Georg Baselitz in 1986, is among the leading works in this department. The artist reduced the familiar animal motif to an essential basic structure, in order to attain maximum artistic freedom. The familiar provides a safe basis from which the artist dared to make an epoch-making step. Accordingly, this work counts among the so-called 'Fracture Pictures' which in a way marked the transition to the up-side down paintings that would earn Georg Baselitz global recognition.

1968 is also the year of origin of Gerhard Richter's "Stadtbild", quasi the same time his famous work of the Milan Cathedral Square was made. Sold at a price of 29 million it was long considered the artist's most expensive painting. The "Stadtbild" is part of the artist's early black and white period of creation in the 1960s, which, next to the work phase of the "Abstract Pictures" as of 1976, fundamentally shaped today's perception of Gerhard Richter's artistic creation. Works from this period count among his most sought-after works on the global art market. The estimate is at € 300,000-400,000.

Alongside Serge Poliakoff's oil painting "Composition abstraite" from 1958, which has been estimated at € 250,000-300,000, Willi Baumeister contributes a fascinating work from his significant Montaru-Series that is estimated at € 150,000-200,000. That same price is also tagged to "Squares: Blue and Cobalt Green in Cadmium Green" by Josef Albers.

Other important works in this section are the oil painting "Irisches Märchen" by Ernst Wilhelm Nay (estimate: € 140,000-180,000), Otto Piene's mixed media work "Currents" (estimate: € 100,000-150,000) from 1983/84 and a work by Georges Mathieu ("Petit paramètre caché", estimate: € 70.000-90.000), as well as art from acclaimed artists such as Rainer Fetting, Bernhard Heiliger, Sam Francis, Aris Kalaizis, Heinz Mack, Anselm Reyle, Günther Uecker and Erwin Wurm.
Preview

04-06 May Ketterer Kunst Holstenwall 5, 20355 Hamburg*
09/10 May Galerie Römerapotheke Rämistr. 18 , 8001 Zürich, CH*
14-16 May Galerie Schwind Fahrgasse 8, 60311 Frankfurt*
19-22 May Ketterer Kunst Malkastenstr. 11, 40211 Düsseldorf*
26 May-01 June Ketterer Kunst Fasanenstr. 70, 10719 Berlin*
03-09 June Ketterer Kunst Joseph-Wild-Str. 18, 81829 Munich**
* selected works ** all works

Auctions in Munich 08 - 10 June Modern- / Post War- /Contemporary Art

Since it was founded in 1954, Ketterer Kunst has been on the forefront of auction houses dealing in Fine Art and Rare Books, with its headquarters in Munich, and a branch in Hamburg. Representatives' offices in Berlin, Heidelberg, Duesseldorf, the Benelux Union, France, Italy, Switzerland and the US have contributed substantially to the company's success. In addition, exhibitions, special thematic and charity auctions as well as monthly online auctions at www.ketterer-internet-auction.com are regular events at Ketterer Kunst. Robert Ketterer is owner and CEO of Ketterer Kunst.
| Press inquiries: | Client inquiries: |
| --- | --- |
| Ketterer Kunst | Ketterer Kunst |
| Joseph-Wild-Str. 18 | Joseph-Wild-Str. 18 |
| 81829 Munich | 81829 Munich |
| Michaela Derra M.A. | |
| phone: +49-(0)89-55244-152 | phone: +49-(0)552440 |
| fax: +49-(0)89-55244-177 | fax: +49-(0)89-55244-177 |
| e-mail: m.derra@kettererkunst.de | e-mail: infomuenchen@kettererkunst.de |